Best Mattress for Back Pain
Update: September 23, 2022
4
min read
One of the most painstaking things that might be destructive to sleep is – Back Pain. Nearly 60% of Indians undergo lower back pain, and sleeping on the wrong mattress might aggravate the issue. Indian mattress brands are countless in number, but there is a handful that has paved their way to becoming the best mattresses for back pain. The perfect mattress for back pain alleviates spine alignment and sleeping posture and limits overall body ache – resulting in more restorative sleep.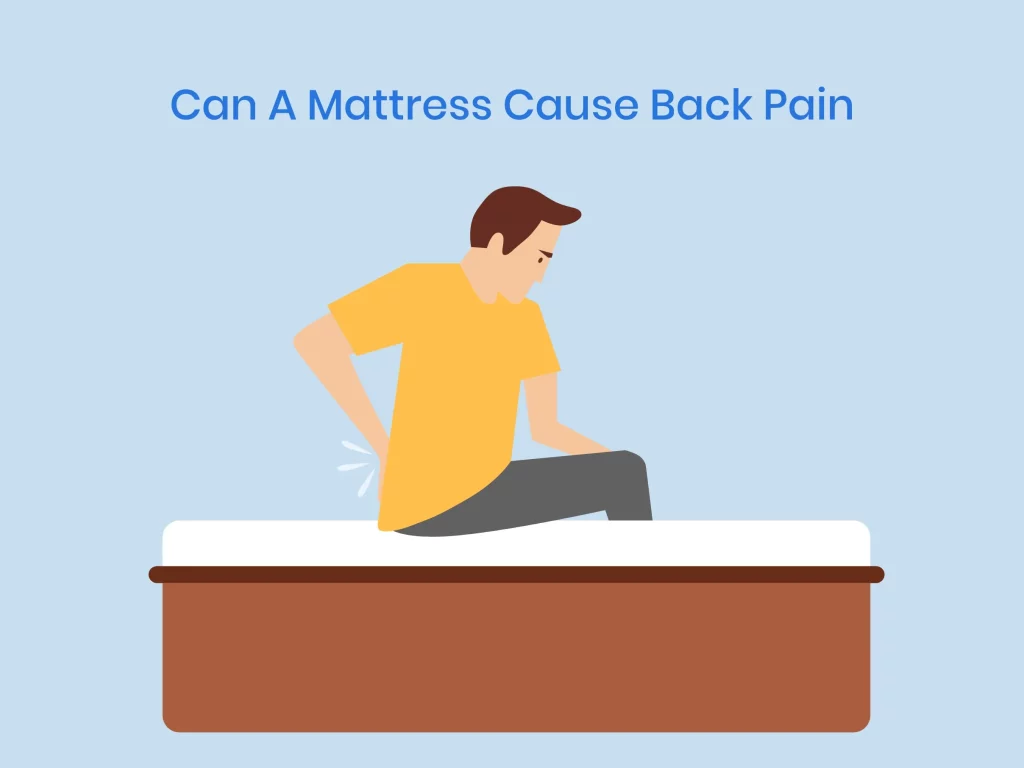 For people looking for complete spine support, orthopaedic mattresses might be the right choice for them. They are mostly fabricated with memory foam, latex, and springs – intricately designed to provide pressure relief.
To soothe your dilemma, Sleep Guide, after an exhaustive analysis, has come up with the '3 Best Mattresses for Back Pain' –
Wakefit Orthopaedic Memory Foam Mattress
Sleepyhead Original Orthopaedic Mattress
Sleepycat Orthopaedic Mattress
Without any further ado, let's get started with the details.
3 Best Mattress for Back Pain
Firmness level, thickness, comfort, construction, and the number of layers, are just a few of the parameters to concentrate on while buying the best mattress.
Parameters
Wakefit Orthopedic Memory Foam Mattress
Sleepyhead Original Orthopedic Mattress
Sleepycat Orthopedic Mattress
Firmness
Medium-firm (5 to 6)
Medium-firm (5 to 6)
Firm (6 to 7)
Thickness
5 to 10 inches
5 to 8 inches
6 inches
Weight
9.04 kg
9 to 28 kgs
20 kgs to 30 kgs
Construction
Next-Gen Memory Foam
7 Pressure Zone Layer
High-Resilience Layer
Breathable Fabric
Super Soft Foam
BodyIQ Orthopaedic Memory Foam
Support Foam
SoftTouch Bamboo Fabric Cover
Latex Foam
Open-cell Memory Foam
High-Density Foam
Linen Finish Side Wall
Hypoallergenic
Yes
Yes
Total layers
3
4
5
Sleeping Position
All
All
All
Body Type
Over 80 kgs
Any body shape
Any
Budget
Around Rs. 8, 000 to Rs. 23, 000
Rs. 7, 499 to Rs. 15, 999
Rs. 8, 800 to Rs. 16, 800
Structure
Special Features
7 Pressure Zones

Spun Knitted External Cover

Helps spine alignment

BodyIQ Orthopaedic Memory Foam

Personalized Comfort

Zero Disturbance Sleep

Washable Breathable Cover

Premium Orthopaedic

Precision-cut support channel

5-zone support

Open-cell memory foam

Lifespan
10 years
10 years
10 years
Sizes Available
Single, diwan, queen, king
Single, double, queen, king
Single, double, queen, king
Shipping/Return Policy
Free
Free
Free
Wakefit Orthopaedic Memory Foam Mattress
Founded in the year 2016, Wakefit has gradually climbed the ladder of success with its prolific features. The Wakefit Orthopaedic Memory Foam Mattress has been finely designed with some advanced technologies like – Next-Gen Memory Foam, 7 Pressure Zone Layer, and a High Resilience Layer. The product has gained over 1200 reviews resulting in a terrific 4.8 out of 5 ratings.
Customers will receive the mattress freshly delivered from the factory or warehouse, post which they will relish the medium-firm feel, premium-quality fabrics, and the presence of a removable zippered external cover. If you are thrilled by the features, wait no further, opt for their 'No Cost EMI' option and avert the hassle of paying interest.
Pros
Offers wide range of sizes and variations
Comfortable, offers perfect thickness
Budget-friendly
No sore back and complete satisfaction
Perfect buoyancy
Cons
Some customers experienced back aches even after using the mattress
Correct sizes not delivered to one of the customers
Customer neither received complete product delivery, nor refund
Sleepyhead Original Orthopaedic Mattress
How about sleeping on a mattress that will contour your body shape, weight, and sleeping position, resulting in the comfiest sleep? That is possible. Sleepyhead's Original Orthopaedic Mattress is created with the intelligent BodyIQ Orthopaedic Memory Foam, super soft foam, support foam, and breathable fabric – layered for providing supreme convenience. With a brand ambassador like Ranveer Singh, this brand is all set to show some fireworks with its mattress collections.
This mattress can be treated as an exemplary product suited for diverse sleeping positions, body types, and every lifestyle. It brings out the ideal ratio of comfort, firmness, and cushioning, – three of which are binding factors for an orthopaedic mattress. There are over 1800 reviews with a complete 4.5 rating out of 5 that makes Sleepyhead a 'steal-deal'.
Pros
High-quality mattress
Punctual delivery
Reasonable pricing
Cons
Customers have complained of back pain
Complaints about specifications not matching
Sleepycat Orthopaedic Mattress
An orthopaedic mattress created with a blend of latex and memory foam has to be one of the most premium choices. With precision-cut support channels and 5-zone support – this mattress has been exclusively created for the back. It has 5 state-of-the-art layers starting from the SoftTouch Bamboo fabric, Latex foam, Open-cell memory foam, High-density foam, and Linen Finish Side Wall. The ultra-modern leading quality latex is created especially for spine alignment, and firm feel. The mattress cover is made of the most delicate Bamboo cover that is antimicrobial and breathable.
The product has gained over 700 reviews, and the rating has gone up to 4.7 out of 5 – making this product a noteworthy one. The majority of these positive reviews are because of its firmness, support from the base up, heavenly touch, and ergonomic 5-zone design.
Pros
Perfect thickness – neither too hard nor too soft
Cooling effect during summer
Soft cushion, heat absorbent, pain relief
Good back support
Cons
Customer didn't receive the size they wanted
Claims to be medium-firm but the customer found it firm
Customer found mattress height smaller than the bed
How Does Sleep Guide Shortlists/Decides on the Best Mattresses?
Sleep Guide follows a stringent procedure in selecting the Best Mattresses, and the parameters are listed below.
Sleep Guide focuses majorly on the nature of customer reviews. It is only after thoroughly checking the reviews, we place the brand under the list of 'Best Mattress'. For instance, these three top mattresses – Sleepyhead, Sleepycat, and Wakefit have numerous positive reviews as well as some negative reviews.
Brands that offer exclusive features or specifications only fall under the 'Best Mattress' category. In this category of Best Mattress for Back Pain, these three brands have numerous revolutionary features like SoftTouch Bamboo fabric, intense spine alignment, ergonomic support, BodyIQ orthopaedic, zero disturbance, and so on.
Price is one major factor driving the parameters behind the selection of the Best Mattresses. Sleep Guide always focuses on brands that offer budget variations – from low to high.
Brands that offer extended warranties like 8 to 10 years are beneficial to customers. In this way, the customers are relieved of the maintenance costs.
Perks like free shipping, and free returns are some advantages that the Best Mattress brands. These brands have 'No Cost EMI' options as well.
Why are your reviews special to us?
Sleep Guide only chooses the ones that attend to myriad features and believe in consistent growth. All these brands undergo continuous advancement in terms of construction, thickness, firmness, and more crucial features.
---
people like this articles