Coirfit vs Sleepwell Mattress Comparison 2023
We personally test every product featured in our reviews and guide to provide accurate, data-driven recommendations. Learn More
Our dedicated team rigorously evaluates every article and guide to ensure the information is factual, up-to-date and free of bias.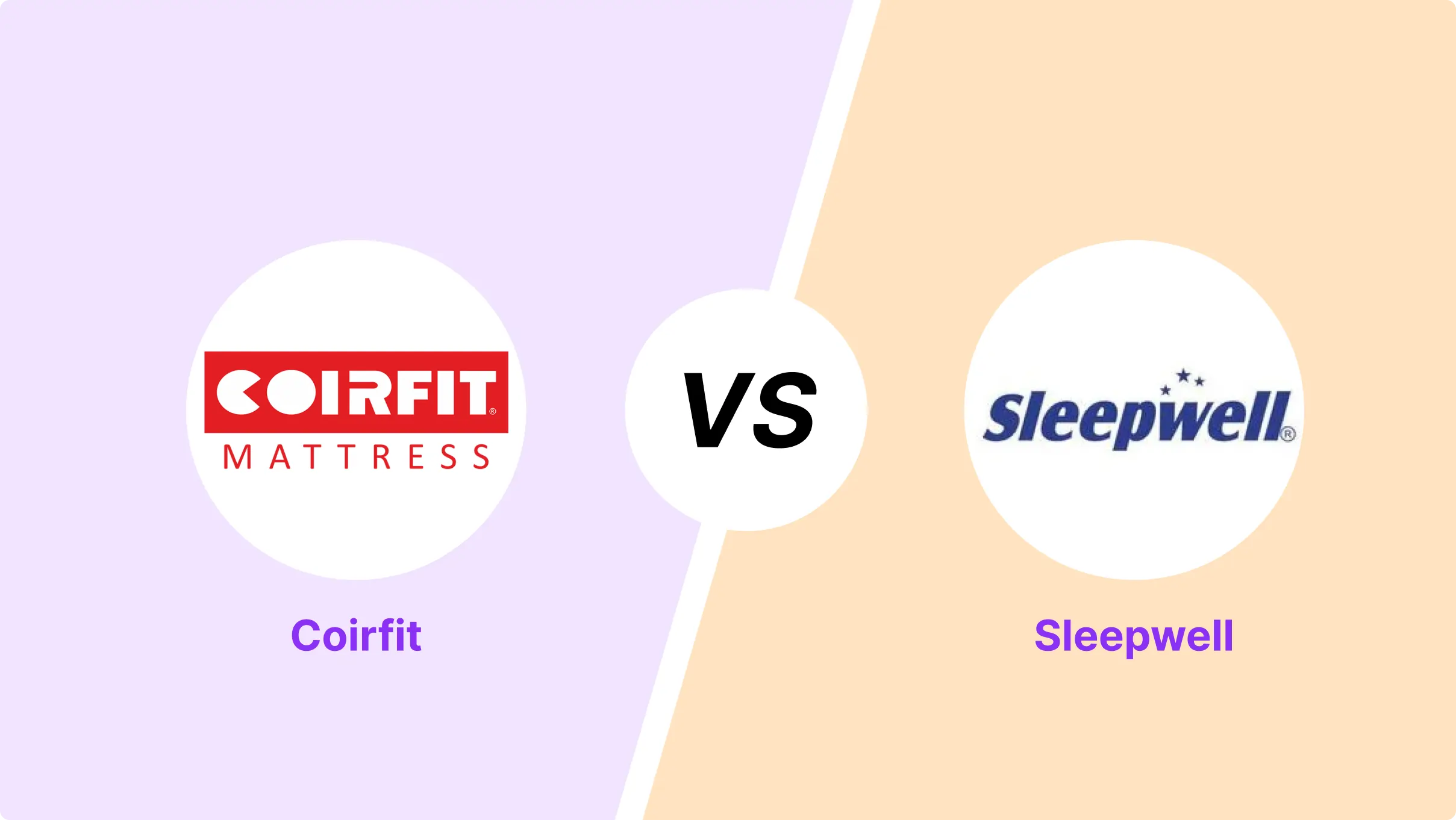 Coirfit vs Sleepwell is quite a comparison because both brands comprise excellent mattresses, bedding accessories, and more. And without a say, though they offer similar products, they are quite different. So let's see what their differences are.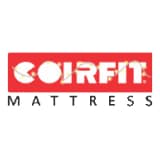 Talalay natural latex

Bamboo cooling covers

Motion isolation

5 Zone Sleep System

Price
Type
Layers
Height
Trial
Warranty
Edge Support
Motion Isolation
Return
Shipping
Standout Features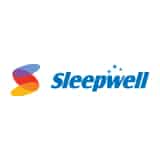 Even pressure distribution

Motion isolation

Superior air circulation

Firm edge support
The table enlisted the Coirfit vs Sleepwell mattress features, and the following are the elaborated points that should be considered before buying the mattress.
Coirfit vs Sleepwell: Mattress Comparison
Here's how unique Coirfit and Sleepwell mattresses are, all from their materials to their construction.
Material and Layers
The Coirfit i-Latex mattress consist of 4 layers, including bamboo cooling covers, the top 100% natural layer of Indonesian pincore latex, 5-zone supporting and contouring HR foam, and hard HR foam for extra support. The Sleepwell Naturalle 1.0 mattress comprises 9 layers, including the European knitted fabric covers with euro top finish, triple layered quilted foam, Natural latex foam, resilient foam, rubberised coir, individual pocket springs, foam side walls– to enhance durability, side seating support, and prevents side sagging, and engineered sidewall technology.
Firmness
Both the Coirfit i-Latex mattress and Sleepwell Naturalle 1.0 mattress is medium-ly firm, which is a perfect balance of softness and firmness. And a medium-ly firm mattress is popular among side, stomach sleepers, and back sleepers– in all weight ranges, particularly those between 130 and 230 pounds.
Thickness
The Coirfit mattress is 6 inches thick, whereas the Sleepwell mattress is 9 inches thick, with thicker options available. And wherever buying a mattress, it is better to select the thickest option because it adds support and durability.
Coirfit vs Sleepwell: Warranty and Returns
The Coirfit mattress offers an 11 Years bumper Warranty, and the Sleepwell mattress offers a 10 Years Warranty. However, Sleepwell has a free return policy, unlike Coirfit, which charges for returning the product
Coirfit vs Sleepwell: Financing
Both Coirfit and Sleepwell mattresses provide an EMI option with 0% EMI charges, calculated during the order's checkout.
Coirfit vs Sleepwell: Size and Pricing
The following chart enlists the Coirfit vs Sleepwell sizes and pricing
Dimension and pricing:
| Size | Dimension | Price – Coirfit | Price – Sleepwell |
| --- | --- | --- | --- |
| Single | (72x 30)- (84- 48/ 46) | ₹23,175- ₹32,445 | ₹42,600- ₹109,197 |
| Queen | (72x 60)- (78/84 x 66/70) | ₹46,350- ₹55,23 | ₹81,141- ₹159,271 |
| King | (72x 72)- (84x 72) | ₹55,620- ₹64,890 | ₹97,329- ₹163,840 |
| Diwan | (72x 48)- (78x 48) | ₹37,080- ₹40,170 | – |
*Disclaimer: This information was recorded on 11th January 2023 and is subject to change
Coirfit vs Sleepwell: Trial
Coirfit i-Latex Mattress has a 30 Nights Trial, whereas the Sleepwell mattress has a humongous offer of 100 Nights Trial, both of which are only applicable to standard-size mattresses. The trials are not applicable in the case of a customised mattress or swap between different models.
Coirfit vs Sleepwell: Awards and Certification
The Coirfit mattress is the first brand in India to introduce the Talalay latex and even won five well-deserving awards for being the best mattress brand. Furthermore, the Coirfit mattresses are certified by the U.S. Environmental Protection Agency, which means they are protected from dust, dust mites, and other bacteria.
The Sleepwell too comprises an amazing line of mattresses for which they won five awards. Moreover, their products are well-certified, making their quality trustworthy.
Coirfit vs Sleepwell: Buyers Reviews
Let us take a look at what the customers have to say about Coirfit vs Sleepwell mattresses.
Coirfit mattress reviews:
Review 1
"I was against the idea of a hard mattress. When this came i noticed ut was hard and i planned t return it. But after sleeping on it for a couple of days I realized i no longer had body pains. Kept it ever since." – Abhishek Thakur
Review 2
"It makes your sleeping very comfortable, healthy and fun. A great value for money and overall a nice product." – Amit Kumar
Review 3
"Have been using it for the past few weeks now and must say it's donw wonders to my back! Recommend it to anyone who's worried about posture and wants a good night sleep with a straight back. " – Vikram Mudholkar, Owner of Magic Mattress
Sleepwell mattress reviews:
Review 1
"First of all, the warranty dosnt make sense if the company deducts amount depending on the time passed. Also, by the time they replace it, the same products costs much more as they costed then.. so you end up paying hefty amount.
Review 2
Secondaly, the service. The Inspector who is detailed to inspect, Mr. Jitender never turned up for inspection and just asked for photos. Then he asks for bill, which is given by his dealer only. Now, even after everything is complete since last 10 days, neither he picks up call nor he provides any response on the status of replacement procedure. Very poor and unprofessional behaviour. I will never recommend anyone to buy a sleepwell matteress." – chhabrayogesh7
Review 3
"For the price, it is probably the best one in the market. If you live in hotter/sunny climate areas, you would want to with this only if you have AC in the room." – Rony
Review 4
"A very bad product. Sleepwell is company you cannot trust. Neither they support you nor they can explain why the product becomes very hard within 3 months of usage. You complaint and they give you instructions of how to use the mattresses, as if we are using them for the first time. Moreover, no instructions for usage are described before purchasing." – Parul A.
Conclusion
No doubt, all mattresses are different, and this article proves it. Although both are latex mattresses, however as the Coirfit vs Sleepwell mattresses were compared, you can easily spot-out their obvious differences. Even so, before buying a mattress, make sure to consider certain things. Considerations like your preferences, partners' preferences, budget, room, as well as your weight, body shape and age, to name a few.
---
6+ years of experience as a content writer. Previously worked as a freelance writer for one of the top mattress brands in India. Well-versed in writing product reviews, product descriptions and content for e-comm sites.
---
Read More About Mattress Comparison 2023