Mattress Sizes and Dimensions Guide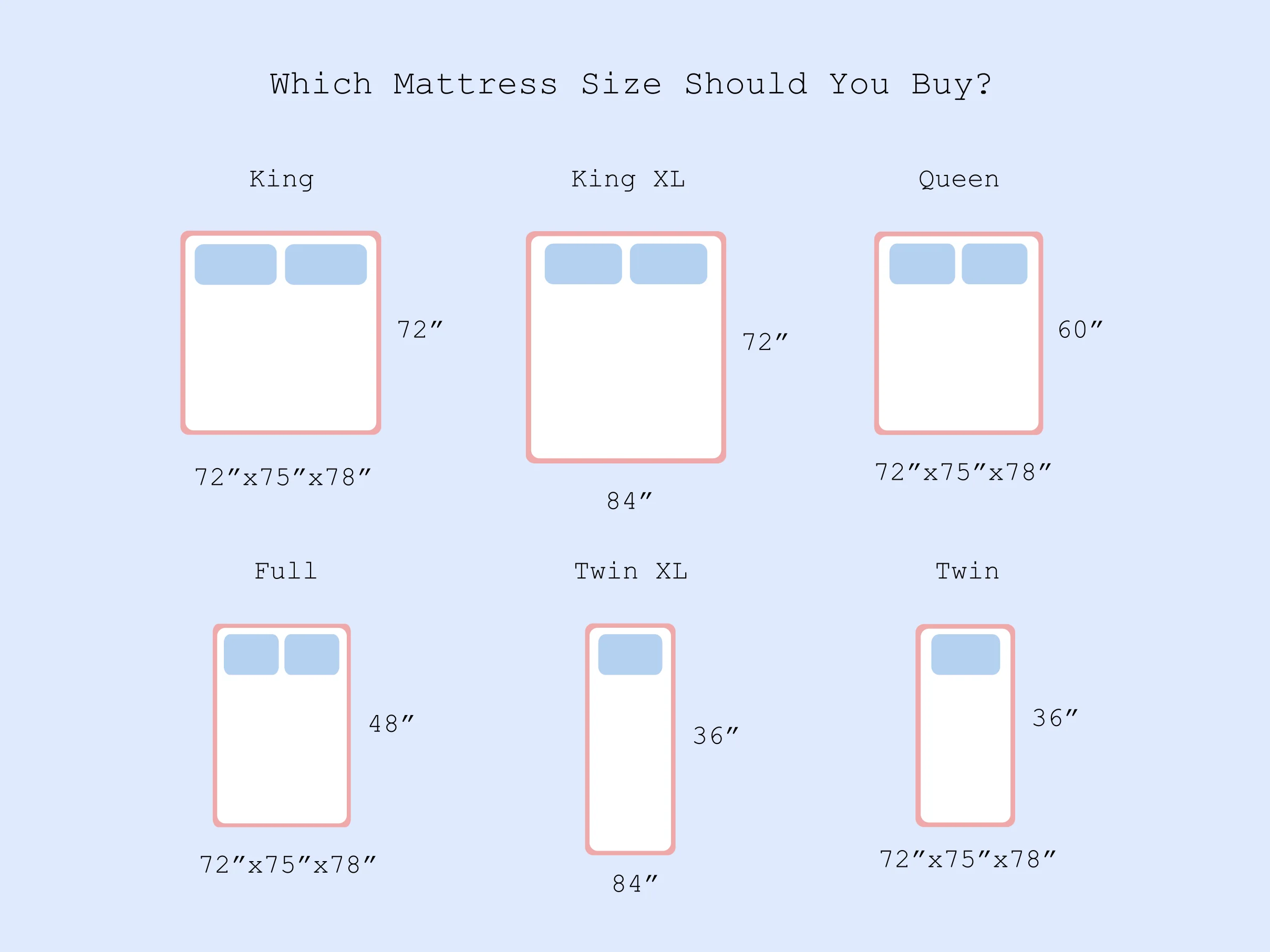 Choosing the right mattress sounds easy, but it can sometimes be a tad bit confusing. And the first step in this process is to get the bed size right. We bring you a comprehensive mattress and bed size guide to avoid any errors.
This guide will help you decide on the best mattress size for you because there is no one-size-fits-all bed. With several sizes available, it is always best to equip yourself with the correct information to bring home the right sized mattress. So, keep reading ahead to know more.
Bed Sizes And Dimensions Chart
| Mattress Size | Dimensions in inches | Dimensions in feet | Dimensions in CM |
| --- | --- | --- | --- |
| King XL | 72" x 84" | 6 x 7 | 182.88 x 213.36 |
| King | 72" x 72"/75"/78" | 6 x 6/6.25/6.5 | 182.8 x 182.8/190.5/198.1 |
| Queen | 60" x 72"/75"/78" | 5 x 6/6.25/6.5 | 152.4 x 182.8/190.5/198.1 |
| Full / Double | 48" x 72"/75"/78" | 4.5 x 6/6.25/6.5 | 137.16 x 182.8/190.5/198.1 |
| Twin XL | 36" x 84" | 3 x 7 | 91.44 x 213.36 |
| Twin/ Single | 36" x 72"/75"/78" | 3 x 6/6.25/6.5 | 91.44 x 182.8/190.5/198.1 |
King Mattress Size
A king mattress size measures 72" x 72"/75"/78" and it is usually best suited for a large master bedroom. It gives you the luxury of ample space so you can easily move around in your bed. If couples use a king-size bed, each one gets 36" of space, which is more than what you enjoy on a twin or a single bed.
Best For
A king-size mattress is ideal for couples and those who want to co-sleep with their kids or pets.
Room Size
The minimum room dimensions for this mattress include 12 X 12 feet. This will allow you enough room to move around without feeling cramped in the room.
King XL Mattress Size
A King XL size 72" X 84" is offered by a few brands. It is usually suited for tall people who need the extra length.
Best For
A King XL is best suited for tall people or people who enjoy ample legroom. It is also for couples who sleep with a pet.
Room Size
The best room dimensions for King XL is at least 10 X 12 feet. Here, a narrow but long room would do.
Queen Size Mattress
A queen mattress size is 60" x 72"/75"/78" and it is a popular choice amongst couples and singles because it is cheaper than a king and offers space.
Best For
It is best for singles who love sprawling and sleeping, couples, and couples with small pets.
Room Size
To bring home a queen bed, the room size must be at least 9.6 X 10 feet and be a perfect fit for rooms that measure 10 X 14 feet.
Full Mattress Size
A full mattress measures 48" x 72"/75"/78". Also known as double beds, a full-size mattress is a step up from a twin. They are great for singles and can easily fit into a small room.
Best For
A full bed is ideal for teens, single adults or petite couples who love sleeping cuddled.
Room Size
For a full-size bed, the room size should be at least 10 x 12 feet.
Twin XL Mattress Size
A Twin XL mattress is customizable, and only a few brands in India offer them. It measures approximately 36" X 84" and gives you extra inches compared to a twin mattress.
Best For
Twin XL mattress is excellent for teenagers and single adults.
Room Size
The ideal bedroom size for a twin XL mattress should be at least 8 X 10 feet.
Twin Mattress Size
Twin mattress sizes measure 36" x 72"/75"/78" and are also known as single beds. They can also be used as bunk beds with the exact dimensions. It is usually meant for young children.
Best For
It is best for children between the ages of 2 to 12 or suitable for bunk beds.
Room Size
The room should at least be 7 X 10 feet. However, if you are putting two twin beds together, the room size must be at least 9 X 9 feet.
Other Mattress Sizes
Let's look at other special mattress sizes available today.
Crib Mattress Size
A crib mattress comes in different measurements and starts from approximately 33" X 19". This is the smallest mattress size and is designed for infants or toddlers. It can easily fit in a children's room, which measures 7 X 10 feet.
Diwan Mattress
A diwan mattress is a small single bed that measures 35" X 72". It can be used in guest rooms and also the living room. Diwan beds are standard fixtures in several Indian households. They are usually adorned with bolsters and give you a royal feel.
Queen XL Mattress Size
A Queen XL mattress size is 66" X 72"/75" /78" and can be bigger than a queen but smaller than a king. It is not readily available in the market, so it may be challenging to find suitable accessories. This is an excellent option for couples looking for something slightly bigger than a queen but smaller than a king.
These were some of the standard mattress sizes that are easily available today. Remember, before zeroing in on the mattress of your choice, consider factors such as room size, budget and more.
Things to consider before choosing a mattress
Before you jump the gun, there are a few factors you must consider before buying a mattress, such as the budget, bed size, and more. So, take a look.
Who Is Using The Mattress
Regarding mattress sizes, there are plenty of options today. Therefore, you can use the tips below to cure any confusion.
Children: A twin, twin XL, and full mattress can be suitable for children. If you buy anything smaller than that, there are chances that children will outgrow them sooner than later. So here, going for a standard size always helps.
Teenagers and Single adults: For teenagers and single adults, twin, twin XL, full, and queen can be ideal sizes. If you require extra legroom and love sleeping sprawled, then you can opt for a full or a queen.
Couples: A queen, king, or Cal king make the perfect mattresses for adults as they offer ample space.
Couples with pets or kids: Queen, king or Cal King mattresses can be used here.
Room Size
Once you decide on the mattress size, the next crucial step is to check your room size. The thumb rule you must follow is to leave at least three inches of space on three sides of the mattress, so there is ample space for you to move around.
Body Weight and Height
Always consider your body weight before choosing a mattress's firmness. Heavier people can opt for a slightly firmer mattress as it will prevent any sinkage, and people who weigh less can go for a softer mattress for the right pressure point relief. If you are confused, always go for medium-firm, as it is suitable for almost all body types.
Sleeping Position
The next important step is your sleeping position. For instance, let's say you are someone who flops yourself all over the bed with your hands and legs taking more than enough space you need. Then instead of a twin, you can always go full or a queen mattress.
Budget
Finally, the budget is always essential. Continuing the above example, let's say you are a single adult but want something roomier. But the budget is a constraint. So, you can always go for a full instead of a queen.
FAQs
What size bed do most couples have?
Most couples opt for a queen or a king-size bed.
Is a Full-size mattress big enough for two people?
No, a full-size mattress can be perfect for singles however it may feel too claustrophobic for couples.
What is the biggest mattress size available in the market?
In India, a king-size mattress, which measures 72" x 78" is the biggest mattress size available.
Will two Twin beds placed next to each other be the same size as a King bed?
No, putting two twins together will give you a bed that measures 72" X 72"/75"/78" but a king measures 72" X 85".
Can you put a Queen mattress on a Full frame?
No, a queen mattress is bigger than a full, so it won't fit properly.
What size sheets should I buy for two Twin mattresses pushed together?
You can always use two twin bed sheets or you can always king mattress sheets for the same.
---
6+ years of experience as a content writer. Previously worked as a freelance writer for one of the top mattress brands in India. Well-versed in writing product reviews, product descriptions and content for e-comm sites.
---
Read More About Mattress Sizes