Corform vs Sleepwell Mattress Comparison 2023
We personally test every product featured in our reviews and guide to provide accurate, data-driven recommendations. Learn More
Our dedicated team rigorously evaluates every article and guide to ensure the information is factual, up-to-date and free of bias.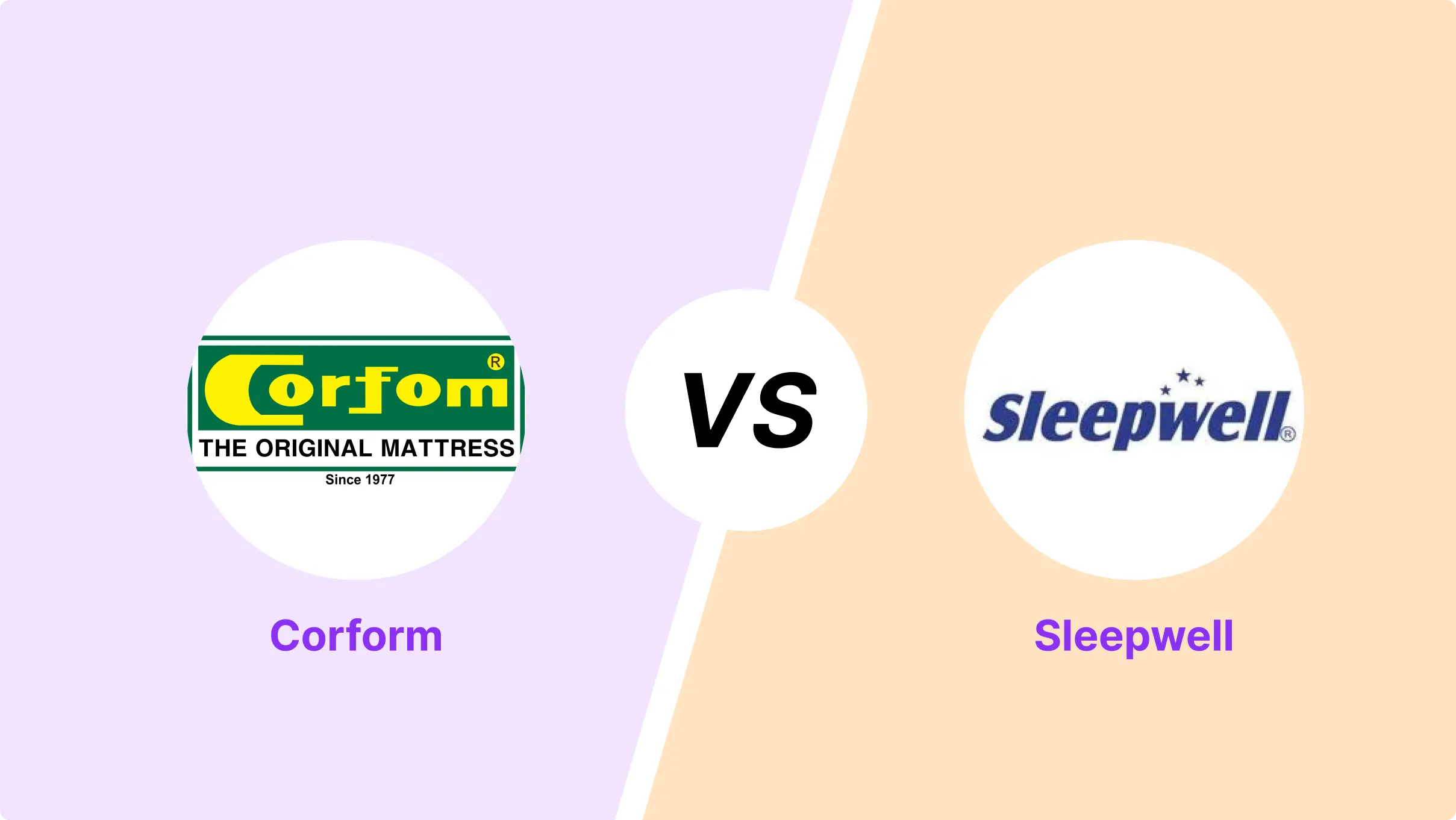 Are you in the market looking for a new comfy mattress? Well, this article is for you! Today, Sleep Guides India will compare Corform vs Sleepwell, two immensely popular Indian mattress brands. From their unique features to pricing, we are here to tell you everything you must know about them so you end up with the right choice.

Budget-friendly

firm support

Price
Type
Layers
Height
Trial
Warranty
Edge Support
Motion Isolation
Return
Shipping
Standout Features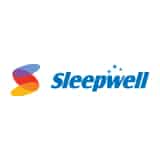 Ortho Pro Profiled Mattress
Anti-microbial technology

Airvent technology with gel infusion

Fabric with wave zoning design

Washable zipper cover
This table offers you a sneak peek into the features of both Corform vs Sleepwell mattress. Below, we unpack more and tell you all about them.
Corform vs Sleepwell: Mattress Construction
The Corform mattress is available in 5-inch thickness and made of two layers. It is a firm mattress and is designed to support your back and spine. At the same time, Sleepwell comes in 5, 6 and 8-inch thicknesses and is medium-firm. It is made of 5 layers and also comes with a washable zipper cover.
Mattress Construction:
The first layer of the Corform mattress is made of bonded foam, which offers the necessary firmness to support the spine. With Sleepwell, you receive Airvent Gel impressions. It perfectly adapts to the curves of your body and delivers optimal pressure and pain relief. The airvent technology comes with gel infusion, which allows heat and humidity dissipation, keeping you cool throughout the night. Therefore, if you are a sweaty sleeper, Sleepwell can be an ideal choice.
The second layer of the Corform mattress is made of soft foam. This layer is said to give you the support. Coming to Sleepwell, the second layer is made of profiled PU foam. It is ergonomically designed to offer distinct pressure relief to different parts of the body. It also promotes proper airflow.
The third layer of the Sleepwell mattress is made of PU foam to offer the perfect support you need for an uninterrupted snooze. The fourth one comes with a wave zone design for greater back comfort and finally, you receive a washable zipper cover.
Thickness:
While the Corform mattress is available in 5-inch thickness, with Sleepwell you get three options. They offer 5, 6 and 8-inch thicknesses. So, you can choose as per your needs.
Firmness:
Corform is a firm mattress whereas Sleepwell is medium-firm. Medium-firm is neither very soft nor hard and can be suitable for a variety of sleepers. But not everyone can adjust to a firm mattress.
Corform vs Sleepwell: Warranty and Returns
Both brands offer 5 years warranty. However, with Corform additional charges may apply if you want to return the mattress and not all returns may be accepted. Therefore, it becomes necessary to check with customer support. But Sleepwell offers free returns.
Corform vs Sleepwell: Financing
If you are looking for financing options, sadly Corform does not offer any. But you can avail of EMI options with the Sleepwell mattress.
Corform vs Sleepwell: Size and Pricing
Sleepwell is available in three standard sizes, which include Single, Queen and King whereas Corform is available in four standard sizes, which include Single, Double, Queen, and King. However, Sleepwell also gives you the option of customisation.
| Size (dimension) | Corform | Sleepwell |
| --- | --- | --- |
| Single | INR 7,100 | INR 8,046 |
| Double | INR 9,980 | – |
| Queen | INR 13,200 | INR 16,093 |
| King | INR 15,000 | INR 19,302 |
| Custom | – | INR 19,302 |
Disclaimer: All the prices mentioned here are the original prices and not the discounted prices. The brands have discounts and sales from time to time. Visit their website to know their pricing at that current time.
Corform vs Sleepwell: Trial
Conform mattress does not offer any trial nights. But with Sleepwell, you get a 100 days trial period. So, you can use the mattress for approximately three months and see if it suits your needs.
Corform vs Sleepwell: Buyers Reviews
Let's see what users have to say about the mattress!
Corform
The mattress causes severe heating issues. The delivery/salesman who came for installation and who later also came when complained about the heating issue was utterly rude and did not care about the issue. He says there's no problem in the quilt and there's no problem in the underlying mattress material so basically, I am mad to feel the heat and that his product is 100% perfect. The company doesn't have a detailed warranty/guarantee document at all. A fraud company, fraud employees and fraud products. Don't risk it with them. – By Viraj
Worst Company Ever. The mattress got deflated and damaged within a year. There is no customer service and after-sales support. The dealers don't help u at all. Never buy from Corform again all my money got wasted. After a lot of complaints, Mr Rajiv Rathore of Coirfoam who is a good person and understands customers' concerns replaced my mattress within 2 days. I had to pay an extra Rs 4275 which is as per company policy so they charge 20% on Mrp after one year. Plus 400 transport charges. So all in all I had to pay 5k more for the replacement under warranty. – By Atul Rana
The company will provide you with a warranty of 11 years but after two years mattress sag. And their services are very bad. It is more than one month no one is taking my compliment. – By Meenakshi Dhandhi
Sleepwell
Excellent product. This is a very soft and comfortable mattress. I am happy with the smooth mattress. The packaging was done in an excellent manner. – By Gangadhara Kesappagari
The mattress is excellent and comfy..will enjoy each day sleeping on it..it helps in having a very good sleep..very much satisfied with the product. I'm writing this after using the mattress for almost a week now. I was not sure how a memory Foam mattress is going to be. But I'm glad I made the choice to try it. It's simply amazing. Very comfortable and soft. Since the time we got this mattress my sleep quality has improved. My search for a perfect mattress has finally ended. Customer service is also very good. Any queries they r ready to help. Delivery was fast. I recommend this product! It's a must-try. – By Srihari Mummidi
It's very comfortable for sleep and anyone looking for a good mattress. You can go for it. – By Surya
Conclusion
When you compare the pricing of Corform vs Sleepwell, Corform is a budget-friendly option. That said, the difference is not too much! With Sleepwell, you can enjoy advanced technology and ensure healthy sleep. The firmness Sleepwell offers can also be suitable for all types of sleepers and can give you the perfect amalgamation of plushness and firmness. And going by the reviews, Sleepwell looks like a clear winner!
---
6+ years of experience as a content writer. Previously worked as a freelance writer for one of the top mattress brands in India. Well-versed in writing product reviews, product descriptions and content for e-comm sites.
---
Read More About Mattress Comparison 2023