9 Best White Noise Apps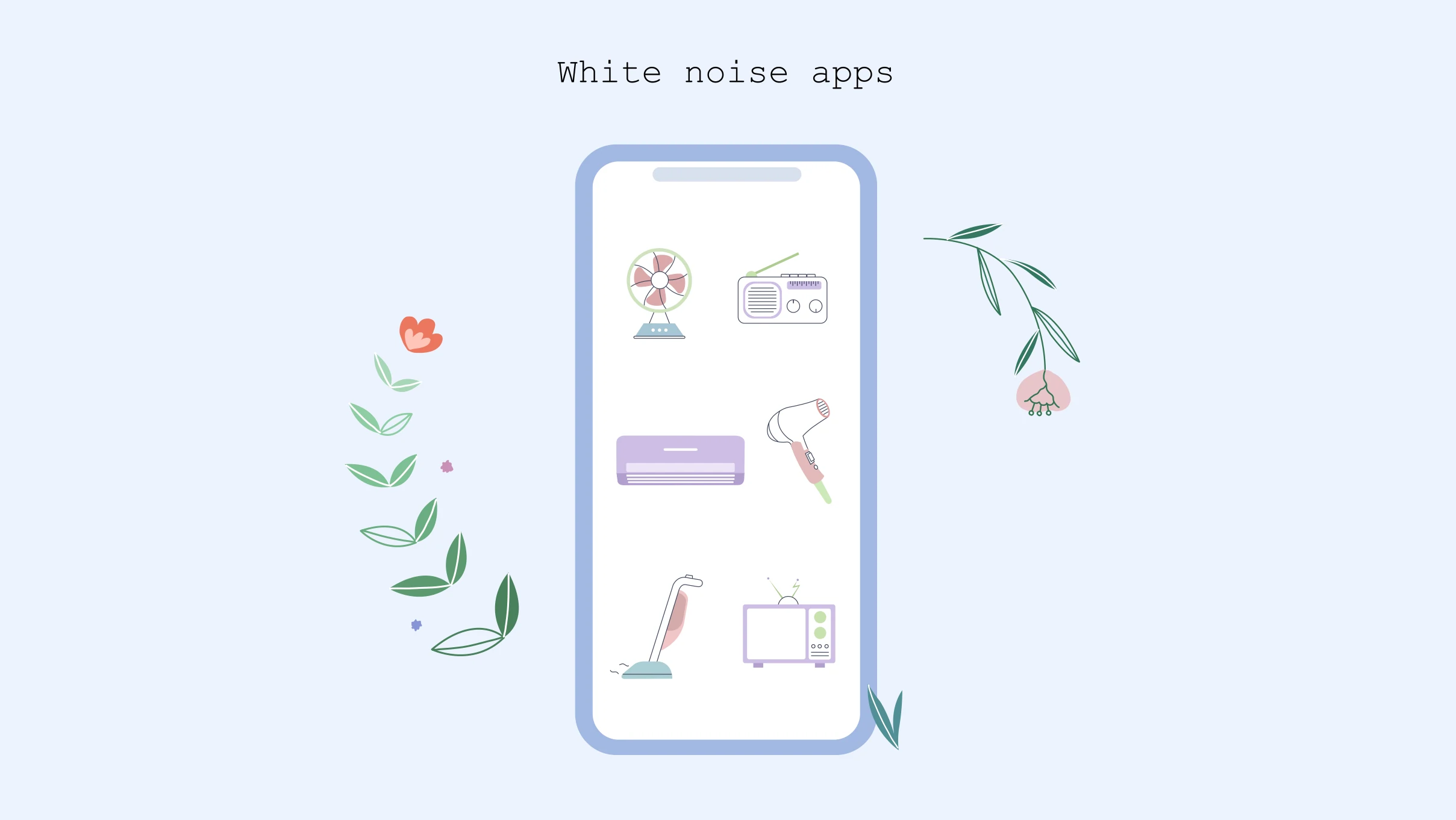 Do you have trouble sleeping after going to bed? This could be because of stress, your partner's habit of sleep-talking, or a disrupted sleep schedule. White noise is the most well-known remedy for this. Calming sounds for sleep go straight to your brain and relax you.
Where will you find white noise? White noise apps or machines help you have calming sounds for sleep. People mostly use white noise apps for babies to fall asleep better and quicker. White noise apps are best because you can carry these soothing sounds everywhere, even while travelling.
Sleep Guides India will walk you through the best white noise apps for Android, iPhone, and other devices and how they work.
What Is White Noise?
"White Noise" describes a noise evenly distributing all audible spectrum frequencies. This calming combination of sounds gives the impression of broadband; hence, it is also known as "broadband noise." People love and connect with the white noise that comes from untuned radio or television. According to researchers, white noise improves sleep quality, helps you work more effectively, and relaxes your mind. Additionally, it provides calming sounds for sleep and combats the signs of attention deficit hyperactivity disorder (ADHD).
How Do White Noise Apps Work?
White noise apps are easy to use. You just need to download them and switch to the tunes you enjoy. These sounds include "pink noise," "white noise," and many others. These apps also feature a variety of other sounds, such as birds chirping, coffee shop sounds, and even cricket sounds. It entirely depends on the app you choose to listen to. There are a variety of free white noise apps for iPhone and Android with in-app purchases. The premium edition has additional calming sounds as well as improved sound quality. There are white noise apps that play all night but also have timers if you want to play the sound till you fall asleep.
9 Best White Noise Apps
Here are the best free white noise apps for Android and iPhone users:
myNoise
myNoise is a free white noise app that is customisable. A noise generator is built inside the app to remix the tunes and create the sounds you adore. Play soothing sounds and pick a frequency that appeals to you—brown, pink, white, or any other sound. Parents play white noise apps for baby to aid in better sleep.
The ability for your iOS and Android devices to multitask is the best feature. Play your favourite Spotify music while listening to the rain noise. Additionally, you can improve the sound quality of the calming sounds for sleep for just one dollar.
Dark Noise
One of the best free white noise apps for iPhone is Dark Noise. There are 40 distinct calming sounds for sleep relaxation. The best thing that makes it unique is the option to select your theme, make new icons, and create widget playlists that play soothing sounds of your choice.
Another great option is integration with iOS. If you're laying on the couch reading and suddenly feel sleepy, speak to Siri to play rain noises to sleep to.
Relax Melodies: Sleep Sounds
With over 50 million downloads, the best white noise app is now available! Relax Melodies is an amazing white noise app that contains 100 distinct soothing sounds for your peaceful sleep. The sounds you hear will give you the impression that you are there in person. This app includes breathing exercises, white noise, relaxing, and natural sounds. It enables you to customise various sounds to create calming sounds for sleep. Sound lovers will appreciate the ability to create their soundscapes and enjoy the playlist.
The quiet library is filled with calming sounds like the air, birds singing, and steady rain. The hum of an airplane or a faraway vacuum cleaner are examples of unexpected, unique noises. An additional sleep timer to turn off the music whenever you want, along with bookmarks for your favourite remixes.
Atmosphere: Relaxing Sounds
The Atmosphere app is another free white noise app with 100 different sounds. Play soothing sounds that range from city noise (a passenger train passing behind or coffee shop gossip) to binaural noises (which can aid with headaches and anxiety) to beach sounds and ocean waves. If you want to know your preferences and choices, play white noise or even multiple sounds at a time.
It allows you to set a timer for when to end the sound so that you can save your battery. This free app displays ads at the bottom of the screen.
Noisli
Noisli is one of those apps that isn't free but worth paying for. The sounds were valuable enough to be compensated for that reason. The users find the sound clarity and simple interface most enticing. Because of the straightforward icons and gorgeous backdrop colours, the interface and design have a zen aesthetic.
This is one of the best white noise apps that play all night and lets you create combos of multiple sounds that plays with a single tap.
Rain Rain Sleep Sounds
Most individuals enjoy listening to the sound of rain. The Rain Rain Sleep Sounds app features various water noises, including voices from the dishwasher, faucet, and washing machine. The app also features sounds of thunderstorms, rain on a tent, ocean waves, wind noise, and other things.
Through this app, you can mix multiple sounds to examine what it sounds like—imagine the voice of a waterfall with an airplane in the air. The app is free, but it displays ads. To avoid ads and add 60 additional sounds, you have to pay $4 monthly.
White Noise (Lite, Full, Pro)
The White Noise App is a free white noise app that allows you to play 40 soothing sounds and enjoy multiple sounds simultaneously. Play soothing sounds at any frequency you want for free. However, the app displays advertisements at the bottom, which can be avoided for just one dollar.
The layout and app are user-friendly. Just swipe once to switch sounds and play calming sounds for sleep. Noises available in the app include thunderstorms, wind, campfire, forest, ocean waves, and other soothing sounds.
Headspace
Although Headspace is a meditation app, it also provides white noise for peaceful sleep and meditation. Although this app is not free, its features make it worthwhile to pay for. They provide a one- or two-week trial to see if you need the features. Even though the premium costs $13 per month or $70 per year, remember that it also includes internal meditation tools and techniques. Play soothing sounds, guided meditation, and calming music to relax your mind and body. This app has 40 distinct calming sounds for sleep, including waterfall, snowy, jungle, and forest sounds (birds chirping, air of the forest, etc.).
White Noise Deep Sleep Sounds
The White Noise Deep Sleep Sounds app has a straightforward UI available in bright and dark modes. Play relaxing apps that make sounds like thunderstorms, birds chirping, rain noise, water noise, and other natural noises. You can blend sounds using this software for free to have unique experiences. Even after falling asleep, a sleep timer will turn the sound off. You can add 60 more sounds and remove ads by upgrading to a premium account. The white noise deep sleep sounds app is available for Android, iPhone, and Apple TV users.
Conclusion
White noise is a medium to improve your sleep quality and environment every day. What is "white noise"? How do white noise apps work? Both of these questions are well answered in the article, which includes a list of the best white noise apps for babies and adults. These free white noise apps include calming sounds for sleep and perform daily tasks effectively.
FAQs
 Is there a free app for white noise?
myNoise, which offers over 20 different white noise noises and is totally free to use, is the greatest option if you're seeking the best white noises.
Is it OK to play white noise all night?
Put the white noise machine as far away from your infant's crib as possible. Alternately, refrain from turning up the volume all the way. Use white noise only during calming intervals that last no more than an hour, and turn it off as soon as your child is asleep. Avoid using a white noise machine every time you go to bed.
Can I use my phone as a white noise machine?
Although third-party apps offer the most options and functionality, your smartphone may play static noise without the help of one. You may ask the Google Assistant to queue up an hour of white noise if you're using Android by saying, "hello Google, play some white noise."
What is the best white noise for sleeping?
Try a spinning fan, a hissing radiator, a humming air conditioner, or television static if you're looking for natural sounds that serve as white noise. If not, you can go for any white noise app.
---
---
Read More About Sleep Products