How to Choose a Weighted Blanket: Complete Buying Guide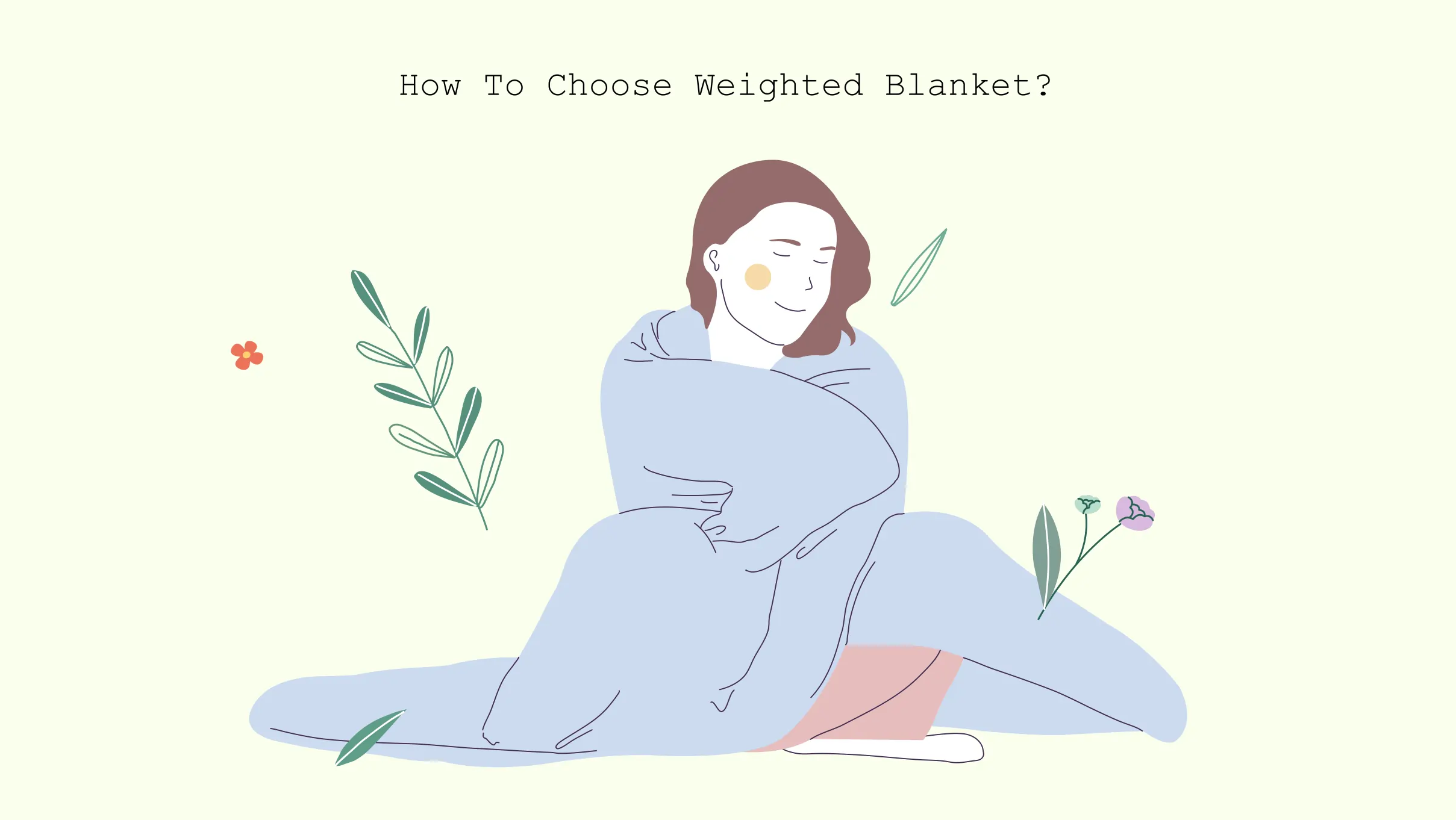 Blankets are an easily ignored factor in the search for a good night's sleep, maybe because many sleepers go without one.
But did you know there is a blanket that claims to improve sleep quality and help with a host of neurological and brain-based disorders, including anxiety and autism? This miracle blanket is called a weighted blanket.
What is a weighted blanket? They are what they sound like: blankets with weights. These blankets are composed of several pockets filled with little weighted objects such as beads or pellets and proffer benefits to the mind and body.
And depending on the sleeper, weighted blankets are available in various sizes and weights. Read this weighted blanket buying guide to learn how to choose a weighted blanket for yourself and your children.
How Heavy Should a Weighted Blanket Be
The right weighted blanket relaxes the sleepers and provides comfort, influencing undisturbed sleep. According to a study, a blanket with about 10% of a person's weight is the best weight for weighted blanket. It is a 10% rule recommended by therapists because of the calming effect.
The blankets shouldn't be too heavy but also heavy enough to apply the appropriate amount of pressure to the body's pressure points. Since finding the perfect weight for the blankets can be a little tricky, the following is the body weight and blanket weight chart to give you an idea.
Weighted Blanket Weight Chart
Below is a weighted blanket's weight chart for the corresponding body weight. In case you fall between standard weights, choose the weight of a weighted blanket with 0.4 kg to 0.5 kg more added weight.
| Body Weight | Blanket Weight |
| --- | --- |
| 13 kg – 22 kg | 1 kg – 2.5 kg |
| 22 kg – 31 kg | 2.5 kg – 3.5 kg |
| 31 kg – 40 kg | 3.5 kg – 4.5 kg |
| 40 kg – 49 kg | 4.5 kg – 4.9 kg |
| 50 kg – 54 kg | 5 kg – 5.5 kg |
| 54 kg – 58 kg | 5.5 kg – 5.8 kg |
| 63 kg – 72 kg | 5.8 kg – 6 kg |
| 72 kg – 81 kg | 6 kg – 8 kg |
| 81 kg – 90 kg | 8 kg – 9 kg |
Who Is Going to Use It
Before knowing how to pick a weighted blanket, consider who it is for. Is it for a child? Or an adult? This will help narrow down choices and what to look for in a weighted blanket.
Weighted Blanket for Kids
When choosing a weighted blanket for children, take note of their size, weight, and age. Also, make sure that the children are over at least two years of age to avoid choking hazards.
Weighted blankets also proffer certain benefits to children. The compression of the weighted blanket benefits the children by improving relaxation, better sleep routines, and undisrupted sleep. It also helps calm anxiety in children with ASD, ADHD, or sensory over-receptivity.
Weighted Blanket for Adults
Adults weighted blankets are easier to find. For a perfectly weighted size of the blankets, just make sure to take note of the height, weight, and size of the mattress.
The weight of the weighted blankets makes the sleepers feel more secure, reducing some symptoms of anxiety, such as a quickened heart rate or breathing, and providing an overall sense of calmness. Many sleepers also reported that the weighted blanket made them fall asleep faster, get an uninterrupted night's sleep, and they felt more rested in the morning.
Size of Weighted Blanket
Similar to weights, weighted blankets are available in an array of sizes and dimensions. Choosing weighted blanket sizes depends on the size of the bed and also the height of the sleeper.
The typical size options are:
Twin size: 38 inches wide x 72 inches long
Full size: 50- 56 inches wide x 72 inches long
Queen size: 60 inches wide x 80 inches long
King size: 80 inches wide x 86 inches long
Besides the above-mentioned clauses, the size of the weighted blanket also includes the sleeping preferences when buying. For example, some people prefer to only have their upper body covered, such as from the chin to the knees. Some travellers should consider mobility issues, such as small weighted blankets being great options to carry on planes and cars.
Filling In Weighted Blanket
Besides choosing the correct sizes and weights, finding the right fillers is equally important. The tiny objects in the blanket pockets determine the weight and feel of the weighted blanket. The most common fillers are poly-pellets, glass beads, sand, and grains as fillers.
Plastic Poly Pellets
Plastic poly pellets are the common filler in weighted blankets. These are also used in stuffed toy bases to help them sit upright.
Poly pellets are generally a cost-effective option that is also referred to as weighted stuffing beads. Once sewn into the fabric, they are easy to shape. Poly pellets are great fillers for weighted blankets since they effectively contour to the body's shape.
As the blankets are regularly used, they will also require regular cleaning. It is helpful that poly pellets are non-toxic and completely safe to wash, and can submerge into the water with no adverse reactions. However, poly pellets have uneven texture and may feel abrasive.
Micro Glass Beads
Micro glass beads are higher-end weighted fillers. These tiny beads' appearance resembles white sand or salt crystals.
Glass beads are perfectly smooth, a great option for sleepers bothered by the texture of plastic poly pellets in their blankets. In addition, they are environmentally friendly alternatives to poly pellets and are also hypoallergenic.
Micro glass beads are great options for individuals with severe auditory and sensory sensitivities because they are heavier than plastic pellets. They also proffer cooling effects, hence used in the best cooling weighted blankets.
Sand
Sands are rarely used as weighted blanket fillers. They are inexpensive and easy to acquire commodities.
Even so, price is the only advantage to using sand in weighted blankets. Although people assume that sand is an organic addition to making weighted blankets, the sands available for craft are only semi-organic.
Besides that, the craft sands get clumpy when wet. In addition, they don't disperse evenly throughout the blanket; due to this, the weight distribution is also uneven.
Washing and drying the weighted blankets with sand fillers could be a hassle since they can lose their shape after the first wash, considering they can get clumpy when wet. Also, if the stitches aren't reinforced, they can get messier than pellets or beads if there is a leak.
Rice, Beans, and Other Grains as Fillers
Sometimes foods such as rice, beans, corn, barley, or pasta are used as fillers in weighted blankets. These grains provide good weight to the blanket and are inexpensive and very easy to find.
However, the disadvantage of using dried grains as the blanket fillers becomes apparent as the blanket begins to age or needs to be washed. It is a given that food will deteriorate, and fillers could grow mould, fungus, or even attract insects.
Mouldy and infested fillers will eventually begin to break down and rot. Moreover, the last thing a pricey item, such as weighted blankets, should contain is something that can easily get infested and rot.
And if you were pondering, "what weighted blanket should I get?" then it's not this one.
How Much Do Weighted Blankets Cost
While weighted blankets are usually more expensive than regular blankets, they are worth the investment. The physical benefits of weighted blankets the Deep Pressure Therapy can outweigh the lack of sleep, which is linked to obesity, hypertension, stroke, and heart disease.
Besides, the monetary cost of a weighted blanket is certainly less than the cost of a few doctors' pay for the illnesses mentioned above. And considering the size, material, filler material, and weight factor, the weighted blankets can cost anywhere from 2,000 INR to over 50,000 INR.
If weighted blankets are not an affordable option, then consult a doctor about a weighted blanket prescription for issues like anxiety, circulation, or Restless Leg Syndrome. Because under section 80D medical expenses are often tax deductible.
Final Words
Weighted blankets are a health investment and offer an abundance of health benefits. It can soothe anxiety and insomnia or just a comfortable snuggle factor.
Furthermore, buying a weighted blanket depends on the size, material, filler material, and weight factors, and also the budget and preferences. In addition, weighted blankets can reclaim the sleep benefit for months and years to come. Just make sure to pick a blanket that's about 10 per cent of your body weight.
FAQs
How do weighted blankets work?
A weighted blanket employs "pressure therapy," which involves applying a soothing amount of pressure to your entire body, similar to the sensation of being hugged, swaddled, stroked, or held. The appropriate size and weight of a weighted blanket are determined by the individual's needs.
How to clean a weighted blanket?
Choose a bleach-free, gentle detergent and wash your blanket in cold or warm water on the gentle cycle. Avoid using fabric softeners. Select a light or medium dryer setting and fluff the blanket periodically while it is drying.
Are weighted blankets hot?
While weighted blankets are, by definition, heavier, they are not necessarily hotter than a standard blanket. Weighted blankets, unlike electric heated blankets, do not include heat settings or any way to produce heat.
Is it OK to sleep with a weighted blanket every night?
They are safe to use while sleeping all night. They are not, however, suitable for everyone. They are not, for example, recommended for children under the age of two. If you have a medical condition such as asthma, obstructive sleep apnea, or claustrophobia, you should talk to your doctor before pulling up the covers.
How long does it take to get used to a weighted blanket?
It may take up to 14 days for your body to adjust fully to the new weight. We form new habits in 14-21 days, so give your body enough time to adjust to the weight and the benefits.
Are weighted blankets good for side sleepers?
Weighted blankets can benefit people regardless of their primary sleeping position. However, when sleeping on your side, we recommend using a weighted blanket no heavier than 15 pounds. A heavy blanket may put too much pressure on your side.
Do weighted blankets need a removable cover?
Yes, having a removable cover will make it easier for you to wash it. The best versions will usually include an outer cover. You may be able to purchase the item without the cover. Alternatively, you may be able to purchase additional covers to add variety to your new bedding.
---
6+ years of experience as a content writer. Previously worked as a freelance writer for one of the top mattress brands in India. Well-versed in writing product reviews, product descriptions and content for e-comm sites.
---
Read More About Buying Guides