How to Choose a Mattress: Bed Buying Guide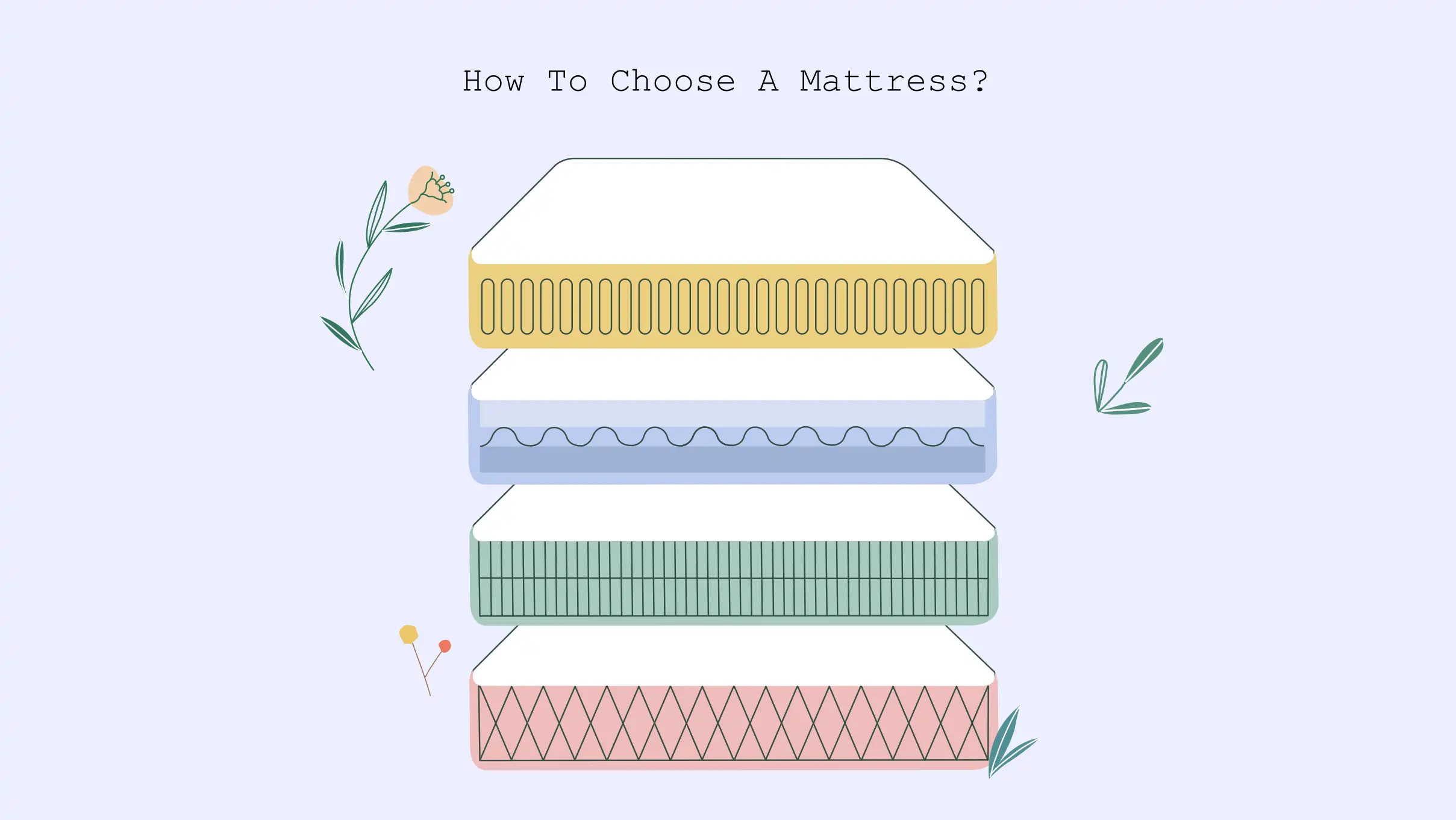 While sleep is crucial for good health, only 74% of Indians get enough sleep at night. One of the reasons for poor quality sleep is a bad mattress. Therefore, Sleep Guide India provides a comprehensive guide on how to choose a mattress. This easy guide will give you an insight into all the elements you must keep in mind before making a purchase. So, keep reading to know more.
Different Mattress Types
If this is your first time buying a mattress, it's always good to know about different mattress types. Foam, hybrid, latex, innerspring, and airbed are the popular kinds in the market today. Here, we bring you the basics about each type of mattress so that choosing a mattress becomes easy.
Foam
As the name suggests, foam mattresses are made of only foam and have no coils. They provide good contouring, pressure relief, and motion isolation. They can be a good choice for side sleepers due to the support it provides to the shoulders. When it comes to foam mattresses, memory foam is a popular choice.
Hybrid
A hybrid mattress offers you the best of both worlds. It provides the support of an innerspring and the comfort of foam or latex, which can help you sleep like a baby. These mattresses offer a slight bounce, and the innerspring layer ensures airflow.
Latex
Latex mattresses are known to be durable and also offer hypoallergenic properties. Here, all the layers are made of latex and offer excellent bounce. If you are looking for something eco-friendly, this can help you out.
Innerspring
An innerspring is a traditional mattress that has been around for ages. The coils offer the support you need and can help you with pressure relief. However, it is bouncy and may not provide the motion isolation you need.
Airbed
Airbed is an inflated mattress suitable for sudden guests or slumber parties. But as a regular mattress, an airbed may not be ideal as it may not offer the necessary support or pressure relief you may require.
If you are looking for a new mattress, these are the easily available types of mattresses available.
Mattress Firmness
When it comes to optimal comfort, you must choose the right firmness level. When we say firmness levels, it is how soft or hard the mattress is. Remember, it should always feel just right.
Usually, the mattress scale range from 1 to 10, with 1 being the softest and 10 being the hardest. Take a look at the below table to unpack more.
| Firmness Scale | Firmness Level | It Is Best For |
| --- | --- | --- |
| 1-2 | Extra soft | For side sleepers under 60 kg |
| 3 | Soft | For side sleepers under 60 kg |
| 4 | Medium soft | For sleepers under 60 kg and for side sleepers under 105 kg |
| 5 | Medium | For both back and side sleepers under 105 kg |
| 6 | Medium firm | For sleepers under 105 kg and side sleepers over 105 kg |
| 7 | Firm | For side sleepers over 105 kg and back and stomach sleepers over 60 kg |
| 8-10 | Extra Firm | For back and stomach sleepers over 105 kg |
The chart gives you an approximate idea of the mattress firmness levels and comfort differ from one individual to another. Therefore, it is essential to choose the one that feels right. Now, if you don't know which is the ideal firmness for you, look at the pointer that can help you with it.
Take note of your and your partner's weight and sleeping position.
If you have ever stayed in a hotel and found the mattress super comfortable, try to remember its firmness levels.
You can go to a mattress store and try it out.
Mattress Thickness
Once you finalise the firmness level of your mattress, the next thing that needs to be decided is the thickness level of the mattress. This is another factor correlated to your comfort. If the mattress feels too thin or too thick, it may impact your sleep negatively. The average mattress height is 10 inches but most high-quality mattress range from 8 to 14 inches. The approximate mattress thickness levels are;
2 to 5 inches – Low profile
5 to 8 inches – Slim
8 to 12 inches – Standard
12 to 16 inches – Thick
16+ inches – Extra thick
Mattress Sizes
One of the most important things is to check the mattress size. The Mattress should seamlessly fit your bed frame. If you are a couple looking for an ideal mattress, a queen or a king can be great. For a single adult, a full can do. A twin or twin XL can be suitable if you are looking for a mattress for your kids. The dimensions of the mattresses are given below.
Twin – 38 inches wide by 75 inches long
Twin XL – 38 inches wide by 80 inches long
Full – 54 inches wide by 75 inches long
Queen – 60 inches wide by 80 inches long
King – 76 inches wide by 80 inches long
Cal King – 72 inches wide by 84 inches long
Sleeping Positions
What is your sleep style? In which position do you find yourself in the morning? Because it is always ideal to buy a mattress that caters to your sleeping position so that you wake up feeling fresh. Let's look at the common sleeping positions and the best mattress for the same. However, the best type of mattress at the end of the day depends on which one offers you optimal comfort.
Side Sleeper
When you are sleeping on your side, you need a mattress that offers pressure point relief because the sharpest points, such as your shoulders and hips dig into the mattress. If cushiony support isn't offered, it can cause aches and pains. Therefore, for side sleepers, a medium-firm mattress is always ideal.
Back Sleeper
If you are a back sleeper, your lower back experiences most pressure. If the mattress is too soft, your lower back may sink in too deep and misalign the spine. And if it is too firm, it won't be able to support your back. Therefore, you can go for a medium-firm mattress as it is neither too soft nor too hard.
Stomach Sleeper
Just like back sleepers, stomach sleepers put pressure on the lumbar spine. If the mattress is too soft, it may sink in too deep and feel suffocating. Therefore, a medium-firm to a firm mattress can be beneficial.
Combination Sleeper
If you are a combination sleeper, chances are you will change your sleep position more than once throughout the night. Now, you must ideally choose a mattress that compliments your primary position. However, a medium-firm mattress is always a safe choice if you are unsure of it.
Body Type
Just like your sleeping position, your weight and body shape can also play a crucial role in influencing your mattress choice. For people who have a lighter profile or weigh under 60 kg, a soft mattress can be ideal as they won't sink it, and it may not feel too firm. It also offers sufficient contouring, especially for side sleepers looking for pressure point relief.
People between 60 to 105 kgs can opt for mattress firmness based on their sleeping position. From a memory foam mattress to latex, there are several options available. People over 105 kg can go for a firmer mattress because if it is too soft, they may sink into it, which can hamper the spinal alignment. Also, it may not offer pressure point relief. Here, a responsive mattress can also be beneficial as it helps avoid the feeling of being stuck inside the bed. If you are looking for a responsive mattress, latex and hybrid can benefit you.
You must even look for durability in mattresses. For instance, people over 105 kg can look for a thicker comfort layer and high-density material. You must also consider your height before buying a mattress. It should be able to accommodate you, even when you stretch out completely.
Pricing/Cost
There are several factors to consider before you purchase a mattress. But now you know what to look for in a mattress. However, the pricing of the mattress also plays a central role here. So, always have a budget in place before you proceed. Here's the price range for all types of mattresses.
| Mattress Type | Average Price |
| --- | --- |
| Foam | INR 10,000 – INR 1,05,000 |
| Innerspring | INR 8,000 – INR 15,000 |
| Hybrid | INR 10,000 – INR 1,37,000 |
| Latex | INR 15,000 – INR 1,47,000 |
| Airbed | INR 1,500 – INR 50,000 |
Today, you will find a variety of mattresses ranging from 10,000 INR to even one lakh rupees. However, the good news is that even if you are on a budget, there is a perfect mattress for you.
One of the main reasons for a high price point is the materials used. For instance, natural latex can cost more. However, some mattresses also come with organic, high-end materials. This elevates the price.
Now, the construction of the mattress also plays a central factor in the price point. For instance, a thick mattress is more expensive than one with thin layers.
The mattress and the components are sometimes imported or made using high-quality elements, increasing the price of the mattress.
Pricing usually differs from brand to brand. Especially if you opt for luxe brands, you will notice that their starting prices are relatively high. But if you are within a budget, you can always look for inexpensive yet high-quality brands.
Usually, mattresses purchased online are cheaper, and you also come across great deals. But a brick-and-mortar store can also be ideal if you know how to strike a good bargain.
Remember, while buying a new mattress may feel like a big investment, it is worth it because it is essential for a good night's rest and overall well-being.
How to Choose a Mattress for Back Pain
There are plenty of reasons why someone suffers from frequent back pain, but the wrong mattress can also be why. Having the right mattress by your side provides support and cushion to eliminate pain. However, you must speak with your doctor immediately if you are suffering from chronic back pain. Some tips to consider while choosing the best mattress for back pain are;
Right For You: One of the essential tips on how to choose the right mattress is to see what works for you. For instance, what may feel too firm for some may feel right to you.
Try It Out: If you go to a mattress showroom, you can test the mattress and see if it matches your requirements. However, a few minutes may not help you out. Today, many mattress brands offer trial nights where you can get a complete refund if you don't like the mattress before the trial period ends. This will help you get to know the mattress better.
Take Your Body Temperature into account: Yes, you are looking for a mattress for your back pain. But don't neglect your other sleep preferences. For instance, if you are a hot sleeper, look for a mattress that will keep you cool.
Lower back pain
When suffering from lower back pain, your lumber area is affected. This is the most common type of back pain, which occurs due to twisting or bending the wrong way. It can also occur when you sleep on a poor-quality mattress or in a bad posture. Studies show that for people suffering from lower back pain, medium-firm mattresses can be beneficial.
Upper back pain
Upper back pain isn't widespread as this is a more stable region, and twisting or bending doesn't lead to pain. However, if you frequently experience upper back pain because of your mattress, then a mattress that offers pressure relief may be ideal.
How to Choose a Mattress for a Child
Like adults, children also need a good night's rest. Proper sleep is correlated to childhood development. Therefore, the right mattress plays a crucial role in facilitating a deep slumber. While most factors of choosing a mattress for an adult and a kid fall in the same category, you must note a few differences. But the priority here is always safety.
It is always essential to look for safety guidelines and see if the mattress has passed all the required certifications. Next, make sure the size is right. You must keep in mind children may outgrow a small size. Therefore, you can always look for standard mattress sizes that are small, such as Twin or Twin XL. When you opt for an adult mattress, you also can choose from a wide range of products and brands. You can even opt for customisation, getting a mattress and a bed designed specifically for your kid. This can be slightly expensive. Some other tips for choosing the right mattress for your child include;
Firmness
Firmness plays a crucial role when you are choosing a mattress for your little one. Now, unlike adults, who can opt for a softer mattress, kids need a firmer mattress, especially while they are still in the crib. But once they transition from a crib to a bed, you can opt for a less firm mattress.
Construction
As we have already mentioned earlier, some common types of beds include innerspring, memory foam, and latex mattresses. You can also go for hybrid options, combining innerspring with memory foam or latex. A high-quality hybrid mattress with latex can be expensive, but latex is also a non-toxic alternative. In fact, latex can also be beneficial because it is known to distribute body pressure more evenly compared to other mattresses.
Material
When buying a mattress opting for an organic and natural bed for kids can be ideal because they are devoid of unhealthy chemicals. One study found that heat in conventionally made mattresses could lead to the release of harmful chemicals, which may not be harmful to adults but can be concerning in young children.
Water-Proof
If your child still wets their bed, going for a water-resistant mattress or a waterproof mattress topper can be highly beneficial as it means cleaning hassle-free. Otherwise, washing a heavy mattress, such as a memory foam frequently can be taxing.
How to Choose a Crib Mattress
When it comes to choosing a crib mattress, there are several factors you must take into consideration;
Safety
When it comes to choosing a crib, safety takes priority. Some of the things you must keep in mind are;
Go for a waterproof crib mattress
Choose a mattress made of organic and natural materials
Check for Oeko-Tex Certification
Choose a mattress from a reputed brand
Make sure the firmness level is right
Mattress Thickness and Size
Before you buy a mattress for the crib, ensure that the size and thickness are ideal. A crib mattress should not be thicker than 6 inches as it can lead to a risk of suffocation. Also, the correct height is necessary to protect the child. A thumb rule here is that if you can put two fingers in the gap, it is ideal for the child to sleep in.
Materials and Certification
When selecting a mattress for the crib, you cannot simply pick anything. You must check if the material used in the mattress is safe for the baby. Therefore, you can always opt for something completely safe, like a latex mattress. They can be safe for the baby and help regulate temperature. Next, ensure the mattress comes with all the necessary certifications and choose a reputed brand.
Breathability
A crib mattress must be highly breathable. This means the mattress promotes proper airflow and ensures your baby enjoys a cool and comfortable rest throughout the night. It also prevents excessive sweating.
Waterproof
A waterproof mattress is essential for your child as it makes cleaning easier when leaks or spills occur.
Allergen-Free
Another additional feature you must look for is that the crib mattress is protected from all allergens, so your child doesn't develop any unnecessary symptoms, such as coughing, wheezing, or breathing difficulty.
Durability
Finally, finding a good quality and durable crib mattress is essential. Check for reinforced stitching and see if the material doesn't succumb easily to wear and tear. You don't want to bring home a mattress that gives up within a few months.
When to Replace Mattress
Is your mattress ready to retire? Has it given up? Well, on average, you must replace your mattress every 6 to 8 years. However, it is not a one-size-fits-all guideline. It depends on the material of your mattresses, such as latex and memory foam. And today, some companies are coming up with new technology which gives you superior quality that can last for more than a decade.
An innerspring mattress usually lasts for about 10 years and can even last longer if they are two-sided. However, it is important to flip them to ensure the weight is distributed and avoid any wear and tear.
If you opt for a quality memory foam mattress, it can usually last anywhere between 10 to 15 years. That said, proper care is necessary. Next, the durability of a latex mattress depends on whether it is a synthetic or an organic mattress. Some latex mattresses can last up to 25 years. On average, a hybrid mattress lasts for 6 years. But it can also be more depending on the brand. Here are a few signs you need a new mattress;
If you notice wear and tear that's unfixable
The springs are too noisy
You have started waking up with stiff muscles or backaches in the morning
Your allergies are deteriorating, which can be because of allergens or dust mites
Your mattress has become lumpy
It just feels very uncomfortable to sleep on the mattress
You notice a strange odour, which doesn't go away even after cleaning
You have put on weight or sleep with a partner now, and the mattress is not built for it
Conclusion
Now you know how to choose the right mattress. Always take your comfort into account, as that's what will help you sleep peacefully. Try to look for a high-quality mattress. Remember, it is a one-time investment that will stay with you for years. Therefore, quality should be prioritized. That said, the higher cost of new mattress doesn't necessarily mean higher quality. Always do your research before making a purchase.
FAQs
How do I know what mattress is right for me?
When it comes to mattress shopping, Always try to look for a mattress that suits your sleeping needs. For instance, if you are a hot sleeper, you need a mattress that offers you cooling and let's say you are a side sleeper too, a medium-firm mattress can be beneficial as it can cushion the pressure points. For complete details, take a look at the above article. It gives you a step-by-step guide to help you understand how to buy a mattress.
Which type of mattress is most comfortable?
The most comfortable type of mattress depends on individual needs. It depends on your sleep position, body temperature, and more. However, when confused, you can always opt for a medium-firm mattress as it is neither too soft nor too hard.
What mattress firmness is best for side sleepers?
Medium to medium-firm can be the best mattress for side sleepers. This is because there is enough cushion to offer pressure point relief and also enough support to help maintain spinal alignment. However, you must consider your preference.
Is it better to sleep on a hard mattress or a soft one?
It depends on individual needs, your sleeping position, weight, body temperature, and more. If you are confused, you can always opt for a medium-firm mattress. However, take a look at the above article for more.
Do you need a softer mattress as you get older?
A firm to medium-firm mattress can be beneficial as you get older as a softer mattress can lead you to sink in, making it hard to move.
Which is the best place to buy a mattress? 
Thanks to technology, you can either buy a mattress online right from the comfort of your home or opt for a brick-and-mortar store. Even if you buy a mattress online, some brands offer trial nights, where you can try it for a couple of months and return it for a full refund if you don't like it.
---
6+ years of experience as a content writer. Previously worked as a freelance writer for one of the top mattress brands in India. Well-versed in writing product reviews, product descriptions and content for e-comm sites.
---
Read More About Buying Guides