How to Sleep with Curly Hair?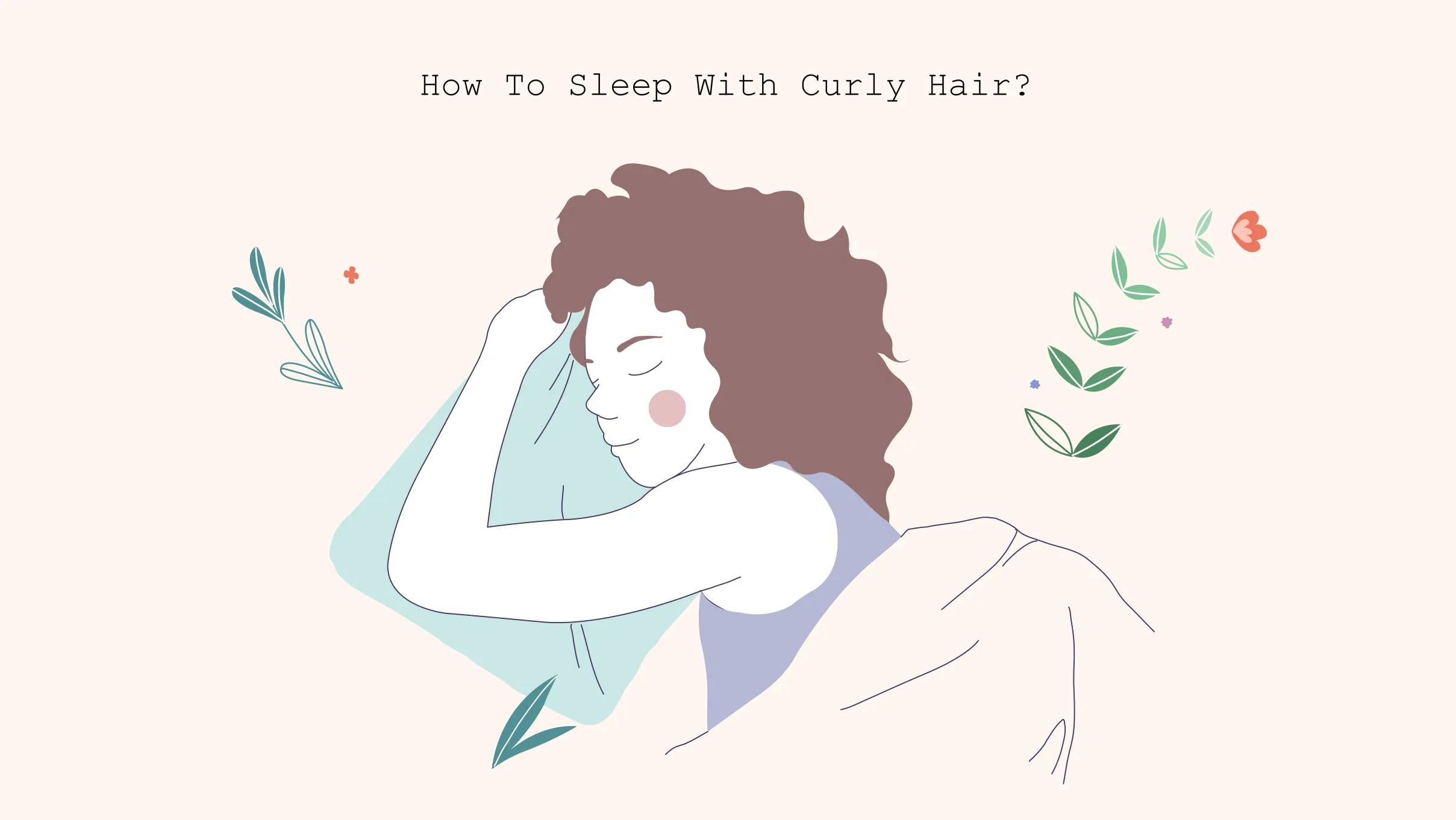 Bollywood is filled with some of the finest actresses, and some of them are Mithila Palkar, Tapsee Pannu, Sanya Malhotra, and so on. Most of their fame is because of their naturally curled and beautiful hair. They have made curly hair appear extremely beautiful and instilled a desire among women to be like them. If you are also someone who adores their curls and wants something similar, you know that it takes a lot of care and patience. This article will tell you how to take care of them while asleep. Read further to learn how to sleep with curly hair.
We have talked about ways like making a loose bun, plop, two-strand twist, pineapple, and more, to tackle your curly hair issues.
9 Tips to Sleep with Curls
Many women dream of having beautiful curly hair, forgetting that it needs that little extra care. Here we have discussed some ways to explain how to sleep with long curly hair.
1. Loose Bun
Doing a loose top bun like two-strand twists or a high bun will hold the curls intact. In addition, it will not put much pressure on the scalp while you sleep, waking you up with beautiful curls.
2. Plop
If you love your nighttime shower, you would love the plopping approach. Here, you need to wet your hair and follow the below steps.
Start by massaging your hair with curl gel or alcohol-free mousse or picking any curl-shaping product of your choice.
Then, place a cotton T-shirt flat and flip your wet hair over it.
Now take all your hair and tie it into a knot with the help of the arms of the shirt.
Sleep with the shirt tied overnight, and you will notice full curls once you wake up.
3. Two-Strand Twist
Another popular method of attending to your curly hair is doing two-strand twists. You need to make divisions by splitting your hair and creating a rope-like appearance by wrapping each section with the other. This style helps entangle the hair and protects it.
4. Pineapple
In this process, you can tie up your hair at the top of your head with a cotton or satin scrunchie. Remember to tie the scrunchie once and prevent pulling your hair hard or making a tight pineapple.
5. Multi-Pineapple
The multi-pineapple approach is similar to the regular pineapple hairstyle with just a little twist. Instead of tying your hair into one knot, you make different knots and cover them up with a scrunchie or hair bonnet.
6. Mini Braids
Mini braids are good ways to secure preventing hair strands from rubbing up against other hair follicles or the bed. You can make beautiful yet simple twists using bobby pins or small elastics. The best part about braiding your hair is that it keeps the original texture of the hair throughout the night.
7. Sleep on a Satin Pillowcase or Bonnet
When tossing and turning throughout the night, you stress the hair follicles and make them prone to breakage. But sleeping on a satin pillowcase will avert the chances of frizz and breakage. In addition, a satin pillowcase might help provide coolness to the head and doesn't accumulate oil on your scalp.
On the other hand, putting on a satin bonnet will not only prevent your hair from rubbing against the bed but also get frizzy. It acts as a security blanket and protects your curls while you sleep peacefully.
8. French Braid
French braids can be done by taking three sections of hair and braiding from the crown of the head to the nape of your neck. It helps reduce friction between the pillow and hair when you sleep. And, the combination of French braids with silk pillowcases will help keep your hair tamed and have structure. You will wake up being a 'Rapunzel'.
9. T-shirt Turban
Making a T-shirt turban is the easiest way to attend to your curly hair while you sleep. What is that thing even? You can make a T-shirt turban by placing your wet hair in the centre of a cotton T-shirt placed flat on the surface of your bed. Then take the two side ends and make a criss-cross at the nape of the neck, then bring the upper part and cover the criss-cross section, and lastly, tie it up with the sleeves in a knot. It is quite ideal for getting the desired texture.
What Hairstyles Should You Sleep In?
Remember, the texture of your curl might not be similar to that of celebrities. Therefore, how you sleep with curly hair depends on your hair type. But, if you have a keen desire to appear in a certain way, then the nighttime hairstyle will play a considerable role in attaining that.
Voluminous Curls
If you wish to see yourself having voluminous curls once you wake up, then opt for a high-top bun or pineapple hairstyle before bedtime. Most women desire to have voluminous hair since it makes them appear gorgeous. You can do it by simply tying a loose knot at the top of your head and twisting it with the scrunchie.
Loose Waves
To get loose waves that will give a beachy vibe, simply try a few braiding or twisting the curls into two large strands. To amp it up, try a leave-in conditioner before you twist. You will wake up having some eye-catchy curls for sure.
Tight Curls
To give your hair tight curls, try out Bantu knots. Bantu knots are invented by the Zulu people of South Africa where the hair is sectioned, twisted, and wrapped to result in spiralled and tight curls. Remember to make smaller sections, since it will lead to tighter curls.
How to Refresh Curly Hair After Sleeping On It
Hardly anything can match the beauty of having shiny and soft curls. We have listed some tips to make your process of achieving beautiful curls after waking up easier. Follow them and notice your hair is healthy.
Spend money on hair products that are hydrating and moisture-locking. Some of the products include olive oil, grapeseed oil, argan oil, and leave-in conditioner.
Water can be one of the best ways to rekindle the already-applied gels and a little scrunching would do wonders.
A leave-in conditioner spray helps soften and refresh the dry and frizzy curls.
If you have old curls that require longevity, put on some hair gel.
Avoid raking your hair with a comb or brush since it will separate your curls.
Conclusion
Curly hair are gorgeous, but maintaining it might be a little hard for some. If you are equally concerned about how to keep the curls intact after waking up, follow the aforementioned approaches, and see how your curls thank you.
FAQs
How do men protect curly hair while sleeping?
Men can protect their curly hair by putting on a silk or satin bonnet or pillowcase and sleeping on them. In the case of long hair, they can also put on a pineapple knot or plop their hair to protect it.
How should curly hair people sleep?
Curly people can sleep on a silk or satin pillowcase or bonnet, make braids or twists, put up a pineapple, and more.
How to sleep with wet curly hair?
apply leave-in conditioner
squeeze out excess water
twist/braid sections
protect with a satin/silk pillowcase or scarf/bonnet.
Wake up to defined curls by air drying or using a diffuser
---
Bachelor's Degree in English Literature 7 years of experience as a content writer Has experience writing for various industries, including health and wellness, travel, and technology
---
Read More About Beauty Sleep