What is a Mattress?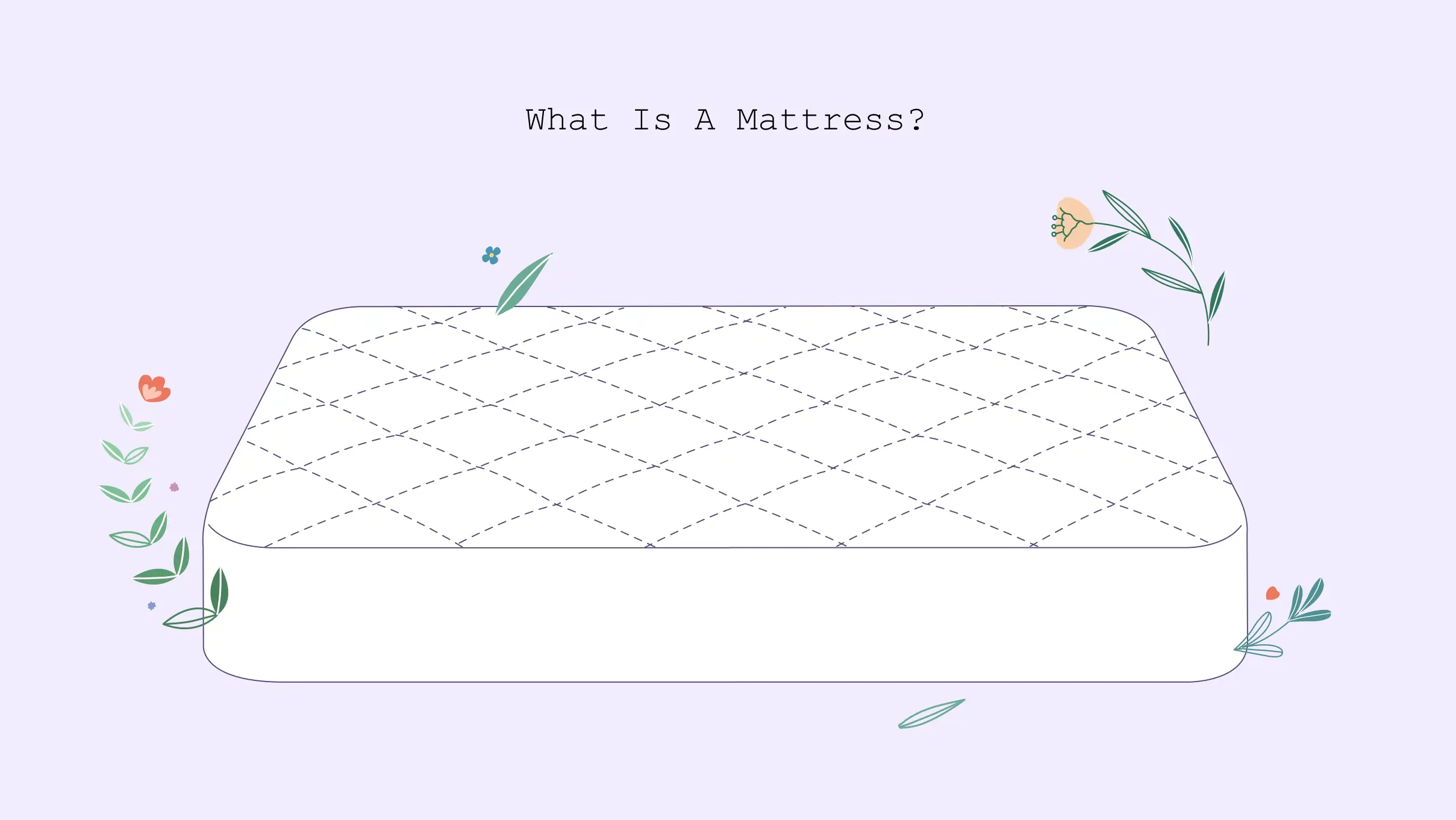 A mattress is a critical product on which people sleep. It provides you with a relaxing foundation to sleep on after a rough day, comfort during your whole night's study sessions, accompanies you as you cry your eyes out after a breakup, and offers you and your partner a cosy bed to make love on. Therefore, if you plan to buy a new mattress, there is no way you can go wrong with it. Furthermore, if you know every trivial detail about what a mattress is, there is less chance for you to feel overwhelmed while you shop.
What is a Mattress?
A mattress can be defined as broad, rectangular padding acting as a comfortable base for a person to sleep, rest, or even sit. Mattresses are generally made of different types of foam, rubber, cotton, straw, a framework of metal springs, or even water or air. It is either used as a bed or over a bed frame.
In most cases, a mattress is placed over a base like a platform bed, upholstered wood, wire box spring, or a slatted foundation. The most common mattresses are memory foam, innerspring, hybrid, latex, polyfoam, and gel-infused foam.
Construction of Mattress
Before you buy a mattress, you need to have a comprehensive idea about what are mattresses made of. To simplify, there are two main layers of a mattress – support and comfort.
Comfort Layer
The comfort layer is responsible for providing pressure relief, and weight distribution. The comfort layer offers firmness, softness, body confirmation, contouring, sinking, and an overall comfortable feeling. 
Support Layer
The support layer is majorly responsible for providing spinal alignment, one of the most vital functions. The support layer offers the added benefit of pressure relief for mattresses with a thinner comfort layer. This layer is mainly functional in providing support to the lumbar and neck areas. 
What are the Different Types of Mattress?
Once you enter the mattress showroom, chances are high that you will be offered numerous types of mattresses. Unfortunately, you might choose the wrong one because of the chaos. To avert this situation, be prepared with what mattress type you need – foam, innerspring or both? Below is the type of mattress explained to know the difference.
Innerspring Mattresses
The innerspring mattress is the oldest of the group, invented by Heinrich Westphal. You might have noticed an innerspring mattress or sofa in your grandparent's house. This is structured with layers of coils wrapped in a soft material like natural fibres, latex, or foam. Some of its advantages and disadvantages are listed below.
Advantages:
It provides strong back support
Found in different firmness levels of soft to medium to firm
Affordable
Disadvantages:
Wears out faster than foam
Ageing springs might produce noise
Not suitable for allergic people 
Memory Foam Mattresses
A memory foam mattress is quite a popular option when buying a mattress. It is mainly made of viscoelastic foam, which is high-density polyurethane foam. Why should you consider a memory foam mattress? It seamlessly hugs your body, offering the softest feel. It is to be noted that a memory foam mattress doesn't constitute only memory foam, as it might make you sink deep into the bed. Instead, it is layered with foams of diverse thicknesses and densities. Some of its advantages and disadvantages are:
Advantages:
Side sleepers might be benefitted 
Joint pain sufferers might experience pain reduction 
The absence of springs eliminates the chances of noise
It's more durable than springs
Disadvantages:
It sometimes traps heat
Some people might find themselves sinking into the mattress
Insufficient support experienced by certain people
Slightly on the expensive side
Hybrid Mattresses
In the simplest words, a hybrid mattress is a mix of both spring and foam. The hybrid mattress is the option if you wish for the best of both worlds. Furthermore, the list of advantages and disadvantages will help you decide if you should buy this.
Advantages:
It is soft without a 'sinking feel offered by certain foam mattresses
Might offer extra support 
Generally quieter than spring mattresses
Good temperature regulator than foam mattresses
Might be helpful for couples having different firmness requirements
Disadvantages:
It can be expensive
Weak in terms of motion absorption
A mattress in a box is a recent term that is used to describe a regular mattress but in a slightly different manner. The mattress is compressed into an air-sealed bag and rolled tightly before delivery. Packing the mattress is a safe way to avoid any possible damage.
Air Mattresses
Air mattresses are commonly used during camping, travelling, or for overnight purposes. While the standard air mattresses have a height of only a few inches, the double-high air mattresses have considerable height. One variation of air mattresses is created with built-in inflation devices that help adjust the firmness level by simply using a button. Check its advantages and disadvantages to know more about it.
Advantages:
The firmness level can be adjusted depending on the sleeper's requirement
It is odour-free because of the presence of Polyvinyl Chloride content
There is no sign of sagging since it is inflated with air
Disadvantages:
A high tendency of air leakage
The assembling time is quite high
They generally have a shorter warranty
Latex Mattresses
A pure latex mattress is made from rubber tree sap and is sustainable and hypoallergenic. It offers a gentle and responsive feel to the sleeper. You will also come across synthetic latex mattresses made of a rubber-mimicking plastic known as styrene-butadiene rubber. Synthetic latex mattresses are not as sustainable or durable as natural ones. These mattresses are often considered beneficial for side, back, and stomach sleepers as well. It is famous for offering pressure distribution and spinal alignment throughout the night. To understand better if this is the mattress you are looking to buy, study its advantages and disadvantages.
Advantages:
It offers a greater bounce-back capacity compared to other foam options
Less sinking feel
Eco-friendly and durable
Made from natural materials
Disadvantages:
Some might feel spongy
Expensive
Not suitable for people having latex allergies 
How to Choose the Right Mattress
The correct approach to choosing a mattress follows the four steps described below.
Choose your Mattress Type
The first step to buying a mattress is understanding which mattress type you would buy. Check if you need an innerspring, memory foam, latex foam, or hybrid mattresses.
Decide on your Ideal Firmness Level
Mattresses have different firmness levels ranging from soft (3-4) to medium (5), medium-firm (6-7)to firm (8+). Side sleepers might benefit from a soft mattress since it confirms the sleeper's body, whereas a medium-firm mattress generally suits back and side sleepers. Firm mattresses are mostly suited for stomach sleepers.
Select the Right Mattress Size
Mattress size depends on the number of sleepers and room size. Twin and Twin XL mattresses are suited for single sleepers like children or teenagers. A full mattress also known as a double bed is suited for growing adults. A queen-size mattress is suited for couples but there might be a space crunch. A king-size mattress is highly recommended for couples as it also offers enough space.
Decide on a Mattress Base
A proper base prevents a mattress from sagging. You can place your mattress on box springs, adjustable bed frames, or slatted foundations. Box springs are solid bases that offer durability and the best support metal frames. Adjustable bed frames offer the option to adjust both the headrest and footrest of the bed. Latex and memory foam mattresses might be benefitted from adjustable bed frames. For innerspring and hybrid mattresses, the slatted foundation works best. 
Conclusion
Choosing a mattress can undoubtedly be a confusing decision. Therefore, it is important to gain complete knowledge about different types of mattresses, prices, firmness levels, bases, and more. It is also essential to know about the warranties, sleep trials, and delivery charges before you buy a mattress. 
FAQs
What is the role of the mattress?
 A mattress is generally a rectangular pad used by a person to sleep or rest. 
What are the parts of a mattress?
A mattress generally consists of three parts – a support component, a comfort component, and the base.
Does a mattress affect sleep?
If you are using the wrong mattress or an old mattress, it ought to disrupt your sleep causing health issues. 
---
people like this articles
Bachelor's in English Literature and Health Sciences Previously wrote blog articles for various Doctors for their websites Familiarity with various content management systems and SEO best practices
---
Latest mattress information