Mattress Thickness: How Thick Should a Mattress Be?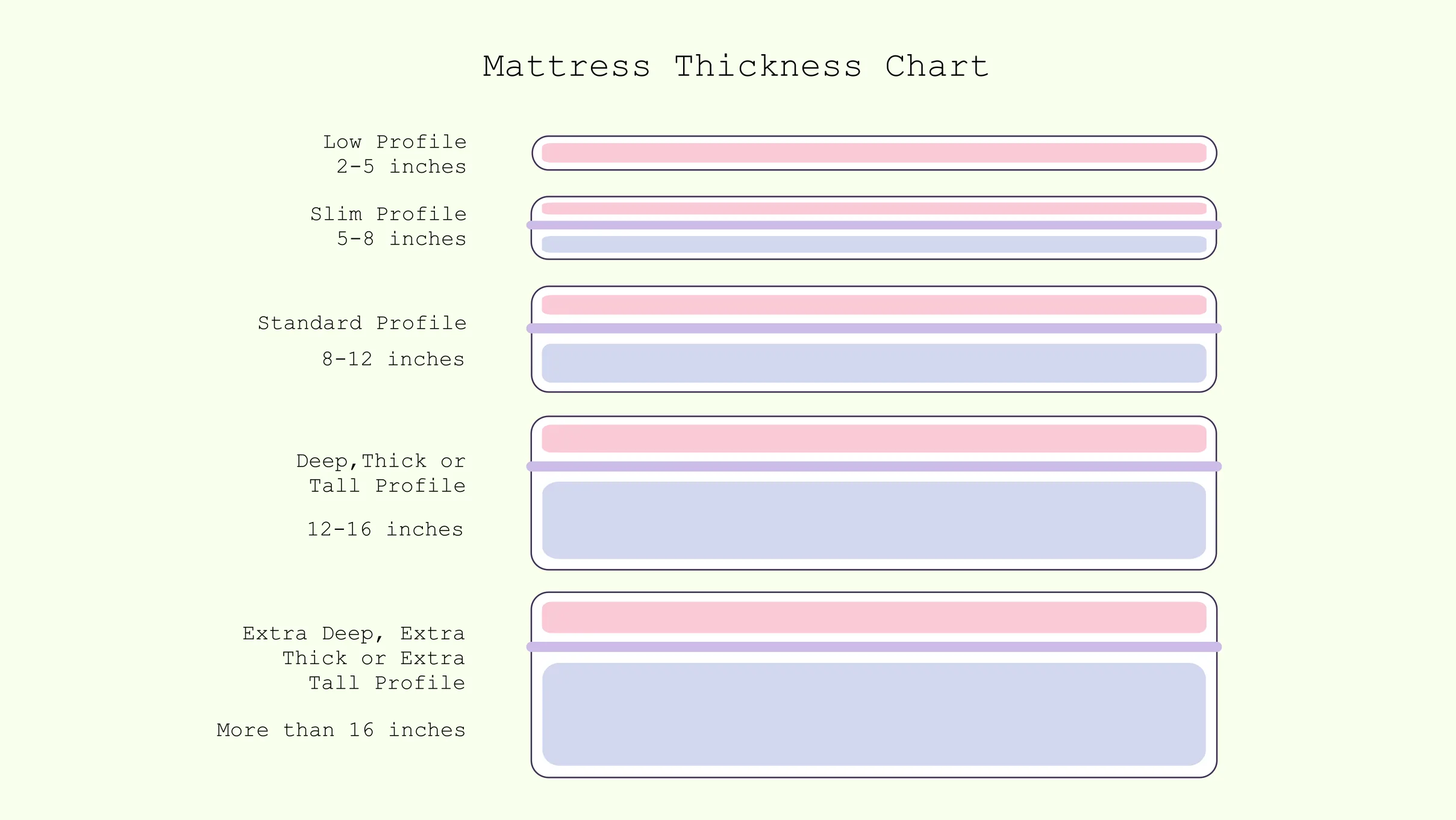 Choosing the right mattress thickness is always a must because you don't want to end up with something too thin that will hurt your back nor you want something so thick that you feel swallowed whole by the mattress. A balance between the two is always necessary. So, which mattress thickness is ideal for a good night's sleep? Well, we bring you all the details in this mattress thickness guide. Keep reading to know more!
Mattress Thickness Chart
| | |
| --- | --- |
| Thickness | Mattress Type |
| 2 to 5 Inches | Low Profile |
| 5 to 8 Inches | Slim Profile |
| 8 to 12 Inches | Standard Profile |
| 12 to 16 Inches | Deep, Thick, or Tall Profile |
| More than 16 Inches | Extra Deep, Extra Thick, or Extra Tall Profile |
When it comes to mattress thickness, there is no set standard mattress thickness. Here, comfort is the key. Usually, high-quality mattresses lie anywhere between 8-14 inches. So, look at the above mattress thickness chart, as it will give you an idea.
When it comes to categorizing mattresses as thin mattresses, and thick mattresses, low and slim profile mattresses fall under the thin category while the rest come under the thick category. However, there is a slight difference between low and slim.
The difference between low-profile and slim mattresses is low-profile mattresses are usually air mattresses or thin ones found in cribs or guest bedrooms. These mattresses work well for occasional sleep but not regular use. And slim mattresses, are made of foam layers to give you optimal comfort and are meant for regular use. Finally, the thick mattress has a good mattress height as they are made of several layers to keep you cosy.
Factors that Influence the mattress thickness
The mattress depth is determined by the layers present in them. Generally, mattresses are made of two primary layers: comfort and the base layer. However, most high-quality mattresses have more than two or three layers. And each layer works well with the other layers to give you the cushiony support you need.
Comfort layer
You might have already guessed by the name. The comfort layer is the topmost layer of a mattress. They are usually 2-3 inches thick and offer an amalgamation of comfort and support. With the adaptation of technology like cooling layers and adding more plushness to the mattresses, brands offer more than one comfort layer today. The layers that usually come after the comfort layers are known as the transition layers and are present to provide stable support.
Base layer
Also known as the foundation layer, a base layer ensures whether or not your mattress will be durable. So, if you are wondering how thick should a mattress be? Take the base layer into consideration first. You will notice in most high-quality mattresses that the base layer makes about half the mattress thickness.
So, let's say your mattress is 14 inches thick, then having a base layer that's somewhere between 7 inches will ensure your mattress works well even after several years because it prevents premature mattress sagging. So, a good base layer equals mattress durability.
Mattress thickness Breakdown
As aforementioned, average mattress thickness can be put into these five categories. So, let's learn a bit more about them.
Low profile (2-5 inches)
A low profile mattress is the thinnest of all. They are usually air mattresses or fold-away ones. The thickness of the mattress here is between 2-5 inches. These mattresses can be convenient for occasional guests, but using them regularly may make you uncomfortable.
Slim Profile (5 to 8 inches)
Slim mattresses are between 5 to 8 inches, and the thickness of the bed is low because these mattresses are usually made of dense foam. So, they can provide you with the necessary comfort without adding more to the mattress height.
Standard Profile (8 to 12 inches)
A standard mattress is 8 to 12 inches. They come with a quality foundation that lies near 6 inches; the rest is the comfort layer so you can enjoy a cosy sleep.
Deep or Thick profile (12 to 20 inches)
When the depth of a mattress is between 12 to 20 inches, they are known as a deep profile mattress. They can be slightly pricey but also enhance the durability and comfort of the mattress.
Extra Thick Profile (20 inches)
Extra thick mattresses give you a cushiony and cosy comfort layer that's extra thick. But this comes at a heavy price. And speaking of heavy, these mattresses are definitely not lightweight and can become slightly difficult to move.
Mattress Type Vs Thickness
To give you an idea, let's discuss the most popular mattress types and their mattress thickness levels.
Memory foam Mattress Thickness
The average memory foam mattress thickness is 10-14 inches. A memory foam mattress is made of polyurethane foam or low-resistance polyurethane foam. These mattresses slowly mould to the shape of your body and evenly distribute your weight so you achieve deep sleep. These mattresses are perfect if you are looking for something soft and cosy. 
Hybrid Mattress Thickness
The average mattress thickness of a hybrid mattress is 11-14 inches. A hybrid mattress combines innerspring and foam or a latex mattress. It offers you the best comfort and support because of the blend of the two. You cannot go wrong with a hybrid if you need a mattress with the best support.
Latex Mattress Thickness
The average latex mattress thickness is 8-14 inches. A latex mattress is an eco-friendly option and can be slightly pricey. They offer more bounce and offer a faster response time. Latex mattresses are also more durable.
Innerspring Mattress Thickness
The average mattress thickness of an innerspring mattress is 8-14 inches. Innerspring is one of the oldest mattress types. It offers a coil support system in the base and a dense memory foam layer on top. Due to their construction, they are more breathable.
Benefits of Thick Mattress
When it comes to thick mattresses, they are usually softer and cosier than thin mattresses. Some of the benefits include;
They offer you more cushion
They can easily carry the weight of two adults
Drawbacks of Thick Mattress
Some of the cons of a thick mattress include;
They can be expensive
They can be heavy, making it difficult to move them
Can be too tall for some people, such as petite individuals or people with mobility issues
How to Choose the Right Mattress Thickness
Now that you know all about mattress thickness, let's take a look at how to choose the right one for you with the help of these below-mentioned factors.
Sleeping Position
While some sleeping positions need more cushioning, some require good mattress firmness. So here, let's look at which mattress thickness suits you best as per your sleeping position. 
Side Sleeping: Side sleepers need the right amount of cushion in the shoulder and hip area as it bears the complete weight of the body. So, you need a plush comfort layer to experience pressure point relief. The ideal mattress thickness for side sleepers can be 12 to 14 inches. 
Back Sleeping: As a back sleeper, you need a mattress that supports your natural spinal curvature; otherwise, it can cause back pain, neck ache, and more. So, here you will need a thick base layer that offers much support and a thinner support layer, so you don't sink in. The ideal mattress thickness should be 10 to 12 inches.
Stomach Sleeping: As a stomach sleeper, you want to avoid compression on the pelvis region and avoid any spinal misalignment. So, a mattress about 10 to 12 inches thick can be good.
Combination Sleeping: Combination sleepers can feel comfortable on a medium firm mattress. The average thickness required here is about 12 inches because, as a combination sleeper, you tend to switch positions as you sleep, and you need the right support and cushioned comfort.
Body Type
The thickness of the mattress also depends on your body weight because it should be able to offer you optimal support and comfort.
Lightweight: If you are less than 60 kg, you can opt for thicker mattresses. They come with a good comfort layer, which can mould to your body and reduce any pressure point pain.
Average weight: People between 60 to 105 kgs fall under this category. The average thickness of the mattress can be between 10-12 inches. Make sure you also check the layers present in the mattress and see if it offers you the comfort you need. And when it comes to firmness, a medium-firm mattress can be ideal.
Plus size: If you weigh more than 105 kg, you need a mattress with a thick comfort layer. So, ideally, it's best to choose a mattress between 12 to 14 inches where the comfort layer is at least 6 inches. This will ensure you don't sink in too much and offers pressure point relief.
Sleeping Partner
The next factor you must consider while deciding on mattress thickness is the preference of your sleeping partner. Also, if you are sleeping with a partner, the pressure exerted on the bed is also more. So, a thicker mattress between 10-14 inches can be ideal for you.
Health and Medical Conditions
Depending on your medical condition, you can choose the thickness. For instance, people with certain conditions must frequently get in and out of bed. Here, a plush mattress may not be ideal as it causes sinkage. And getting in and out can be slightly difficult. So, choose one that offers you the right relief.
Height of Your Bed Base
When deciding on mattress thickness, make sure you also consider the height of your bed base. The standard height of the bed, including the bed base and the mattress, should not exceed 25 inches. 
Conclusion
Now that you know everything about the mattress thickness and how you can zero in on the right mattress thickness suitable for you. Let's examine the benefits and drawbacks of a thick mattress.
When it comes to a mattress, make sure you choose something that seamlessly fits your needs and offers you the comfort you deserve. Finally, ensure the mattress can offer pressure point relief and maintain the natural curvature of the spine.
FAQs
Is a thick mattress better?
It all depends on you. When deciding the mattress thickness, make sure you consider your sleeping position, body weight, health conditions, and more.
Why are mattresses so thick nowadays?
Today, mattresses come with more construction and comfort layers to offer optimal body support, making them thicker.
How thick should a memory foam mattress be?
The average thickness of a memory foam mattress should be between 10 to 14 inches.
What thickness is best for latex mattresses?
The average thickness of a latex mattress should be between 8 to 14 inches.
How thick should a top bunk mattress be?
The average thickness of a top bunk mattress should be between 8 to 9 inches.
---
6+ years of experience as a content writer. Previously worked as a freelance writer for one of the top mattress brands in India. Well-versed in writing product reviews, product descriptions and content for e-comm sites.
---
Read More About Mattress Information