Different Types of Mattresses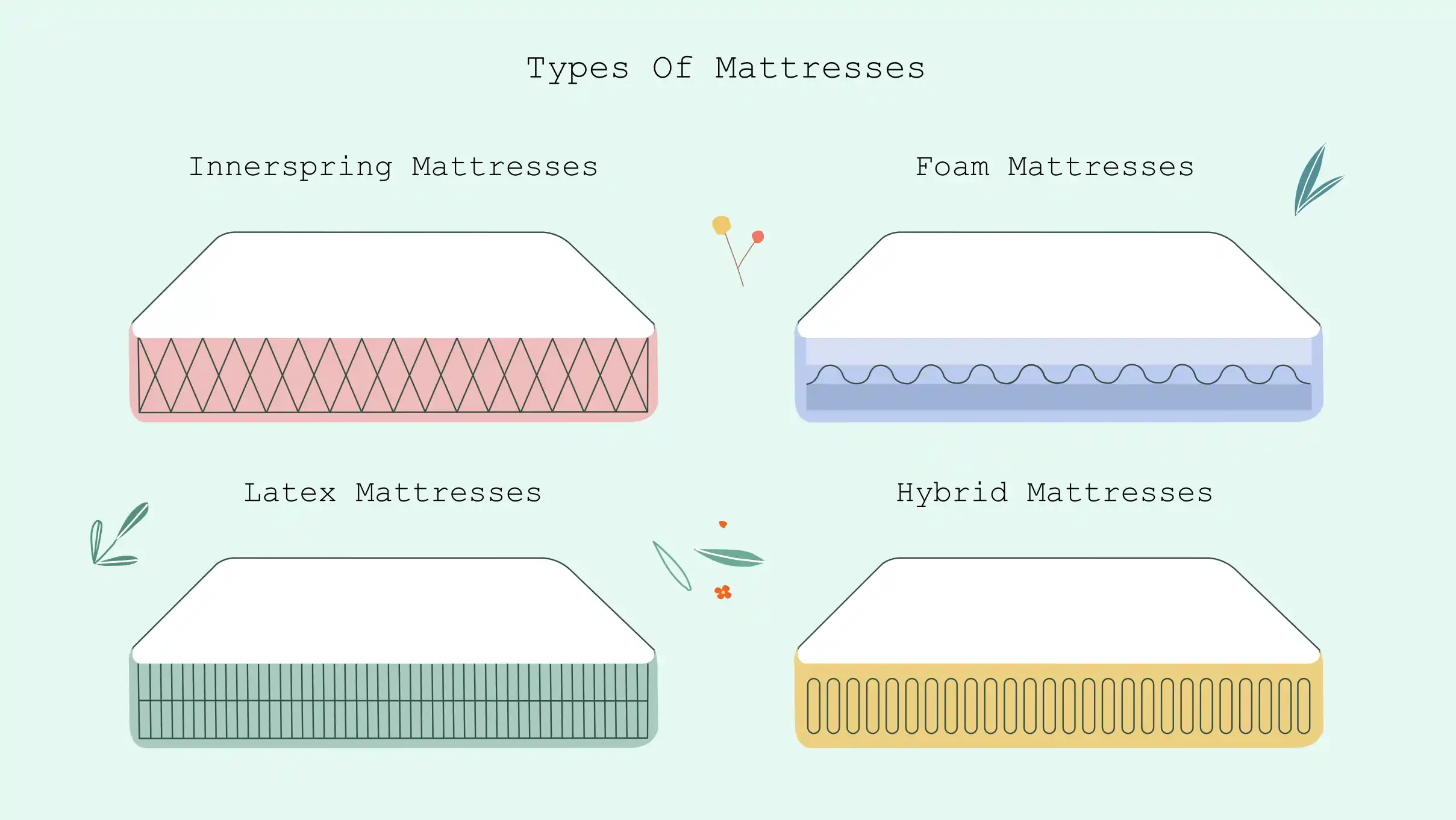 Shopping for the wedding can be hectic, especially when buying a mattress. But have you ever encountered those high-strung salespersons trying to sell you the latest and most expensive mattress in their showroom? Feeling overwhelmed, you might buy a completely different mattress that does not match your requirements. Therefore, learning the types of mattresses and picking the right product makes you feel worthwhile about the money spent. From innerspring to memory foam, polyfoam to hybrid pocketed coil to Dunlop latex, choices are abundant.
Let us engage in a factful write-up about the different types of mattresses.
Innerspring Mattresses
Chances are high that when you visited your grandparents during your toddler days, you used to jump on those squeaky beds that composed some sort of metal inside. That is precisely what an innerspring mattress is. These mattress types are a thing of the 1870s, invented by Heinrich Westphal. Innerspring mattresses are primarily made of steel coils wrapped in premium fabric, natural fibres, or materials like latex. The coils are either connected or individually wrapped.
There are generally three main layers of an innerspring mattress: Plush topmost layer, coils, and high-density foam in the end. Though these cannot be counted under the softest mattress, but are definitely among the ones providing back support. Moreover, the affordability tag makes it even more convincing to buy. However, if you are prone to allergies or suffer asthma, dodge the idea of purchasing an innerspring mattress because it might not be hypoallergenic.
Wondering if innerspring is the best type of mattress for you? Let us make the selection even easier with the pros and cons.
Pros
Quite efficient in providing back support
Offers myriad firmness levels
Affordable
Cons
Wears out faster than foam mattresses
The coils tend to get rusty and lose tension
Might become noisy
Doesn't offer much pressure relief on joints
Types of Spring Mattresses
There is more to innerspring mattresses. While choosing the best mattress type, you might have selected innerspring but are unaware of the different spring mattresses available. Remember to gain thorough knowledge as diverse coil constructions are present in an innerspring mattress.
Continuous Coils: If expensive mattress price tags make you go crazy, choose an innerspring mattress with continuous coils. These types of mattresses are designed from a single long wire. It isn't coiled onto the metal but instead made into S-shape.
Bonnell: If your budget constraint is too serious, but you also need to buy a mattress, opt for a Bonnell innerspring mattress. The wires are simply twisted and made into a vast loop of springs.
Offset: These are among the conforming innerspring mattress types falling next to the pocketed coil. Features include resemblance to Bonnell coils, hourglass shape, gives a hinging effect that bends when encountered with pressure.
Marshall or Pocketed Coil: The costliest of the spring types, this is designed by individually wrapping the coils with premium fabrics. Other names include Marshall Coil, encased spring, etc.
Foam Mattresses
If you are relishing features like plush top layer, pressure relief, body conforming feel, motion isolation, and more, you are probably sleeping on a foam mattress. Invented by NASA in the 1970s, foam mattresses are designed with diverse foam types based on their softness, thickness, and firmness. The different-density foams incorporate diverse layers for optimal support and comfort.
The purpose of memory foam can be dated back to its initial times when it was used for better seat cushioning and crash protection and is still used for the same. The current times use memory foam pillows and mattresses in abundance. If your restless partner is not letting you sleep peacefully, it's time to invest in a foam mattress as it offers sufficient motion isolation.
Foam mattresses are quite famous, but is it the best mattress type for you? Get the answer by checking the pros and cons.
Pros
A great option for side sleepers as it relieves pain
Motion isolation, therefore, might be good for restless sleepers as well
No coils, therefore, no noise
Quite durable because of the absence of coils
Cons
Heat retention in some types of foam
Some mattresses might cause a 'sinking' feeling
Quite expensive
Might not be able to accommodate certain sleepers
Types of Foam Mattress
The mattress showroom will showcase myriad types of mattresses, but you need to make an informed decision by choosing among the crowd. If you have found foam mattresses the best type of bed for you, check the different types of foam mattresses to gain an idea about their mattress construction.
Memory foam: The most popular of all, memory foam mattresses follow similar construction to polyfoam with only the inclusion of chemicals. These chemicals help the mattress offer pressure relief and hug the sleeper's body.
Gel memory foam: Very similar to memory foam, a gel memory foam mattress is built with cooling gel beads on the topmost layer to provide a cooling sensation.
Polyfoam: Polyfoam is the other name for polyurethane and is quite similar to the construction of memory foam., just devoid of chemicals. It is the most common type of foam provided in mattresses. It offers bounce and flexibility in mattresses.
Latex Mattresses
If you are eco-friendly and ready to make a slightly expensive investment, undoubtedly opt for latex mattresses. The type of mattress material that latex comprises is a byproduct of sap from rubber trees. Latex mattresses were invented by John Boyd Dunlop in 1887 and then followed its widespread during the 1930s. Latex mattresses are either plant-based or petroleum-based. A latex mattress is often referred to as the best type of bed because it offers support similar to memory foam and is also pressure-distributing.
The support core and comfort system are made of latex, though the type of latex usage may differ. Most beds have support cores made out of denser and firmer latex to provide weight and resilience. On the other hand, the comfort system is designed to provide more contouring to the body.
A latex mattress is a catch if a bouncy nature is one of your target factors while looking for the types of mattresses. However, it can instantly regain its original shape as soon as the sleeper gets off the bed. In addition, these types of mattresses offer countable responsiveness further offering liberty to be restless. This is why it is often a popular choice when buying good mattresses for sex. Being quite durable, it doesn't uphold heat buildup and offers a breezy surface.
Pros
Natural materials
Reliefs pain
Breathability and airflow
Bounce
Cons
Types of Latex Mattress
Types of latex mattresses can vary based on their composition. Apart from natural types of mattresses, there are also synthetic latex mattresses. The natural latex mattresses are made of the following ingredients:
Dunlop: This process of making latex mattresses comprises deriving the sap, frothing it, and pouring the mix into a mould. Then followed by baking it at a high temperature to retain the mould shape. While the baking is in process, a handful of sediment tends to slip at the bottom. This results in the latex mattresses being denser and firmer on one side.
Talalay: The Talalay process initially follows the same process of accumulating sap, frothing it, and moulding it. The following process occurs when the mould is vacuum-sealed and immediately frozen before being baked, restraining the sediment flows in the Dunlop latex mattress. Therefore, it is airier and more delicate.
From the aforementioned descriptions of types of mattresses, it can be easily understood that the Talalay mattress outweighs Dunlop in terms of its comfort layers and are thus more expensive. The synthetic latex mattress contains petroleum-based chemicals like Styrene-Butadiene Rubber (SBR). The synthetic mattress has never been the best mattress type for people because of its flawed performance and lowered durability.
Hybrid Mattresses
A hybrid mattress is a go-to option if you want the best of both worlds. A hybrid mattress is an example of how cutting-edge the sleeping industry has become. Hybrid mattresses are primarily made of one to three layers of foam or latex on the top followed by supreme innerspring offering durability and comfort. Among the types of mattresses, hybrid mattresses stand out because of their excelling advantages like the usage of pocketed-coil technology that leads to motion isolation.
Hybrid mattresses are hypoallergenic because their top layer is that of foam – resisting bed bugs, allergens, mould, and dust mites. Because of all these notable features, hybrid types of mattresses are undoubtedly expensive.
Check the pros and cons to understand if hybrid mattresses are your thing.
Pros
Extremely adaptable as it offers perfection of both types
Comes in immense diversity, you can choose several layers, types of coils, etc
Might help offer support because of the combination of coil and foam layers
Cons
These can be quite heavy
Can be pricier than other types
Other Mattress Types
The types of mattresses are not limited to only the popular memory foam, latex, hybrid, or innerspring ones. There are tonnes of other types of mattresses that are quite popular currently. Let us check them out.
Pillowtop Mattress
A pillowtop mattress is designed by placing a different compartment on the top layer and stitching it with the remaining mattress. A pillowtop mattress can be created on any of the five mattresses mentioned above. This is generally done to provide more of a plush feeling to the sleeper. Due to its composition, a pillowtop mattress might provide relief in the pressure points and reduce discomfort. Some of the pros and cons of pillowtop mattresses are given below.
Pros
Uses high-density memory foam
Available in all regular sizes
Quite affordable
Might provide pressure point relief
Less off-gassing
Cons
This doesn't provide a firm bed
Might sag and dip over time
Might not provide pressure relief to some
Sheet requirement differs
Futon Bed
Futon and sofa beds serve the dual purpose of providing a couch and a bed as well. Therefore, placing a futon bed in a guest room can be a good option. These products are placed with a large cushion that sits horizontally or at an angle. These types of mattresses are generally regarded as temporary beds, and not something to permanently sleep for night after night.
Pros
Modern and sleek design
Versatile piece – can be used as a sofa and bed
Affordable piece
Can be decorated easily
Cons
Not so elegant as a sofa
Low quality
Not so comfortable
Waterbed
Though they were quite popular during the 1980s, waterbeds are not much in use currently. These types of mattresses are made of support core tubes filled with water, and the sleeper can get a floating-like feeling. These are very risky products that can create a pool caused by slight wear and tear in the mattress. Certain apartments and condominiums prohibit the use of waterbeds.
Pros
The bed adapts to the sleeper's body shape
Provides spine relief
People suffering from body ache might use heated waterbeds
Cons
Very risky, slight wear and tear will rupture water chambers
Very heavy
Some people suffered dizziness while on a waterbed
Strange odours
Airbed
Air mattress is one of a kind, and often considered the best types of mattresses because of their seamless functioning. It is filled with air, and the sleeper can adjust the air with the help of their smartphone app, or command switches either attached or wireless.
Pros
Adaptable firmness
No sign of sagging
Portable and easy to carry around
Affordable
Cons
Might have leaks and punctures
Noisy
Organic Mattress
For sustainability lovers, an organic mattress is just the product you need in life. These are primarily made of natural latex, recycled spring coils, or organic wool and cotton. When buying these types of mattresses, always look for environmental-friendly certifications. Unfortunately, as these mattresses have limited toxin levels, they are also expensive.
Pros
Eco-friendly
Natural temperature regulator
Might be a healthier option
Cons
Conclusion
Types of mattresses are abundant in the market, but it is only after rigorous research based on feature analysis, price analysis, and additional factors that the best type of mattress is selected. The sleeper needs to understand their sleeping position, mattress requirement, and health issues before buying the mattress. Just remember not to get perplexed with all the options provided by the showroom manager.
FAQs
Which type of mattress is best?
Though the best type of mattress depends on the person's requirement, the foam mattress is generally considered the best of all.
What are the best types of mattresses for back pain?
What is the most popular type of mattress?
The most popular mattress type is a foam mattress.
What is the most durable mattress type?
The most durable mattress type is latex mattresses.
What is the difference between a pillow top and a euro top mattress?
While pillowtop mattresses are softer, fluffier, and develop a more 'bowed' appearance. Eurotop mattresses are denser and completely flush with the exterior of the material.
---
6+ years of experience as a content writer. Previously worked as a freelance writer for one of the top mattress brands in India. Well-versed in writing product reviews, product descriptions and content for e-comm sites.
---
Read More About Mattress Information