Bed Sheet Sizes and Dimensions Guide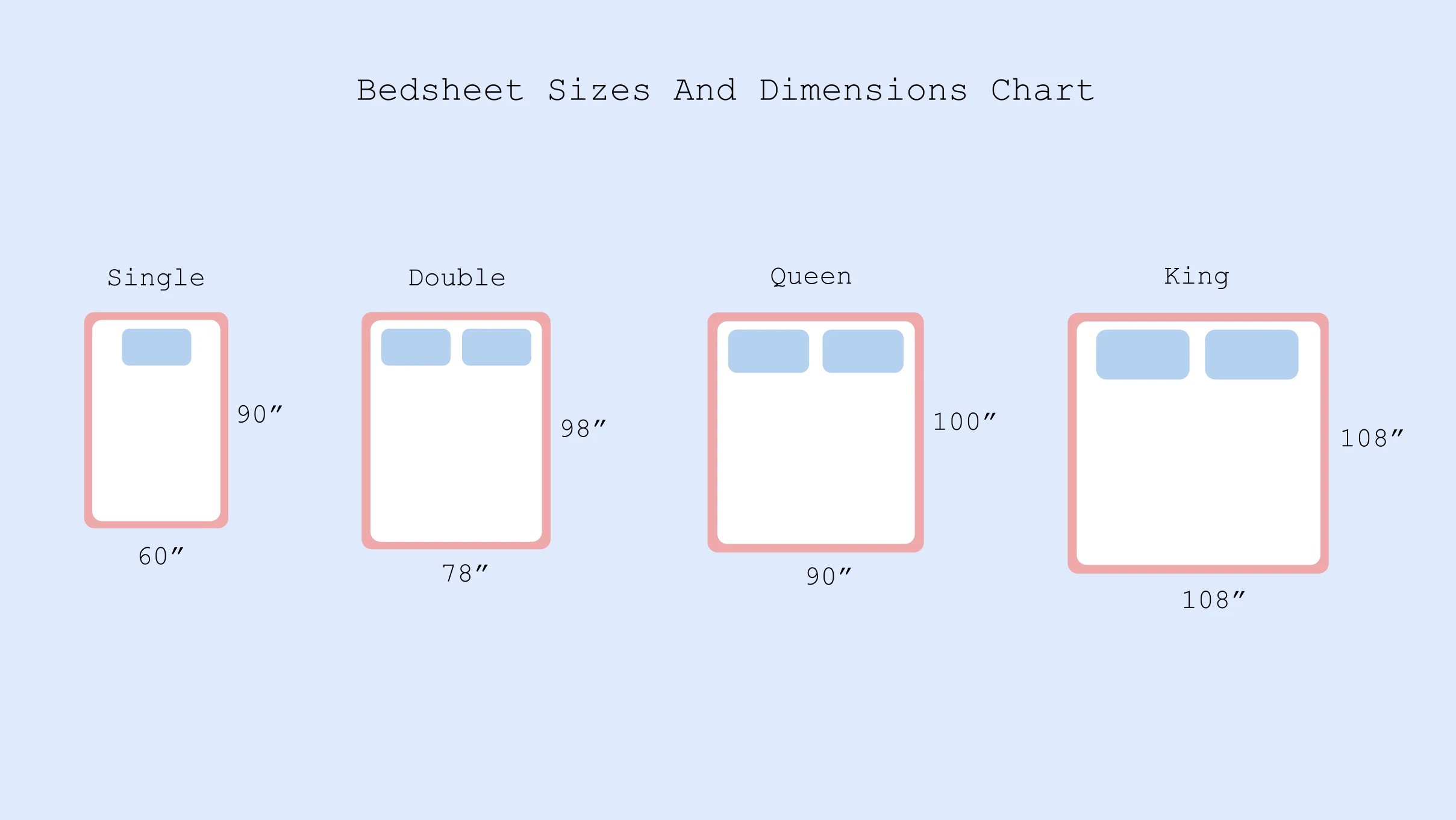 You bring home a premier bedsheet that's vibrant, pretty and super soft. You cannot wait to enjoy the comfort it fetches you. Quickly, you discard your old bedsheet and use the new one. You tuck it in one corner and the next. Now, you move on to the other side. Unfortunately, you notice that it is far too short for your mattress and disappointment seeps in! But wait, this is a problem you can avoid by understanding the bed sheet sizes and to help you out, Sleep Guides India is here!
Bed Sheet Sizes Chart
This table walks you through all the standard sheet sizes. Take a look.
| Bed Size | Bed Sheet Dimension |
| --- | --- |
| Single Bed | 60" x 90" inch |
| Double Bed | 78" x 98" inch |
| Queen Size | 90" x 100" inch |
| King Size Bed | 108" x 108" inch |
Single Bed Dimension
A single bed is the smallest size and can comfortably accommodate one person. The mattress measures 36 inches wide by 72/75/78 inches long. While this is usually the standard size for a single or a twin bed, it can differ from one brand to another. Coming to the twin sheets' measurements, they are 60 inches wide by 90 inches long. The twin sheet size must be bigger than the mattress to ensure you are able to tuck it in easily. A single bed is perfect for a child, teen or a single adult.
Double Bed Dimension
A full or double bed measures 48 inches wide by 72/75/78 inches long. It is an excellent choice for single adults who want to sleep comfortably, all sprawled out. That said, if you are looking for a one-time investment, it can be perfect for your child's room as you will not have to opt for another one during their teen years. If you are looking for something for your guest room, a double bed can be great. Double bedsheets measure 78 inches wide by 98 inches long.
Queen Size Dimension
A queen bed measures 60 inches wide by 72/75/78/84 inches long. The queen bedding dimensions include 90 inches wide by 100 inches long. Choosing the right measurements for queen-size sheets ensures that your mattress doesn't become bunched up at night or there is no push and pull. A queen is an ideal choice for both single adults and couples.
King Size Bed Dimension
A king is the largest standard size. It measures 72 inches wide by 72/75/78/84 inches long. What size are king sheets? King-size sheet sizes are 108 inches wide by 108 inches long. Knowing the king sheets' dimensions ensures you buy the right set. This mattress is perfect for couples as it offers ample space.
Types of Bed Sheets
Now that you are well aware of the standard bedsheet sizes, right from single to king-size sheets sizes, let's look at the common types of bedsheets available in the market today!
Cotton
Cotton bedsheets can be a perfect choice as they are natural and breathable, hence, can keep you cool throughout the night. Cotton sheets are budget friendly but you can also find luxurious ones that come with a higher thread count. They are very soft and keep you super comfy throughout the night.
Bamboo
Bamboo sheets are usually rayon, lyocell or modal, which come from bamboo fibre. They are similar to cotton in nature. They are soft, breathable and durable. Depending on the type of bamboo fabric, prices vary.
Polyester
Polyester is a budget-friendly fabric. It is a human-made synthetic fabric that is available in various styles, colours and prints. It is a durable and wrinkle-resistant fabric.
Linen
Linen is a flax-based fabric and like cotton, it is a natural material. Linen bedsheets can be breathable, durable, and soft, offering you excellent comfort.
Tencel
Tencel fabric is also known as lyocell and modal. They are extremely soft and are widely used for their sustainability. Another advantage is that Tencel doesn't wrinkle easily and holds the dye very well.
Silk
Pure silk sheets are luxurious and can be quite expensive too. They can be beneficial for people suffering from conditions, such as atopic dermatitis. These sheets are soft, smooth, and breathable and offer temperature-regulating properties. However, it can be slightly difficult to care for.
Microfiber
Microfiber sheets are made of wood pulp, polyester or nylon. They are not very pricey and can be super soft. Compared to traditional polyester sheets, they are also more durable.
Satin
Satin sheets give you a luxurious sheen and can give you excellent comfort. They are made of synthetic material, such as polyester, nylon or satin silk. Their silky quality can also make them look elegant.
How to Choose the Right Bed Sheet Size
Apart from the size, you must also take care of a few factors to choose the right bedsheet. They are;
Mattress Depth
The height of a mattress is crucial when choosing a mattress. For example, let's say your king mattress is 12 inches thick, you must ensure the king bed sheet size can easily accommodate the thickness and that you are able to tuck it in to keep it in its place.
Wash & Care
Some sheets require extra care and maintenance while some are easy to use. So, as per your preferred sheet type, make sure you are well aware of the wash and care instructions. Some materials, such as cotton can sometimes shrink, so keep all these factors in mind before making a final decision.
Wrapping up, we advise you always to choose the right size bedsheet for your mattress. It makes your bed look well put together and protects your mattress while preventing discomfort as you are asleep. If you are unaware of the size of your mattress, we suggest you measure the same to ensure you bring home the right-sized sheets. However, if you are going for fitted sheets, the fitted sheet size must be only 1-2 inches more than the dimensions of the mattress depending on its depth.
FAQs
Will full sheets fit a queen bed?
No, double or full-size sheets size is 78 by  98 inches whereas queen sheets measure 90 by 100 inches.
What is the best bed sheet fabric?
Cotton or linen can be an ideal choice for bedsheets as they are natural, breathable, and soft to the touch.
Is the Queen sheet bigger than King?
No, queen sheets measure 90 by 100 inches whereas king bedsheets measure 108 by 108 inches.
What size are twin sheets?
A single or twin-size sheet's dimensions are 60 by 90 inches.
---
Bachelor's in English Literature and Health Sciences Previously wrote blog articles for various Doctors for their websites Familiarity with various content management systems and SEO best practices
---
Read More About Bedding Sizes