What Is the Best Bed Size for Couples?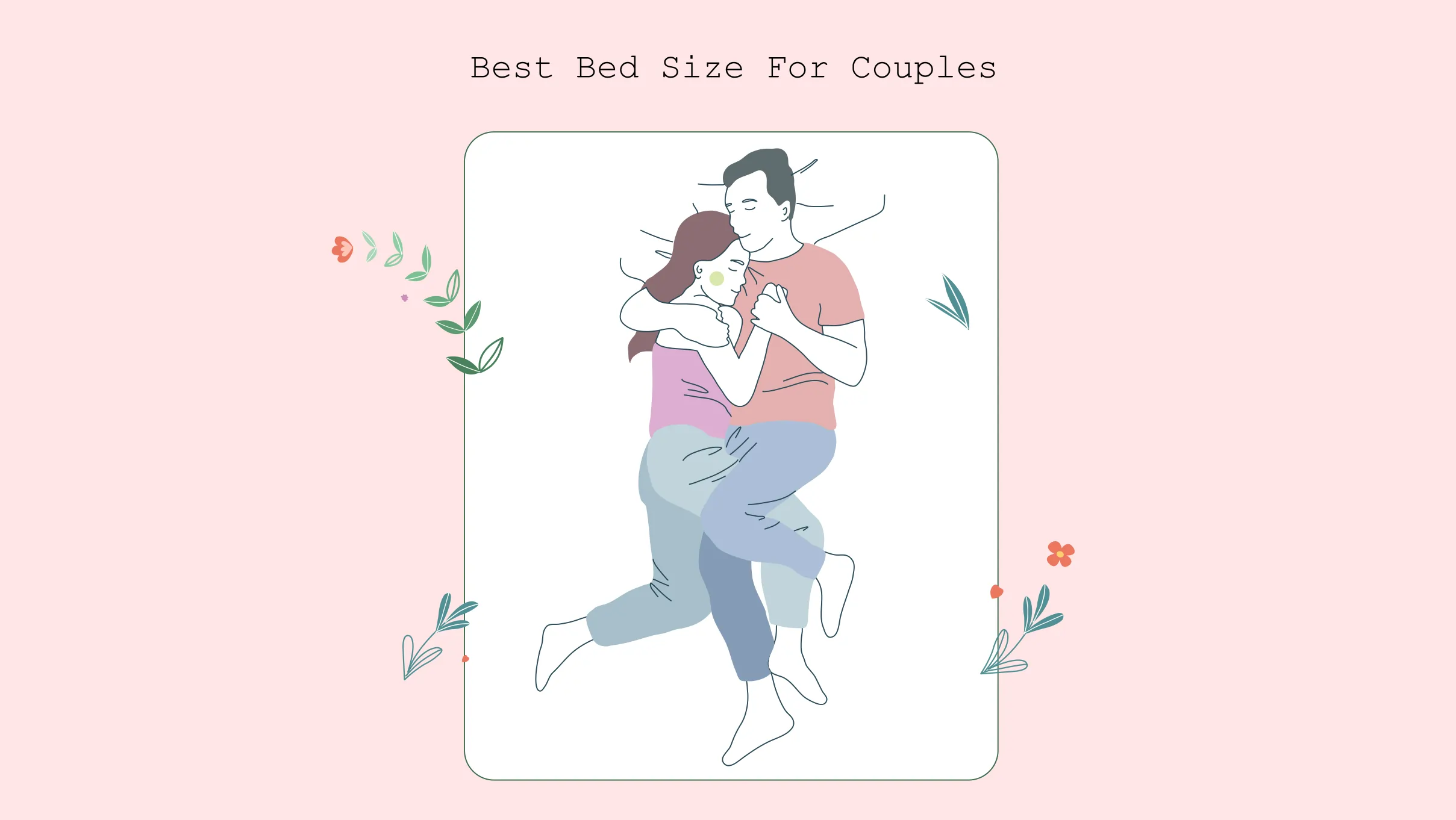 "What type of bed size should I get when I get married?", Or, "We are looking to move in together. What is the best bed size for couples?" Is this you? If yes, you might need clarification on the full vs queen vs king: best mattress size for couples. Well, Sleep Guides India has got you covered.
Full Vs Queen Vs King Differences
What size mattress does a couple need? Will a full-size mattress fit you? Or is a queen-size bed for couples ideal? Or, is a king-size mattress the only one providing comfort? Well, the answers to your questions are subjective. Before diving into the details, below is a quick reference for the mattress dimensions chart.
Parameter
Full
Queen
King
Length
72/ 75/ 78 inches
72/ 75/ 78 inches
72/ 75/ 78 inches
Width
48 inches
60 inches
72 inches
Surface Area
3,744 sq in
4,680 sq in
5,616 sq in
Price Range
Rs. 9,000- Rs. 12,000
Rs. 12,000- Rs. 15,000
Rs. 13,000- Rs. 20,000
Occupancy
2
2
2
Ideal for
Preferably a single adult with a kid.
Couples who like to stay close or cuddle.
Perfect for couples or 2 adults and 1 infant

Perfect for taller couples or for those who like to roll out while sleeping. Can occupy children and pets
Minimum Room Size
10 x 10 square feet
10 x 10 square feet
12 x 12 square feet
When Should You Consider a Full Mattress?
A full mattress is 48 inches wide and 78 inches long. You can also find 72 and 75-inch full mattresses in length. If you have a guest room or your bedroom has a small area, a full bed should be your ideal choice. Moreover, a full bed is within your budget compared to a queen and king-size mattress. In addition, if you relocate often, a small bed doesn't give you any painstaking experience, even if you live on the 10th floor.
A full-size bed is not for you if you or your better half loves to roll or stretch their hands and legs. The partner's sleep may get disturbed, thus causing unnecessary rifts between you two. Therefore, you must look for more spacious options such as queen or king-size mattresses.
When Should You Consider a King Mattress?
A king mattress size is 78 inches long and 72 inches wide. You can also opt for a 72- or 75 inches mattress. When should you consider a king mattress? A King-size mattress is best suited for you if you both are tall and need extra space while sleeping. If you have a spacious master bedroom, a king-size mattress can easily fit, giving you a lavish feel.
Moreover, suppose you want to co-sleep your child or snuggle with your pet. In that case, a king-size mattress happily accommodates everyone. However, remember that with a king-size mattress, you also need to consider the spacious bed frame. Although expensive, a king-size bed will give you a good night's sleep. It takes work to move a king-size mattress.
When Should You Consider a Queen Mattress?
When should you consider a queen mattress? The answer is that you love cuddling your life partner while sleeping and also need enough space if you cherish alone time. The Queen mattress is the most common bed size for couples. It is 60 inches wide and 78 inches long. You also have options of 72 inches and 75 inches of mattress length.
Moreover, an infant can share your bedding space if needed. A queen bed is also easier to move while relocating. If you have ample room for a spacious bed and your budget is less than a king-size mattress, welcome home your ideal queen mattress. You will also love the split option if you have different mattress firmness preferences.
However, suppose you and your partner are taller and more than average body size and need a spacious room to move around while sleeping. In that case, queen-size is not your ideal choice. Moreover, if you plan to include children and pets, a king-size bed for couples is best if your budget permits.
Benefits of Having a Perfect Sized Mattress for Couples
Instead of asking what size bed is best for couples, you should look for a perfect-sized mattress. So what are the benefits of having a perfect-sized mattress for couples? Keep reading below to understand the benefits and how they care for your peaceful slumber.
No-Disturbed Sleep
A perfect-sized bed provides motion isolation if you keep changing sleeping positions. Motion isolation ensures both partners enjoy their deep sleep without any disturbance. If you have woken up to your partner's snoring noise or kicks in the middle of the night, you probably know the importance of a perfect-sized mattress. Leveraging ample space to move around without disrupting your partner's sleep helps strengthen your bond.
Reduced Body Pain
An uncomfortable bed-size mattress can affect your sleeping position, giving you back and neck pain. A perfect-size mattress adapts easily to your body shape and size, allowing you to change positions throughout the night. Moreover, a perfect mattress has options for you to choose firmness per your preferences. Hence, a perfect mattress reduces your body pain.
Strengthens Intimate Relation
Most couples love having sex before bedtime. It helps them relax, be stress-free, and strengthen their intimate relationship. A perfect-sized mattress aids in deep sleep that affects your overall health. Sleeping on an unstable bed can make your mattress wiggle, making you disinterested, thus leading to frustration. Hence, you need a firm mattress that allows ample space for intimacy.
Room for Everyone
A perfect mattress accommodates your near and dear ones whenever needed. Does your child want to sleep with you? No worries. Does your pet love to cuddle you while you slumber? Bring them on! A perfect mattress allows your family to sleep together. A spacious bed prevents suffocation issues when more members occupy the extra space. Even if you are single, a small bed should provide enough room to move around.
Does Bed Size Really Matter?
Yes, bed size plays a vital role in a couple's life and can affect their relationship. Although there's no specific research on bed size affecting a couple's relationship, a study shows how lack of sleep can affect the intimate relationship between couples. An uncomfortable bed can lead to sleep issues, thus underlining the importance of perfect bed size. It would help if you considered your preferences before finalising your mattress.
For instance, if your doubt is, "Is a queen bed big enough for two?" For this, you need to consider your and your partner's height and sleeping styles. A queen-size mattress is ideal for an average-height couple over 5.5″ inches. Tall couples who roll around a lot, may need more space while sleeping.
Also, you need to consider whether your kids and pets might accompany you to your bed. Furthermore, romantic couples who love to experiment with intimacy might need enough bed space at the onset of their relationship. However, remember that too small or too large bed space may sometimes cause unnecessary discomfort between couples. And lastly, an imperfect bed size will make you buy a new bed sooner rather than later.
Is a Smaller Bed Better in a Relationship?
There's no specific yes or no answer to this question, as it is subjective. A smaller bed can help you get closer to your partner and enjoy intimacy, making you feel relaxed. However, it might not be the case each time. For example, If you need enough space to stretch your arms and legs while dozing off compared to your partner or vice versa, a small bed might not give you a comfortable sleep. A smaller or bigger bed can't be better for your relationship; a comfortable bed matters the most for your intimate affinity.
Conclusion
Thus, we have answered all your doubts about when to consider a full, queen, or king mattress. If you are still searching for what size bed do most couples have, the answer is 'Queen bed". However, it doesn't mean a queen bed should be your ideal choice too. Look for a perfect bed by considering the above mentioned points and cherish your loved moments forever!
FAQs
What is the most popular bed size for couples?
Queen size is the most popular size for couples as it can make you come closer and also give you enough space to move around whenever needed. Moreover, it fits nicely in medium-sized bedrooms.
Do couples sleep better in bigger beds?
Couples can sleep better in a full, queen, or king-size bed if it's comfortable. However, bigger beds provide ample space to move around and prevent motion transfer without disrupting your partner's sleep. Most couples need alone time, and a bigger bed knows how to provide you your 'me time'.
Is double bed enough for couples?
A double bed can be enough for couples who are petite in body size and shape and are snugglers. Moreover, a double bed will make your bedroom look spacious with the extra footage for other furniture items.
---
Bachelor's in English Literature and Health Sciences Previously wrote blog articles for various Doctors for their websites Familiarity with various content management systems and SEO best practices
---
Read More About Bedding Sizes