Yoga Mat Sizes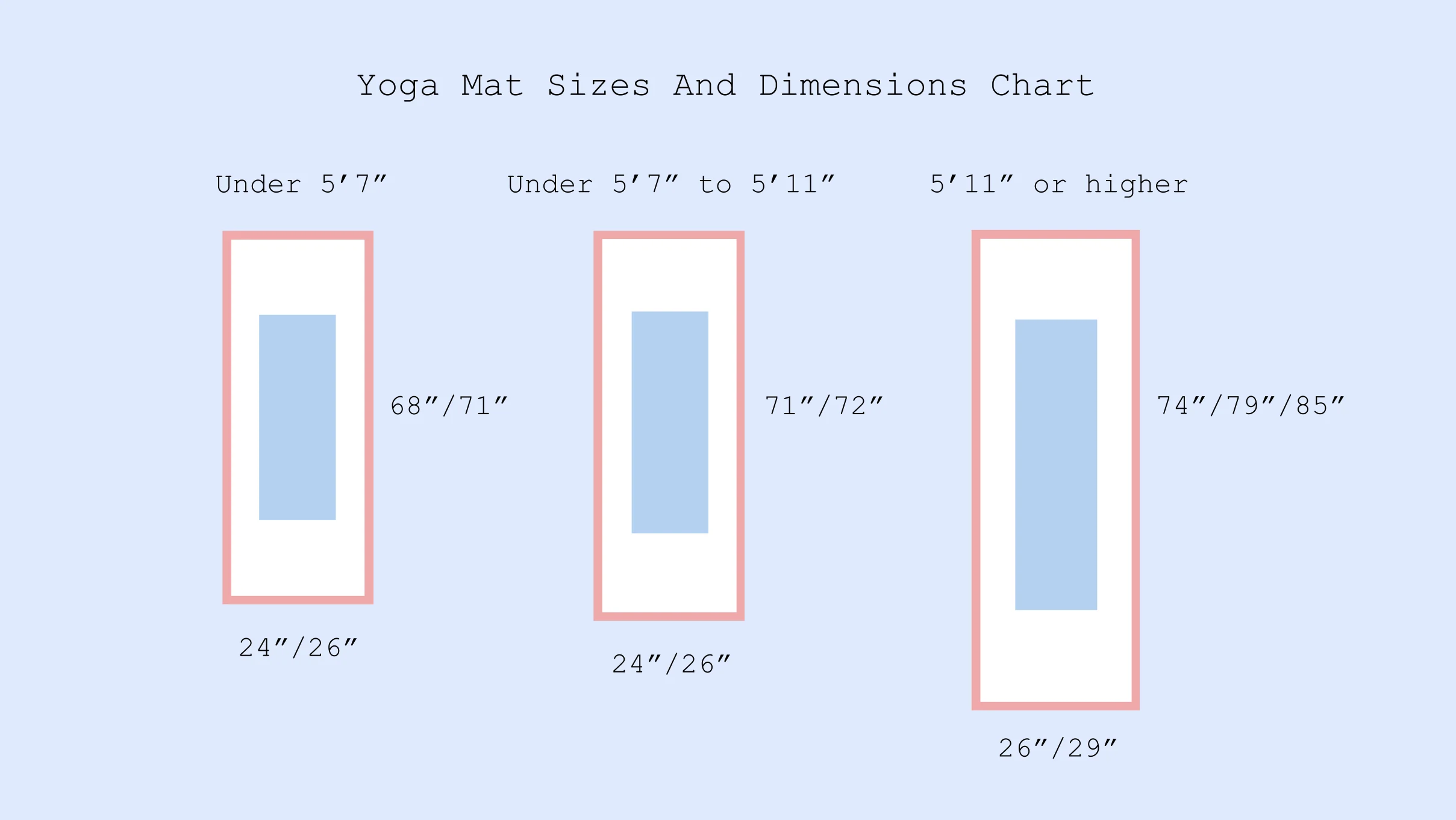 'Yoga is a journey of the self, through the self, to the self."- The Bhagavad Gita.
A yoga practitioner gains numerous mental and health benefits. However, to get a yoga posture perfect, you need a mat that aligns with your body structure. Also, if the mat material is too thin, your knees and elbows might get hurt due to the floor's hard surface. On the other hand, your hands and legs might sink in on a thick mat, losing your posture balance.
In this article, we will share a yoga mat size chart and the factors to consider while buying a yoga mat. So, read till the end to make the best choice.
Yoga Mat Size Chart
A mat suitable for your height and provides a grip as you focus on the difficult posture is ideal for you to go ahead in your yoga journey. Your yoga mat should be at least 6 inches (15cm) longer than your height. For example, if you are 5 feet 2 inches (158 cm/ 62 inches) tall, you will require a 5 feet 8 inches (173 cm/ 68 inches) mat. Below are the yoga mat dimensions needed per a yoga practitioner's height.
| Your Height | Yoga Mat Size |
| --- | --- |
| Under 5'7″ | 24 X 68 inches OR 26 X 71 inches |
| From 5'7″ to 5'11" | 24 X 71 inches OR 26 X 72 inches |
| 5'11" or higher | 26 X 74 inches OR 28 X 79-85 inches |
What Is The Standard Yoga Mat Size?
The standard yoga mat size is 68 inches long and 24 inches wide. That makes it 5′ 6″ feet long. The average height of women is 163 cm (5′ 3″) and 176.5 cm (5′ 7″) for men. For tall people, a mat size larger than a standard mat size will be ideal for practising yoga comfortably.
What Are Some Other Yoga Mat Sizes?
Are you wondering what are some other yoga mat sizes? Let's learn about the same. For people who are more than 6 feet tall, a yoga mat with 24 inches wide (60.96 cm) and 84 inches long (213.36 cm) will be the ideal size. To allow yoga practitioners to enjoy and perform the asanas with comfort, yoga mats with different widths of 26 inches, 28 inches, and 36 inches are available. If you have broad shoulders, these mats are suitable for stretching your arms while performing asanas.
Factors to Consider When Buying a Yoga Mat
Besides the mentioned yoga mat size chart, the below-given factors are equally important when buying a yoga mat. Let's have a look at those factors.
Thickness
While practising yoga, you will perform asanas that require either fast movement or moderate to no movement. Thus, it would help if you had a mat with an appropriate thickness that provides comfort for each posture. Standard yoga mats start from 3 mm in thickness and are suitable for people under 6 feet in height. Moreover, they are the best if you don't have any joint issues. If you suffer back or knee pain, go for 4mm thick.
Some yoga postures put pressure on joints and muscles, while others keep you in a posture for longer. In that case, you can go for 6mm to 8mm thickness. Extra thick mats than 8mm will not provide balance to perform asanas comfortably. You might also want to look for a yoga mat based on the floor type. If it's a marble floor, go for 5mm; for a soft floor, you will need 3-3.5mm thickness.
Material & Non-Slip Surface
Mats are essential to prevent the floor from absorbing your energy. Thus, investing in a good-quality yoga mat is vital. The most common material, polyvinyl chloride, PVC, is used in yoga mats. Though cheap and affordable, it contains toxic chemicals and wears out with time. Another is the natural rubber material which is an eco-friendly material providing enough cushion and grip to the mat. Its non-slippery surface helps prevent you from falling off the mat. It is easy to clean. However, if you are latex allergic, you should avoid using natural rubber.
The thermoplastic elastomer (TPE) is the most commonly used material for mats in yoga classes. It is less harmful to the environment compared to PVC. TPE's rubber and plastic combination makes it eco-friendly, affordable, and recyclable. Those who love to carry yoga mats while travelling will find TPE mats portable. However, it is slippery, and you should avoid it if you sweat a lot.
Cotton mats are known to absorb sweat, are eco-friendly, and keep you warm during meditation. Your knees and elbows will receive adequate support with cotton mats. Jute is another material that provides enough grip to the mat and is recyclable.
Cork material is popular due to its edgy design, antimicrobial properties, and environment friendly. You will get good grip support from the cork mat as you perform your favourite asana. However, the drawback is that it can't be rolled easily and is slightly rough on the skin.
Portability
Most yoga practitioners love to go to the studio or garden and do asanas in groups. Thus, to carry a mat from the house to the studio or a garden, you will need a lightweight, portable mat 1.5 mm to 2 mm thick. They are specifically designed for travel where you can easily fold and carry them in a suitcase. These hassle-free mats often come with a carrying strap for your convenience. However, do ensure you place something below the portable mat. It will help prevent the floor's hardness from making your practice difficult. Thus, portable yoga mats will help carry your fitness along with you.
Conclusion
The above-mentioned size chart for yoga mats will help you choose a perfect yoga mat based on your height, the mat thickness, material, and portability. However, it is best to rent a yoga mat as a beginner and do some trials with different mat types and sizes. Moreover, if you have joint or body pain issues, consulting your yoga master for their suggestions on buying a yoga mat will be beneficial.
FAQs
What thickness mat is best for yoga?
Yoga mats should have a thickness of half an inch to one inch. However, if you want more comfort, go for thicker mats that are no thicker than 1.5 inches, or you will lose the essence of a yoga mat.
Are all yoga mats the same size?
The standard width of a yoga mat is 24 inches, but mats with widths of up to 30 inches are available. In this case, it's all about personal preference. Wider mats may be more difficult to use with a carrier or strap because they are more difficult to roll up.
Do I need a large yoga mat?
Make sure your yoga mat is at least six inches taller than you. The goal is to lay comfortably on your mat during savasana without leaving the mat. Try an extra-long yoga mat if you're taller (over 6 feet).
---
6+ years of experience as a content writer. Previously worked as a freelance writer for one of the top mattress brands in India. Well-versed in writing product reviews, product descriptions and content for e-comm sites.
---
Read More About Bedding Sizes