Pillow Sizes & Dimensions Guide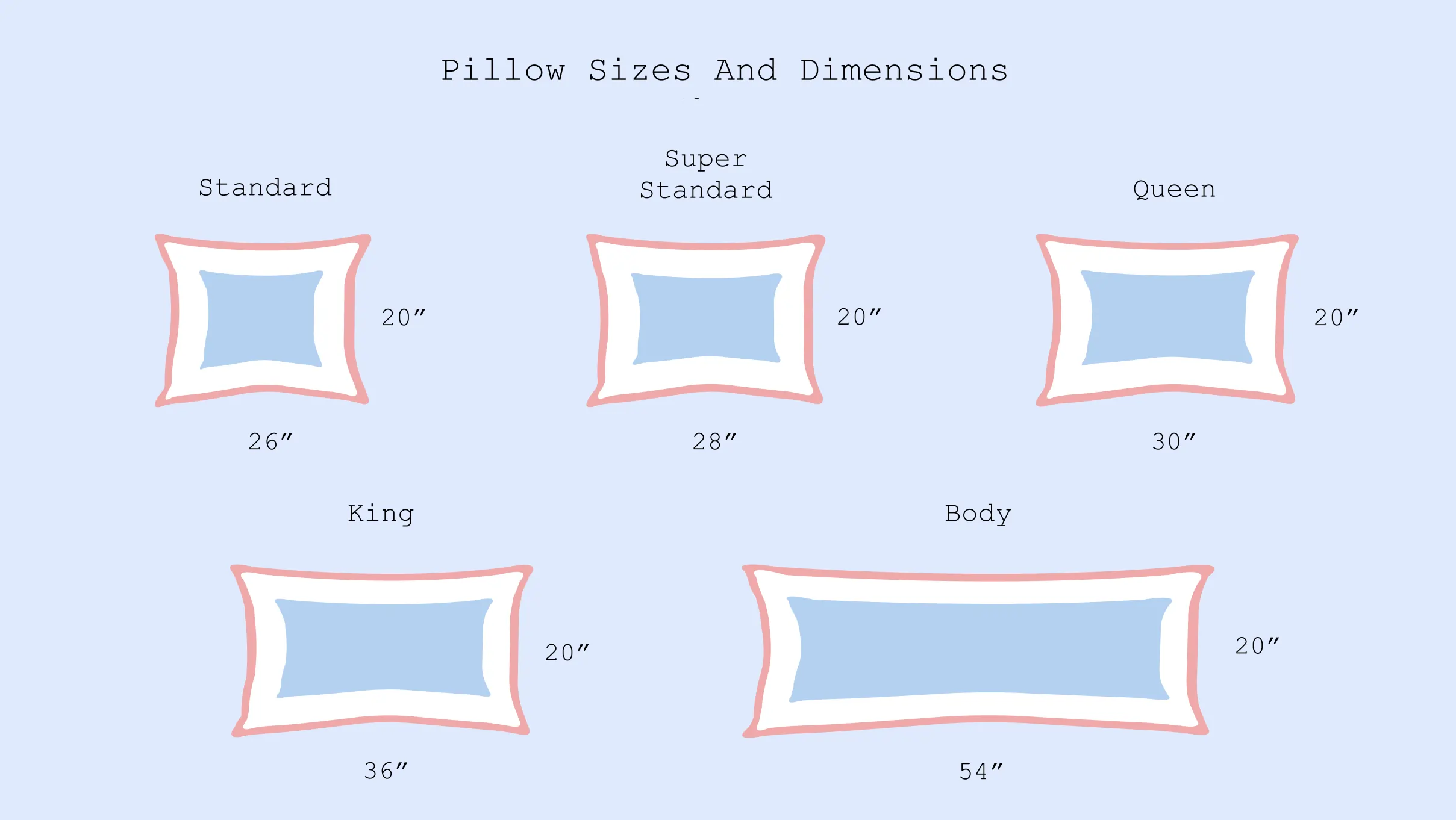 When it comes to a pillow, we usually tend to ignore them. But they are the unsung heroes who, along with your mattress, ensure you enjoy a peaceful and deep slumber. Your pillows should be able to compliment your mattress and enhance comfort all the more. Finding the perfect pillow is imperative because they give your neck and head optimal support, so you wake up without aches and pains. In this article, we are here to walk you through the standard pillow sizes and dimensions, so you never compromise your sleep. Read ahead!
Pillow Sizes Chart
Before we proceed, let's look at the different pillow sizes.
| | | |
| --- | --- | --- |
| Pillow Size | Measurements in inches | Measurements in centimeters |
| Standard | 20 inches by 26 inches | 51 cm by 56 cm |
| Queen | 20 inches by 30 inches | 51 cm by 76 cm |
| King | 20 inches by 36 inches | 51 cm by 92 cm |
| Body | 20 inches by 54 inches | 51 cm by 137 cm |
Standard Size Pillow Dimensions
The standard pillow size measures 20 inches wide and 26 inches long, and this is the basic size that is ideal for sleepers who like to remain in one single position throughout the night. So, if you are a side, back, or stomach sleeper, this can be the right size for you. However, if you are a combination sleeper, this can be slightly smaller as you tend to toss and turn throughout the night.
When it comes to standard-size pillows, you will be easily able to find the pillowcase sizes. One standard pillow size can easily fit a twin bed or a twin XL bed, and you can use two standard pillows on a full or a queen bed.
Super Standard Size Pillow Dimensions
Some brands also offer super standard pillow sizes. It measures 20 inches wide and 28 inches long, where you get an additional two inches in length compared to a standard pillow size. Since the difference is small, it can easily fit into a standard-size pillowcase. This pillow is perfect for someone who wants something a tad bit bigger than standard size but also something smaller than a queen. You can easily place one super standard pillow size on a twin or a twin XL mattress.
Queen Size Pillow Dimensions
The Queen size pillow measures 20 inches wide and 30 inches long. So, this is 4 inches more than a standard pillow size and 2 inches more than a super standard pillow size. The extra width that queen pillows offer can be suitable for combination sleepers as you tend to toss and turn a lot, and the extra inches will ensure support for your head and neck region.
When it comes to the ideal pillow case for the queen pillow size, it is always best to opt for a queen pillow case as a standard pillowcase, or a super standard pillowcase will be too snug. You can easily use two queen-size pillows on a queen bed.
King Size Pillow Dimensions
A King-size pillow measures 20 inches wide and 36 inches long. Again, the size of a king pillow can be an excellent choice for combination sleepers due to the extra inches offered. The additional length will support you no matter how you sleep. It can also be a great option for you when you are simply lounging around in your room and want to watch some TV, as this pillow can offer optimal back support. You can easily use one king pillow on a twin or a twin XL mattress.
Body Size Pillow Dimensions
We don't give body pillows a lot of thought when we go pillow shopping, but they can make a great sleep companion for side sleepers. They measure 20 inches wide and 54 inches long and are designed to mimic your body's shape, so you get all the support you need. Body pillow sizes can be ideal for pregnant women or people suffering from any joint pain. However, you will need a spacious mattress here as body pillows can take up more room.
Why Pillow Size Matters
Pillow size and dimensions matter because it affects your sleep quality. Your pillow should be able to support you completely as you drift into a good night's rest. Therefore, you will need a pillow that fits your bed and compliments your sleep style. Other reasons why pillow size matters include;
When you are choosing a pillow, the distance from the neck to shoulders should always feel good, otherwise, it is the wrong size pillow.
You must also consider your body type while choosing a pillow. For instance, the perfect pillow size for a petite individual can be something smaller while a heavier person may need a bigger pillow size.
How to Measure a Pillow
Measuring a pillow is an easy task. Make use of carpenter's tape here. This is because the tape is firm and helps you avoid noting down any wrong measurements. Always first measure the side and never the centre. Make sure you take whole measurements and nothing with a decimal and you are done!
How to Choose the Right Pillow Size
When it comes to choosing the right bed pillow sizes, just follow the tips below and you are good to go.
Back Sleepers
As you lay down, you want a pillow that can offer optimal comfort to your neck and head region. But you want it slightly flat as if you are too propped up, it can lead to aches and pains as your spine and neck will not be appropriately aligned. Here, the ideal size of the pillow is a medium-sized one.
Side Sleepers
For sleeping pillow sizes for side sleepers you want to make sure that your head is aligned with the spine and proper support is provided to the neck as your shoulders bear a lot of weight when you sleep on the side. So, a slightly firmer pillow can be helpful here.
Stomach Sleepers
If you are a stomach sleeper, you need a pillow that is soft and offers a neutral spine alignment So, something that's too firm may not match your requirements.
Finally, it all comes down to what you prefer. So, the key point you must ensure is that the pillow size supports your neck and head while maintaining a proper spinal alignment.
Types of Pillows and Their Sizes
Now that you know all about pillow sizes and dimensions, let's take a look at the most popular types of pillows.
Euro Pillows
Also known as a European sham, these pillows are mainly used as a decoration for the bed or your sofa. These square pillows measure 26 by 26 inches and can help you immediately brighten your space.
Travel Pillows
These pillows are mostly U-shaped and can be a great companion if you are a frequent traveller. You will also find rectangular-shaped travel pillows, which measure about 12 inches wide and 16 inches long.
Throw Pillows
Again, just like Euro pillows, throw pillows are mostly used to spruce up the space. They come in 18 by 18 inches or 20 by 20 inches and are ideal for both your bed and the sofa.
Sleeping Pillows
As you know from the information above, sleeping pillows come in various sizes, such as standard, super standard, queen and more. Today, you will find a variety of fills for each size, such as down pillows, memory foam pillows, and more. Each type of pillow offers a different type of cushiony comfort; therefore it is important to choose what fits you well.
Conclusion
Regarding pillow sizes, always choose the one that guarantees complete comfort while keeping your body type and sleep position in mind. A pillow should properly support your head and neck region and ensure you don't experience any pain when you wake up. So, now you know what kind of pillow may be your ideal choice.
FAQs
Will a Queen pillow fit in a standard pillowcase?
Yes, a queen pillow will fit in a standard pillowcase by it may be too snug or feel compressed. So, it is always best to choose a queen pillowcase.
What size pillows do hotels use?
Mostly, hotels use a standard pillow size, which measures 20 by 26 inches.
What is the most comfortable pillow type in the world?
When it comes to the most comfortable pillow type in the world, it all depends on your personal preference. However, if you are looking for something soft, down or a memory foam pillow that can be great and for something slightly firmer, you can go for a latex pillow.
---
Bachelor's in English Literature and Health Sciences Previously wrote blog articles for various Doctors for their websites Familiarity with various content management systems and SEO best practices
---
Read More About Bedding Sizes