Metal Bed Frame Vs. Wood: Which is Right for You?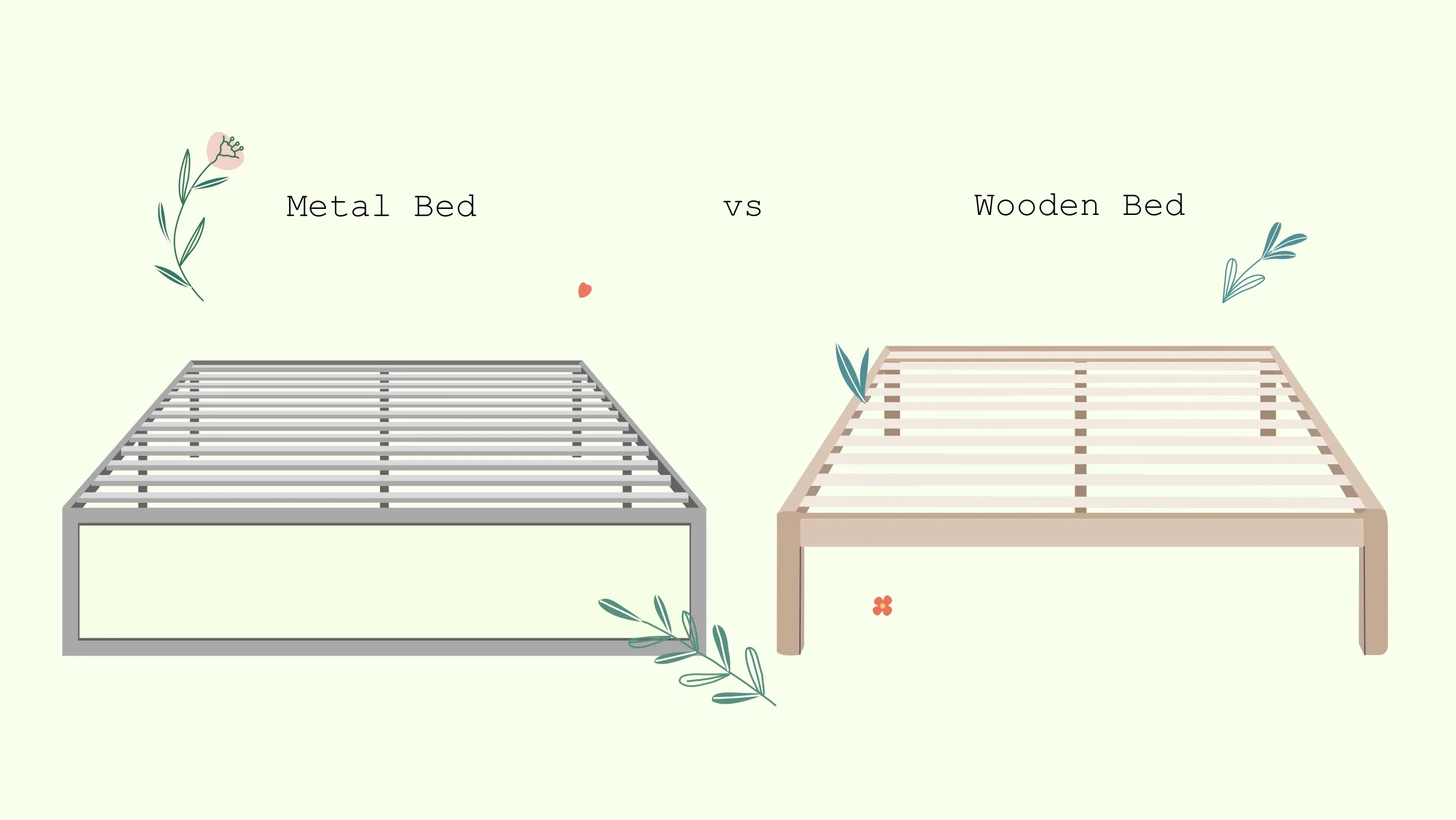 In a quest for a good night's rest, the mattress always takes precedence. Doesn't it? Whereas a bed frame is usually the last thing on our minds. But the right bed frame can make all the difference. For instance, a metal bed frame tends to creak more, and a frail wooden frame may not be so durable. So today, we are here to tell you everything you must know about the metal bed vs wooden bed to ensure you end up with the perfect frame. Just keep reading for more!
Metal Bed Vs Wooden Bed : The Major Differences
| Parameters | Metal Bed | Wooden Bed |
| --- | --- | --- |
| Comfort | Yes | Yes |
| Noise | It can creak | Doesn't make much noise |
| Style | Modern and minimalistic | Contemporary and upholstered |
| Personalization | Yes | Yes |
| Longevity | 15 years and more | 7-10 years |
| Cost | 5,000 – 25,000 INR | 10,000 – 70,000 INR |
Metal Bed
Did you know? Iron beds were first developed in 17th Century Italy as a solution to bed bugs and moth infestation! So, it's safe to say metal beds have been around for ages.
Made of brass, steel, or iron, metal frames come in a variety of styles. It is also an affordable option when compared to wooden bed frames. One of the advantages of a metal frame is the minimalistic yet modern aura that adds to the decor of your room.
Benefits of Metal Bed Frame
Some of the Benefits Of Metal Bed Frame frames offer you include;
Less Maintenance: Metal bed frames are super easy to maintain. First, you don't have to worry about woodworm or termites, and second, any spills can be wiped without any problem.
Durability: Metal bed frames are a durable option and last longer than most wooden frames.
Lightweight: If you love redecorating the room, metal frames can be a great option as they are lightweight and easy to move.
Adjustability: Most metal bed frames come with adjustable options for height.
Drawbacks of Metal Bed Frame
Some of the cons of a metal bed frame are;
Rust: If there is too much moisture, it can lead to rusting. So, it is important to keep your bed as dry as possible.
Toxic: Metal bed frames expose you to electromagnetic fields and disrupt your health.
Squeaky: Eventually, it can lead to squeaky noise, which can hamper your sleep.
Uncomfortable: Sometimes, metal beds can feel slightly uncomfortable, and if it has a metal surface, there are also chances of your mattress sliding.
Wooden Bed
Wooden bed frames are made of solid, such as teak or engineered wood, such as particle board. Since wood bed frames are available in various types and qualities, you can find them in both cheap and expensive options. So, let's learn more about the benefits and drawbacks of a wooden frame.
Benefits of Wooden Bed Frame
Sturdy: One of the main benefits of a wooden bed is that when you opt for a high-quality one, it can last long.
Easier to Assemble: Wooden bed frames can be easier to assemble and are straightforward.
Customizability: With wooden bed frames, you can choose from a wide variety and they can be customizable as per your needs, such as the colour of the frame.
Price: Wooden bed frames are available in a wide range of prices. For instance, if you opt for engineered wood bed frames, they can be very inexpensive.
Sustainability: Wood is an environmentally friendly option as it is natural, renewable and recyclable.
Wood Options: You will be spoiled for options when it comes to wooden frames. Some popular options include mahogany, oak, rosewood, MDF, and plywood.
Cons of the Wooden Bed Frame
Fire Hazard: Wood can be a fire hazard, therefore, it is imperative to avoid putting anything flammable near it.
Heavy: When it comes to wooden bed frames vs metal, wooden frames can be heavier making them harder to transport or move.
Metal Bed Vs Wooden Bed: What's Best For You?
Between a wooden bed vs metal bed, there is no correct answer because it finally comes down to your personal preference. For instance, some like the bohemian vibes that come with metal beds, and some love the modern-luxe feel that wooden beds can fetch you. So, some of the things you must consider include budget, sustainability, and ease of use.
Conclusion
Wood can bring you sustainability, style, and minimal noise, and it is eco-friendly whereas metal beds can be budget-friendly, trendy, and lightweight. So, keeping all these factors in mind, you can make the right choice that suits your sleep needs.
FAQs
Is a metal bed better than wood?
As mentioned earlier, when it comes to metal beds vs wooden beds, it all boils down to your basic requirements. For instance, if you are someone who is looking for a budget-friendly bed frame and that's the main criteria, metal frames may be ideal but if you want something sturdy, a high-quality wood frame can be suitable.
Is it good to sleep on a metal bed?
Metal beds are known to radiate a variety of EMFs, which may not be very safe for you.
Are metal bed slats better than wooden ones?
Metal slats can be a more durable option and can also take on significant weight. However, wooden slats can be an affordable option but may break or bend easily.
What is stronger metal or wood bed frame?
Metal bed frames are known to be more durable and solid. It can carry more weight when compared to a wooden frame and can last very long.
---
Bachelor's in English Literature and Health Sciences Previously wrote blog articles for various Doctors for their websites Familiarity with various content management systems and SEO best practices
---
Read More About Bedding Information