How To Make A Bed Like A Hotel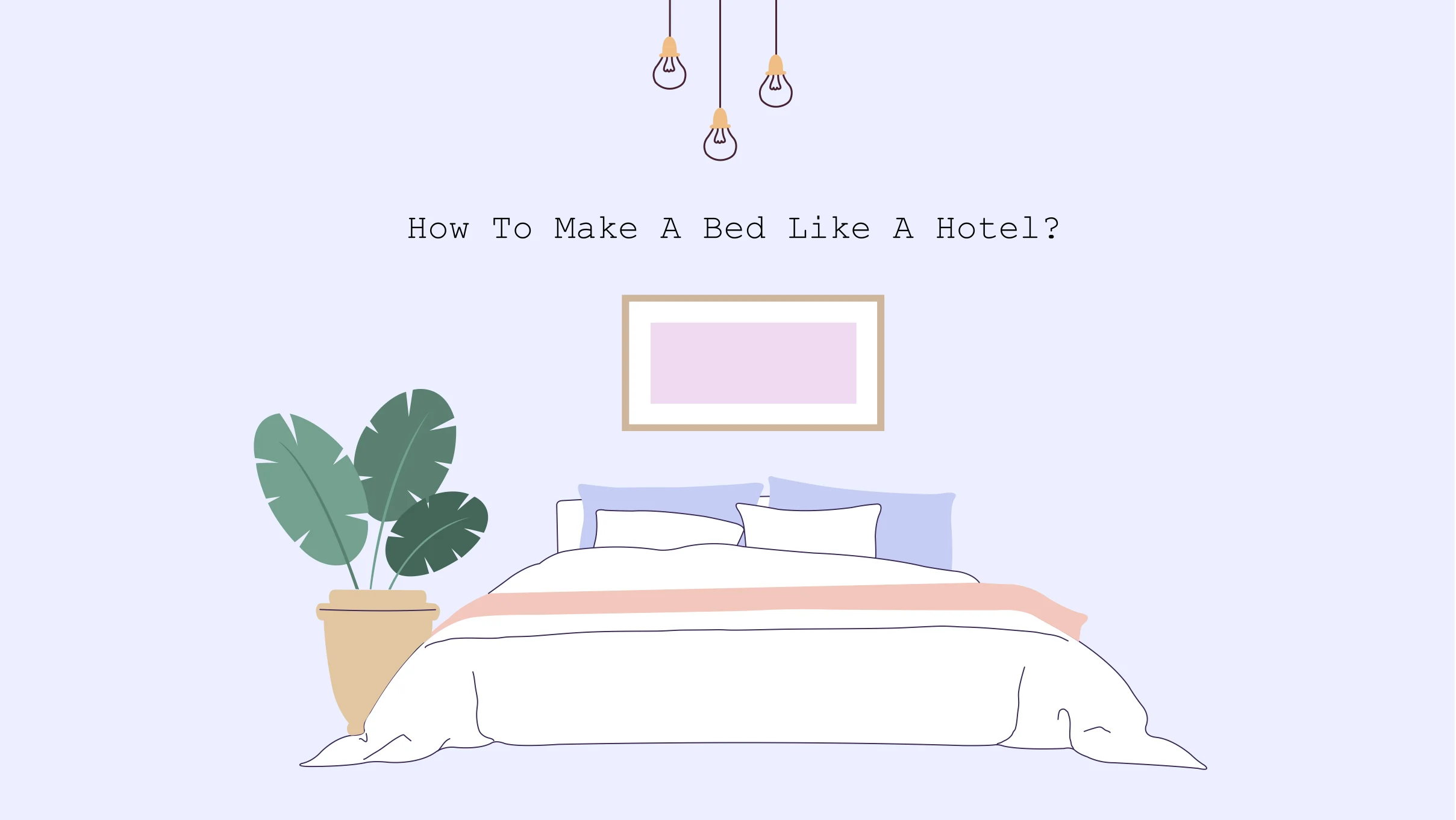 Hotel beds are naturally very comfortable and aesthetically pleasing with their neat tuck-ins and smooth surfaces. They reflect a quiet comfort, ambience, and presentation that maximises consumer happiness.
But how to make a bed like a hotel and extend the same cosiness to your room within a limited budget and less effort? Is it possible to incorporate the same aura inside your bedroom and achieve identical fulfilling sleep? Yes! All you'll need is throw blankets, sleeping pillows, duvets, throw pillows, and some creativity.
Read on to learn how to arrange the room to make it look like a hotel room!
10 Steps To Make A Bed Like A Hotel
Here are the ten steps to make a bed like a hotel – immaculately and with precision:
1. Buy a fitted sheet with elastic corners
Get a fitted sheet, pull it on each corner and wrap it around the mattress perfectly. Then, tuck the elastic parts neatly beneath the mattress' corners.
2. Layer up with a flat sheet
Next, you need to layer the bed like hotel rooms. Start with a flat sheet and ensure that it lays face down on the fitted sheet and drapes equally on all sides. Avoid any wrinkles.
3. Place a blanket over the flat sheet
The light blanket, ideally made of linen or cotton, should touch all the corners of the fitted sheet.
4. Add another flat sheet over the blanket
This flat sheet should align perfectly with the first flat sheet and stretch tightly on the corners.
5. Stuff the second flat sheet between the blanket and the first sheet
All the extra portion of the second flat sheet has to be stuffed between the blanket and the first sheet. To avoid any wrinkles on the second layer, remove the creases of the layers present below.
6. Fold the second flat sheet on the bed ends
The top of the first flat sheet should go over the second sheet and the blanket. Smooth over the wrinkles on the headboard area and arrange the pillows. According to the number of pillows, determine how far down the sheets should be folded.
7. Fold the corners
Start with tucking the three sides first. But how to tuck sheets like hotel? You need to form a triangle with the excess fabric, fold it underneath the bed, and remove wrinkles by tucking everything in on the sides.
8. Place the duvet or comforter on top
Now, fluff the duvet or comforter and place it on the top. Leave sufficient space for the pillows by folding the top and tucking it equally on the sides. Ensure that they're solid in colour.
9. Fluff the pillow and place them comfortably
Next, fluff up your pillow so that they appear cushiony and fluffy. Pillows tend to deflate and appear flat over time. Ensure that it isn't the case with yours. Now, you have to arrange them tastefully by placing the large ones first, then square decorative ones, and finally, long lumbar pillows.
10. Add a throw pillow, if required
To keep monotony out of the bedroom, you can add a splash of colour through some throw pillows. It can adorn the corner or the top of the bed.
Besides these additions, you must have certain essentials in the room to complete your hotel bed setup. They are:
Choose the Right Mattress
The procedure of bed making in a hotel starts with superior quality mattresses that guarantee a night of long sleep and comfort. If you want the same experience, you'll have to invest in a great mattress that provides optimum support and ease.
The best options are memory foam and hybrid mattresses. These mattress types give you a pleasurable sink-in feeling that you usually experience in hotel beds. However, if you have any special requirements, like back or neck problems, then invest in a mattress that suits you the best, like a therapeutic or spring bed.
If you already own a mattress and do not wish to replace it, then just flip it over (only if it reversible). This simple trick gives you an almost new-like feeling without bearing the burden of another purchase.
Cover Mattress with Protector
Covering your mattress with a mattress protector is a clever way to shield the bed from damage and provide extra comfort. It will also offer protection from bed bugs, stains and prevent your allergies from acting up.
Get Good Quality Sheets
To add to your experience, getting the best bed sheets like hotels is integral. They favour high-quality, and a high thread count white cotton sheets. Why? Thread count measures the number of threads woven into one square inch of a piece of fabric.
You should opt for sheets with a thread count of 180-300 to get decent-quality bedding. Anything higher than 300 will make your duvet cover and sheets very heavy.
If you want the hotel bed sheet experience, go for materials like cotton sateen, supima cotton, egyptian cotton, cotton percale, and linen. The sheet colour could be white, just like hotel rooms. But why do hotels use white bedding? This is because the colour symbolises purity and showcases their standards of cleanliness.
Put on Duvet and Comforter
Get a duvet if you already own a comforter and want it to blend with your new aesthetic and prevent dust from accumulating. Duvet covers, also known as tiny blankets, have a button line or a zipper that encases a thicker blanket.
But what comforter do hotels use? They have a preference for a white down comforter filled with down feathers in your hotel rooms. Not only will this comforter keep you warm, it will also add to the aesthetic appeal.
Layer With Right Pillows and Shams
To hit just the right amount of comfort with your pillows, you need to include five must-have pillows – boudoir pillows, down pillows, feather, and down-alternative pillows. Like in hotels, these variations in pillows will offer you a varying level of comfort. Besides these five pillows, you can also incorporate others based on comfort level and aesthetics.
How to Make Bed More Comfortable /Luxurious
Now that you know how to arrange different bed elements, it is time to learn how to make your bed more comfortable/luxurious.
Use Accent Pillows
To add splashes of colour to your room, you can invest in some accent pillows. They can help your bed match the room's theme without changing all your comforters and sheets.
For instance, if you have a weather-based theme, you can add accent pillows to match them. Green for spring, orange for summer, and blue for winter work the best.
Here's how you can style different accent pillows:
Square pillows – You can style two square pillows against the shams, narrowing down the pillows and creating a great base for your final touches like a lumbar pillow.
Lumbar pillow – Next, add a lumbar pillow in the middle of the square pillows to create a focal point for the bed and add the perfect finishing touch.
Choose Colours Scheme for Bedding
It doesn't matter if you have a theme or not – the pillowcase, comforter, and sheets have to match or complement each other. For example, if your sheets are white, stick with the same colour for all other elements or go for blue or red colours. Moreover, the wall also plays a vital role in the theme's determination.
Keep Bedding Clean And Fresh
Hotel beds are not just about aesthetic appeal; they also showcase cleanliness. So, cleaning your bed properly is a significant step towards a real hotel bed. However, you need to rely on more than just different cleaning products.
So, make sure you maintain bed hygiene by regularly cleaning it and avoiding eating on top of it. Wash your sheets at least twice a week, and dry clean your pillows regularly.
Warm Up Your Lighting
Harsh lightings are never a good idea when adopting a hotel-esque environment. Instead, it would be a better idea to opt for lighting that blends luxury and comfort, just like hotels. And while it might sound like a simple matter, the room's lighting can determine its tenor.
While selecting the lighting, you need to consider the windows, their spacing, and the overall structure of the room.
Conclusion
Hotels look luxurious and immaculate in their presentation because they layer up their sheets, comforters, and duvets with a hint of light experimentation. Remember, shaping your room does not have to be needlessly expensive – you can efficiently work with what you already own. Ensure that, despite not being opulent, the room should be a haven of comfort and relaxation for your body.
FAQs
How can I make my bed look luxurious?
Focus on the neutrals, include all-white, update your sheets and pillows, invest in a comforter and blankets, rock a statement headboard, add accents to upscale, and add your finishing touches.
How do hotels make their beds so comfortable?
Instead of coils, these cosy mattresses have air-filled chambers. As a result, they are simple to modify and don't push on identical body parts.
How do you make a 5 star hotel bed?
Instead of coils, these cosy mattresses have air-filled chambers. As a result, they are simple to modify and don't push on identical body parts.
How do I make my sheets crisp like hotels?
No iron or steamer is required to smooth wrinkled linens. Seriously, the key is a spray bottle filled with regular tap water. First, evenly distribute the liquid on your nearly made bed (the corners should still be sticking out). When you see the creases beginning to settle, shake the top layer.
---
Bachelor's in English Literature and Health Sciences Previously wrote blog articles for various Doctors for their websites Familiarity with various content management systems and SEO best practices
---
Read More About Bedding Information