15 Different Types of Blankets for Your Home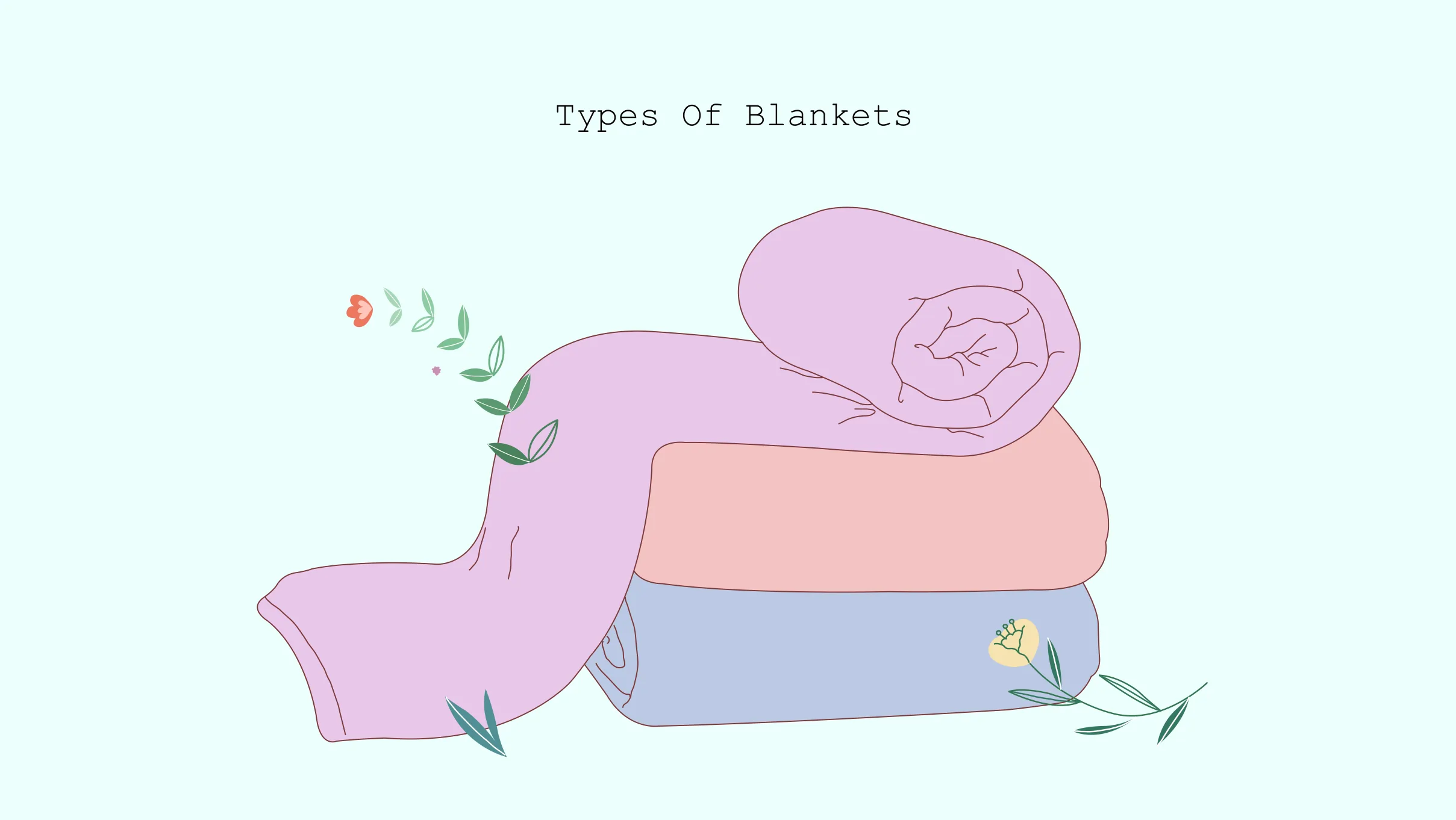 Blankets are nothing less than an emotion! From building forts to drawing warmth and comfort, our favourite blankets are like a support system. So, when you are in the market looking for that perfect sleep companion again, you must first understand all the types of blankets available. It should work for you in all weather conditions you face in your city and offer that cosiness every night. So, in today's article, we are here to talk about the types of blankets so you make the right choice.
Different Types of Blankets
When it comes to a blanket, there is no perfect choice. It differs from one individual to another. Therefore, look at the different types of blankets and choose for yourself.
Comforter
One of the most popular types of blankets for the bed is a comforter. They are fluffy and thick and can be perfect for chilly winters. Comforters contain cotton or polyfills fills inside them, which give them fluffiness. The softness of this blanket is determined by the material used for the cover and the fill. You can also use a thin sheet as a base along with the comforter.
Pros
Soft and fluffy
Keeps you warm
Not too heavy
They enhance your room decor
Ready to use as soon as you bring them home (in most cases)
Cons
They don't come with a cover, like a duvet
Not all of them can be machine washed
It may be too warm in hotter climates
Throw
A throw is a thin blanket casually thrown over the couch or the bed to be used as a wrap when you are watching a movie or reading a book. Made using light materials, they come in various prints and colours and help add a vibrance to the room.
Pros
A cosy wrap when you are chilling
You can use it as a swaddling blanket
You can carry it easily and can be used during picnics
Adds colour to the space
Cons
Small and light to be used as a blanket
Only for a single user
Duvet
It's similar to a comforter but thicker, fluffier, and comes with a cover, making it perfect for cool chilly climates. The duvet covers are easily removable and washable, which makes cleaning easier. So, what goes inside a duvet cover? It comes with fills stuffed inside the cover like a pillow put inside a pillowcase. Duvets are also available as per the mattress sizes and in multiple colours, fills, and colours.
Pros
Easy to clean as it comes with a washable cover
Fluffy and provides you with the warmth you need
Durable
Cons
You may find it slightly difficult to put the cover after washing
Not suitable for warm climates
Quilt
A quilt is similar to a comforter. But what makes it different is the different stitching patterns. They are usually available in several vibrant colours and designs and are one of the types of vintage blankets.
Pros
Can be cooler when compared to a comforter
Comes in wonderful patterns and colours
Easy to carry
Cons
You may not be able to machine wash it
May not be best for cold climate
Sherpa blanket
Made from 100% synthetic polyester, it is curated from a type of fleece. Sherpa's wool is known to be super fluffy and soft and offers moisture-wicking properties. It means if you tend to sweat a lot, you won't feel that wet stickiness as you sleep.
Pros
Moisture-wicking properties
Soft and very fluffy
Lightweight and breathable
Easy to care for
Cons
May not be very easily available
Not suitable for freezing temperatures
Chenille
More than a blanket, chenilles are similar to throws, used to spruce up the space. They are velvety and stylish; you can simply wrap them around you during chilly mornings or when watching a movie.
Pros
It can be used as a throw or to layer it during winters
Comes in a variety of colours
Offers style and elevates the decor
Cons
Maintenance could be tricky as you may have to hand wash it
May not be easily available
Cotton
Cotton blankets are trendy and are easily available. But these blankets are easy to carry and can be lightweight. Cotton blankets offer you a sense of comfort and can be used in summer too.
Pros
Easy to wash
Hypoallergenic and moisture-wicking properties
Low maintenance and can be washed
Cons
They are flammable
Can be bulky to carry
Knit
As the name suggests, these blankets are knit together and are always in style. These blankets are chunky and made of oversized yarn. They can be perfect gifts and can be used as wraps for some additional cosiness.
Pros
Looks very stylish
They come in vibrant colours
They are unique and perfect gifts
Cons
Cannot be used as traditional blankets
High-quality ones may be slightly expensive
Waffle Weave
One kind of blanket is waffle weave. They are made of a single layer of fabric and the weave pattern is similar to a waffle. However, due to the weave pattern, the air gets trapped inside and can keep you warm.
Pros
Usually made from cotton, they are breathable
They are good for summers
Cons
If it is too chilly, you will need another blanket with the waffle weave
Vellux
These blankets come with two layers, one made of polyurethane foam and the other using nylon fibres. These are popular types of blankets as they can be easily machine-washed and are usually used underneath another blanket for complete warmth.
Pros
It's durable and long-lasting
They are soft and plush
Cons
It's not very breathable
They are not very environmentally friendly
Wool blankets
One of the most popular types of blankets material has to be wool, and it has been around for ages. Wool blankets can keep you warm and can be woven and knit. One of the warmest blanket materials, it is extremely cosy.
Pros
They are warm and offer moisture-wicking properties
They can be layered or used on their own
Cons
It can feel itchy and may not be ideal for people with sensitive skin
Bamboo blankets
Bamboo blankets are one of the best blanket material types as they can regulate your body's temperature. It can also absorb sweat and keeps the air warm. Also, they are antimicrobial and antibacterial.
Pros
They are odour resistant
They keep you warm
Doesn't make you feel sweaty
Cons
You may not be able to machine wash them
Down
Down blankets are popular blanket types. They are made with the quill-less feathers of the birds. They can be used in duvets and comforters and can keep you warm and toasty.
Pros
These blanket fabric types trap heat and keep you warm
It is breathable
Cons
If you are allergic to feathers, make sure you avoid it
It can be expensive
Fleece
Fleece blankets are easily available and are made of a single layer of fabric. It is curated using polyester and it is one of the types of bed blankets, which is very soft and cosy.
Pros
Not very expensive
They are warm and cosy
Easy to maintain
Cons
Shearling
These blankets are made of sheep skin where the wool still remains attached to the skin. Hence, it is warm, breathable, and hypoallergenic. However, it needs proper care and becomes extremely soft along the way.
Pros
Antibacterial and hypoallergenic
Keeps you warm in winters
Cons
Not animal-friendly
Can be expensive and hard to find
These are the different blanket types available in the market today. Let's proceed to the best material for blankets below.
Different Types of Blanket Materials
Regarding blanket style and material, you have plenty of options to choose from.
Cotton Blankets
Cotton is entirely natural and is very popular due to its breathable properties. They are also hypoallergenic and super soft. It is also one of the materials you will find in types of weighted blankets.
Down Blankets
They are made of quill-less feathers of birds and usually come in duvets or comforters. They keep you warm and cosy.
Wool Blankets
They are soft and come with moisture-wicking properties. Therefore, even if you are sweaty, your blanket will remain dry.
Fleece Blankets
Made with polyester or cotton fabric, it is lightweight and can keep you warm throughout the night. It can be an inexpensive alternative to wool.
Microfiber Blankets
These blankets are made of synthetic fibres, which includes nylon and polyester blend. They are relatively inexpensive and can be easily maintained.
Acrylic Blankets
They are petroleum-based products and come in different colours and prints. They are light, cheap, and easily available.
Polyester Blankets
Like acrylic, these blankets are made of petroleum-based and also natural materials like coal. They are lightweight, cheap and easily available in the market. Polyester blankets are also very durable.
Bamboo Blankets
Made using natural enzymes after crushing bamboo wood fibres, these blankets are antimicrobial, antibacterial and hypoallergenic.
Conclusion
Now you know all the different types of blankets for your home. When making a purchase choose the one that suits your needs seamlessly.
FAQs
What kind of blanket is best?
In the above article, you can take a look at the type of blankets available. The best blanket depends on individual needs.
What are the thick blankets called?
Comforters and duvets are thick blankets.
What is blanket material called?
It depends on the type of blanket. Take a look at all the types of blanket materials in the above article.
What are fluffy blankets called?
Wool, comforters, and duvets are fluffy blankets.
What is the softest material for a blanket?
Microfibers are very soft and can feel soothing on the skin.
---
Bachelor's in English Literature and Health Sciences Previously wrote blog articles for various Doctors for their websites Familiarity with various content management systems and SEO best practices
---
Read More About Bedding Information