What Is a Duvet?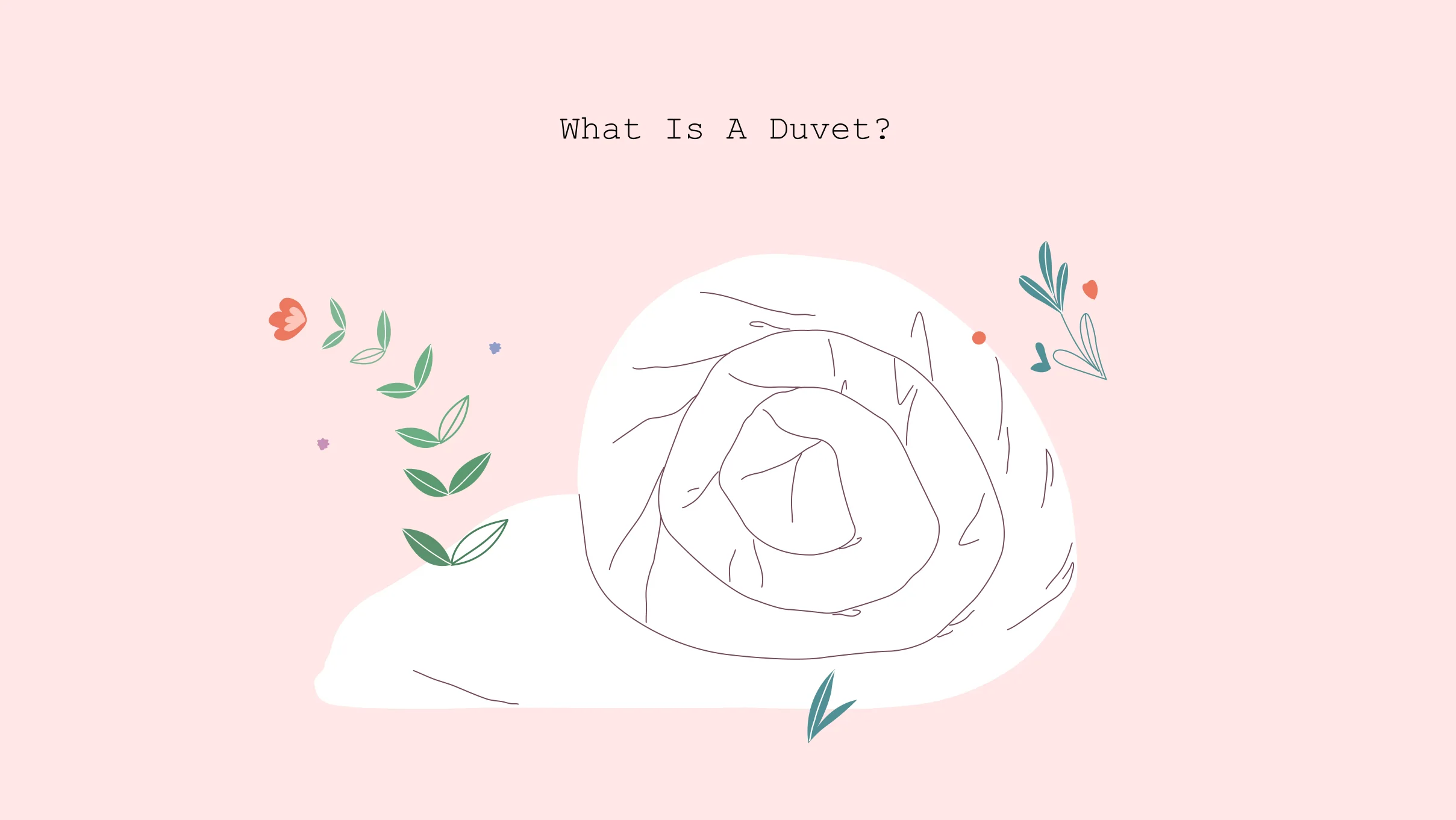 Do you already have the greatest bedding, and now you want to top it with the cosiest blanket available? Duvet is the best option for you. What is a duvet? The duvet, which is frequently mistaken for a comforter or a quilt, is a quilted blanket stuffed with down, feathers, or an alternative to down. They're soft and light, helping you drift off to sleep in no time. How is it different from comforters or a quilt? They lack a removable cover, which is important for easy washing, and are thin compared to duvets.
In this article, Sleep Guides India has talked about all things duvet to help you buy the best one.
What Is a Duvet Cover and What Is It Used For
This question provides the answers to two other, more significant questions. What is a duvet? How is it different from a duvet cover? A duvet's cover is the outer fabric shell, which covers all four sides and closes using a zipper, buttons, or snaps.
On the other hand, a duvet is a quilted blanket traditionally filled with down, feathers, or a down alternative such as silk, wool, cotton, or polyester. So, is a duvet a blanket? Yes, of course, it is a blanket filled with softness, fluffiness, and emotion to help you fall asleep comfortably. It is the bedding that keeps you warm and cosy without compromising on breathability.
In essence, the duvet cover's purpose is to shield the duvet from sweat, body oils, dirt, and dust. It ensures easier cleaning, flexible designs, and a lovely touch to your room's decor.
How Does a Duvet Cover Work
Now, knowing how a duvet cover works and what it is required for is more important. To maintain the fluffiness and prevent duvets from slipping under the removable cover, there are ties with zippers, snaps, or buttons. A duvet blanket cover has three major benefits: design, comfort, and convenience. For instance, if you want to modify your room's style, you can quickly change the cover to give your bedroom a fresh look.
One can choose from a wide range of fabrics and comfort levels for their duvet cover. You should bring a thin and soft one in the summer and spring to keep a peaceful sleeping environment and a thick and hard one in the winter, although this is largely a matter of personal opinion.
Lastly, they protect your duvet from any stains, rips, dust, or other problems. Especially if you have a newborn baby or kid, a bed with duvet is the best companion for you to prevent any accidental stains.
What Is a Duvet Made Of
What is a duvet for a bed? The softest, lightest blanket stuffed with down, feathers, or a down alternative to keep you warm without weighing you down. In simple words, a duvet blanket is a combination of two major things, i.e., the removable cover and duvet filling. Here you'll know about both things in detail.
Duvet Shell
What's a duvet shell? The duvet is composed of a shell and filler material. The shell, also referred to as ticking, is made up of strong cotton or synthetic fibres. To keep the down and feathers in place without losing breathability, a high thread count of 300 or more is required.
What are duvets used for? Comfort (specifically) and room decor. Therefore, being easy to use, durable, and capable of managing a peaceful sleep environment are crucial. The duvet's shell with great covering, softness, and long-lasting usage make it perfect for use in a bedroom.
Duvet Filling
The substance that makes up a duvet blanket—either down, feathers, or down alternatives—is known as the duvet filling. Down, a feather-like material obtained from geese and ducks was utilised in traditional duvet filling. These feathers are fluffy and lightweight and are an effective thermal insulator. China is the place of duvet origin, and they have the warmest blankets available.
The difference between a comforter and a duvet is that a comforter is thinner and lacks a removable cover. This decreases the durability and use of comforters. So, duvet vs. comforter, which one is better in your opinion?
What Is a Duvet Insert
A duvet insert is just another name for duvet filling, which is what goes inside a duvet cover. Your bedding will look perfect and provide you with a restful night's sleep, thanks to this fluffy blanket.
The Pros and Cons of a Duvet
Here are the pros and cons of duvet blankets:
Pros
Various options are available to manage the warmth and weight of bedding.
Easy to wrap around your body because it's lightweight.
When you wish to change the appearance of your bedroom, duvet covers are available in flexible designs and are simple to swap out.
Easily washable covers. Unlike a comforter, it does not require washing the whole set.
It's the most cost-effective option.
Cons
Removing and washing the duvet cover is troublesome. Also, covering it again requires much attentiveness and care.
It does not come with a bedding set.
Choosing The Right Duvet
What is a bed duvet? A comfortable blanket to wrap yourself in and sleep peacefully at night. So, choosing the right duvet depends on your needs and preferences. But still, there are a few points to help you decide which one is the best duvet blanket:
Duvet Tog
Duvet tog is a rating that determines how warm your duvet blanket is. Based on the thickness and warmth of the duvet blanket, the scale goes from 1 to 15. What is a duvet used for? The purpose of a duvet is to make you feel warm and cool in accordance with the environment and room temperature. So, a 4.5-tog duvet is ideal to keep you cool on a warm summer day. And when winter hits, 13.5-tog duvet will protect you from the cold and fever.
Thread Count
The thread count denotes the number of threads that are present in the duvet. The higher the number of threads, the softer and more breathable the duvet will be. However, the quality of the thread used in ties also matters. A roughly average of over 300–400 threads is good for any bed duvet.
Duvet Sizes
In the duvet blanket, you can choose from multiple sizes, ranging from twin to California king. What is a duvet blanket in one word? Comfort. So, the best option is to get a duvet which is a little bit bigger than your bed. And if you share your bed, you should go for the larger size.
Standard sizes for duvets are:
Twin/Twin XL- 68" W x 90" L | 24 oz. Fill Weight
Full/Queen- 94" W x 96" L | 35 oz. Fill Weight
King/Cal King- 110" W x 96" L | 40 oz. Fill Weight
Cost
You can count on the comfort and long-lasting durability of a good-quality duvet. The price of a high-quality duvet starts at Rs. 3,000, but before you buy, make sure to examine the material and quality.
Where Can You Buy a Duvet
No matter where you live, the internet has made life simpler. Sitting on your couch, you can quickly browse for high-quality duvets and order the one that is right for you. You can purchase your duvet at good bedding and bed-set supply stores as well. A duvet is a comfortable, silky, long-lasting blanket that you may use to decorate your room and assure comfort.
Conclusion
Adding a duvet to your bed is a great way to update your bedroom's style and get cosier on both warm and cold nights. What is a duvet blanket? The duvet is the perfect bedtime companion: soft, fluffy, and warm without sacrificing breathability. Make sure you buy a bed duvet that matches all your needs and preferences.
FAQs
How is a duvet different from a comforter?
Duvets are thicker in comparison to comforters. Duvet comes to you with a removable cover, making it easier to wash and use.
Which is better duvet or a comforter?
Duvets are better than comforters because they are highly durable, easy to wash, and thicker to keep you warm without sacrificing breathability.
Do you put a comforter in a duvet?
The comforter doesn't need a cover and is ready to use immediately after purchase. But if you want, you can use the comforter as an insert in the duvet cover.
Washing the duvet cover is enough to keep your duvet clean. Still, if you wish to wash your duvet insert, you can set the washer to a delicate warm water cycle (60 °C or 140 °F). Natural sunshine will help you protect the fluffiness of your duvet.

What do you put inside a duvet?
A duvet insert is what goes inside a duvet cover. The duvet insert is filled with down, feathers, or down alternatives that keep you warm and lightweight at the same time.
---
people like this articles
Bachelor's in English Literature and Health Sciences Previously wrote blog articles for various Doctors for their websites Familiarity with various content management systems and SEO best practices
---
Latest Bedding Information