Different Types of Beds and Styles Explained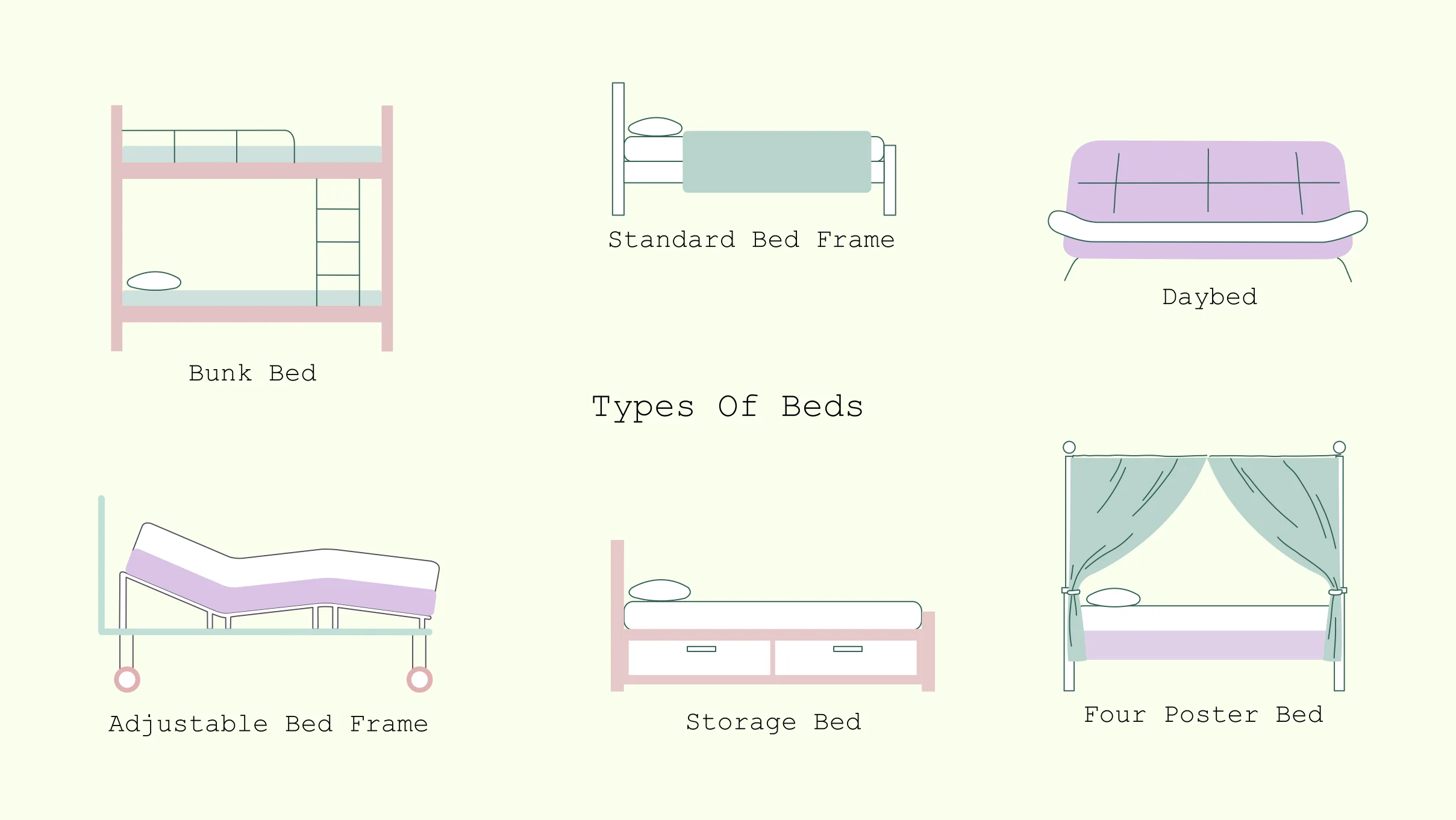 For most of us, our bedroom is our oasis to relax and unwind. The entire look and feel of the bedroom have often been deemed an extension of our personality.
However, choosing a bed is no cakewalk. You might be taken aback when you realise just how many bed sizes, types of bed, and bed styles there are.
Here, we try to walk you through an exhaustive gallery of the popular types of beds and their styles to help you nail the best fit when buying a new bed with less hassle. Read on!
Types of Bed Frames
Bed frames are the structures on which you rest your mattress and the box spring. They lift and support your mattress off the floor and play a vital role in the comfort and longevity of your mattress. They also form a focal point of your bedroom and play a critical role in the overall aesthetic appeal of the room.
Types of Bed Frames
1. Standard Bed Frame
It is one of the simplest and most affordable bed frames. It has minimal support beams, is set low to the ground, and usually comes with a footboard and a headboard. However, such bed frame styles almost always require box springs to perform best.
The bed is decently high for you to add storage underneath the bed if required. Its minimalist design and low profile lend a wide-open feel to the room and make it appear larger. The frame is an ideal choice for people with short height.
2. Platform Bed Frame
It is a traditional and minimalist bed frame that comes in various simple modern, and contemporary designs.
The bed frame does not need box springs as it has a solid and sometimes slatted base for the mattress to rest on. It has a streamlined structure and four short legs to elevate it slightly. Most often, it lacks a footboard. You can also add a foundation to increase its height and utilise under-bed space.
The latest innovation of this bed type is the floating platform bed that gives the feel of being suspended in mid-air.
It gives a sleek look to any room ambience, but it can also change the feel of the mattress. The bed frame is your ultimate choice if you have space issues or a small room.
3. Adjustable Bed Frame
The bed frame is popular among those who spend much time in bed, suffer from body aches while sleeping, and need different pressure-relieving positions.
Controlled by a remote, it provides support and comfort by raising your feet and the head and placing your body in extreme relaxation.
The bed frame does not work with every mattress. The frame also needs a mattress suitable for bending, like a latex or memory foam mattress. You need this bed beside a plug point for its motor to work and contour the bed to your body. Being an expensive bed frame, it is often seen in hospitals or with people who are motion-challenged or suffer from chronic pains.
It is generally expensive but goes a long way in reducing snoring and improving sleep quality.
4. Metal Bed Frame
Metal bed frames are stealing the show these days. These are often crafted of metals like wrought iron, aluminium, steel, etc. They come in a variety of styles and may have a headboard.
Metal bed frames are quite heavy but are solid, simple, and highly durable. They also offer you excellent versatility in modifying the bed size, height, storage options, etc.
While they lack the traditional look and feel of wood, they can withstand the heaviest weight and are ideal for plus-size sleepers. They are also naturally termite-proof and great for houses vulnerable to dampness and termites.
Finally, they fit into contemporary and other room styles to the tee.
5. Wood Bed Frame
Crafted of thick and solid wood, these frames are sturdy, easily customisable, and built to last for years. They tend to be bulky but offer great versatility in design and styles. Usually, these frames do not need box springs, but checking their product descriptions is advisable.
The kind of wood used in bed construction determines the durability and the resistance to pressure. It also lends the bed a highly versatile price range. The frame can easily blend in traditional, contemporary, and other décor styles. These frames are the ultimate choice for any user.
6. Storage Bed
If your house and bedroom are small, then a storage bed is the best among the different types of beds. It usually has storage spaces in the form of drawers. You might find other bed frames with storage spaces, but they are different from these frames.
The storage bed frame has two popular types- the Ottoman bed frames and the divan beds. They are often crafted of wood.
As evident, storage space is its primary advantage. It is sturdy but also expensive and needs high maintenance.
Nevertheless, it is ideal for small apartments and even kid's rooms.
7. Upholstered Bed Frame
Generally, these frames have some soft and durable materials covering some type of cushioning. Popular materials used are faux leather, suede, velvet, etc.
These frames often come with baseboards, sideboards, and headboards. You are spoilt for design choices here, which often include embroidery and button studding.
These frames are coveted for their cushioning and luxurious vibe. But they are high-maintenance and must be vacuumed and cleaned regularly. They are also vulnerable to dents, grease spots, tears, etc.
They are expensive and go best with classical and traditional themes. It is your ultimate choice for a cosy feel and vibe.
8. Slat Bed Frame
It is a simple bed frame with rows of connected bars of planks of wood spread along the width of the bed and held together by rubber holders. Popular wood choices for it are pine, beech, etc. Essentially, they function as a base for the mattress to rest on.
These slats can be either firmer and more supportive or more supple and bend with the sleeper's weight. You can choose from different comfort zones that offer the best ergonomic support to you. The frame works best with a latex or memory foam mattress.
Types of Bed Designs
The size and design of the bed play a pivotal role in shaping the bed frame and setting the tone, texture, and feel of the furniture and other accessories of the room.
The bed design can vary from minimalist to elaborate. A few of them have been traditional stalwarts for decades, while others will surprise you with their ingenuity. So, let's check out a few of them.
1. Futon
An ideal solution for small spaces, these can double as a bed and a couch. This Japanese style of bed type is foldable, offers easy storage, and can be placed in almost every room and any setup. You can enjoy sitting, reclining, or sleeping on this bed comfortably.
2. Murphy Bed
Also called a pull-down bed or wall bed, the murphy bed is a bed installed behind a wall. Its hinge on one end allows it to fold and hide behind the wall once you have finished using it.
Often such a wall bed has additional storage spaces on the sides and is an ideal choice to maximise space in any small house, studio apartment, or dorm room.
These beds complement any décor as they can transform into a bookshelf or any decorative furniture piece when folded.
3. Daybeds
Usually installed in guest rooms, these beds are multifunctional and can be used to sit, lounge, or sleep. They ooze a simple vibe but can look luxurious using decorative covers.
4. Cot
These portable and foldable beds come in handy when you have an unexpected guest for a sleepover. They usually have wheels at the bottom and hinges to fold and get towed in compact storage spaces.
The cot is also a popular bed for children. It has high boundaries for the tiny tots to turn without falling. Its high safety makes it one of the most popular types of kid's beds.
5. Upholstered Bed
The standout feature of this bed design is the upholstered headboard that makes sitting and reclining against it feel luxurious and ultra-comfortable. Its frame is also upholstered and may have an optional footboard.
The upholstery can be in plain or patterned designs. Such beds are fast becoming the toast of the season because of their high aesthetic appeal and super comfort.
6. Water Bed
These beds have a specialised type of mattress, i.e., a mattress filled with water. Such beds are often used in therapies as they help reduce pain and body aches, relieve pressure points, reduce inflammation, and ease tender muscles. They are terrific for your back.
But these beds are vulnerable to cracking on fold lines and accidental punctures and hence, are rarely seen in household bedrooms.
7. Round Bed
This type of bed size is designed in a circular shape comparable to a king-size. While it is not a practical choice for bedrooms, it is often deployed in boudoirs, lounges, fireplaces, TV rooms, a room with and near multiple windows, etc.
The bed is expensive as it needs customisation at every step. However, it is ideal for large rooms and for those who move too much in their sleep.
8. Divan
This bed is perfect for people who have limited space and are looking for a combined bed and mattress.
This unique bed flaunts an especially designed base of a wooden frame encased with fabric. It may or may not have a headboard for extra comfort and drawers for additional storage space.
The bed is excellent for sitting and lounging.
9. Four Poster Bed
These are also called 'tester beds' and are reminiscent of olden times. It has four tall posts that can have varying heights. Usually, curtains are hung on the posts to create a warmer sleeping environment, provide privacy, and function for decorative purposes as well.
The type of poster bed and its style are multiple and varied. A poster bed is usually meant for large rooms and is a popular choice.
10. Air Bed
As evident, these beds are filled with air. Many confuse them with air mattresses, but they are not the same. Unlike air mattresses, they can be used as a permanent bed in homes or as pull-out couches.
11. Hanging Bed
Also called a suspended bed or rope bed, it is a bed that hangs from the ceiling using ropes. It gives you a unique sleeping and lounging experience due to its rocking movement. You can use it to add excitement in your bedroom or as outdoor lounge furniture, day bed, etc.
12. Convertible Bed
These beds have a convertible design and can transform from sofa to bed or vice versa. For it, you can either fold out the seats or lower its back to flush with the seats.
Though it is commonly used in guest rooms and living rooms, you can use it almost anywhere.
13. Panel Bed
This bed design is recognised by the decorated, painted, or upholstered rails along the head and foot of the bed. Generally, its base is also made of wooden panels for robust support to the mattress and its foundation.
It also helps increase the mattress's breathability and longevity while fitting seamlessly in any décor theme.
14. Ottoman Bed
This bed design is both unique and multifunctional. With short feet, it works as a regular footrest during the day and can be unfolded into a single or a twin bed for a sleepover.
Moreover, the mattress base can be lifted using gas-lifting hydraulics to reveal additional storage space.
It is perfect for small spaces, guest bedrooms, dorms, etc.
15. Bookcase Bed
This bed design flaunts a delightful combination of form and function. It has a headboard with bookshelves and other storage components to help the lazy you reach them without getting out of bed.
16. Sonic Bed
This bed has a built-in music system and speaker for you to hear soothing melodies to sleep. It has a wooden tank-like frame inside which the mattress rests. It is generally three feet high from the ground. The wooden walls help in the perfect sound from the music system.
17. Indoor Hammock Bed
Hammock beds were initially restricted for outdoor camping and lounging, but this style of bed is fast finding new expression as a new indoor and permanent bed for sleeping.
It is crafted of canvas or rope and tied at two ends to any taller pillar posts using ropes. It elevates your head to keep your airways decongested and is terrific for easing back aches. It is the choice for those looking for unique, stylish expressions.
18. Magnetic Floating Bed
It is a tremendously high-tech and unusual bed that uses industrial-strength magnets and steel ropes to levitate the bed off the ground and give you a floating experience. It can hold up to 900 lbs but is a luxurious and expensive bed design.
19. Rocking Bed
The bed's circular frame with an attached motor gives you a soothing back-and-forth motion to lull you to sleep. It can be excellent for people suffering from sleep disorders.
20. Half Tester Bed
It is a style of poster bed. However, it has only two posts near the headboard instead of four and an ornate top at that end. It also has short legs and an intricately carved headboard and footboard. Its ornate designs hail from the late 1700s and are mostly found in old houses.
21. Wave Bed
The frame and its sides resemble a wave, making its design look unique. In addition, there is a ladder in the middle to access the bed. The bed is crafted from various materials and can be a tasteful choice for modern, contemporary homes.
The area beneath the bed is also usable for solving space issues.
22. Open Frame Bed
Such beds come with headboards and footboards that are never upholstered. Instead, it flaunts its versatile framework and can range from Victorian to slatted frames to farmhouse chic to Scandi-modern.
23. Low Poster Bed
It resembles a regular four-poster bed but does not look as large. First, the height of all its posts is low; hence, it easily integrates into any contemporary décor and in multi-size bedrooms.
24. Contemporary Canopy Bed
It is the modern take on the traditional canopy bed. It can be crafted from several materials to complement any style by flaunting thin frames. It can fit any bedroom and even add height to small bedrooms.
25. Traditional Canopy Bed
This medieval-era bed is an older style of bed intended to give privacy and warmth to large rooms. It is similar to a four-poster bed but has a canopy-like frame connecting all four posts around the bed. Its posts are generally thicker.
Typically, delicate and decorative fabrics are draped all over the sides and the top to form a private enclosure. In addition, tassels and other details are often used to add drama.
26. Enignum Bed
Designed by the Irish designer Joseph Walsh, the bed is a version of the canopy bed but with an extraordinary design at its headboard.
The posts are replaced by thin arching pieces of wood from the headboard and extend to almost the bed's width. The footboard lacks any posts.
Generally, silk curtains are draped over the arches to ooze an intimate, enchanting design. Suitable for large rooms, the bed creates an intimate, romantic environment and bowls you over with its high aesthetic appeal.
27. Pencil Poster Bed
Hailing from the 18th century, it is a version of the four-poster bed. It has thin posts on all corners of the bed with a finial turning at the top.
The first truly American version of the poster bed, it is your choice to add drama and style to any large bedroom or guest room.
28. Half Poster Bed
It is another version of the four-poster bed. It stands out by having regular-size posters at its headboard corners and extremely short posters at its footboard corners. They are smaller than the low poster bed posts also.
They typically work in large to medium-sized rooms.
29. Lighted Bed
It is a bed crafted in any style but with LED lights integrated into its headboard. So it not only forms a convenient design element but also gives you dim lighting for uses like reading before sleeping.
30. Sleigh Bed Frame
With curved headboards and footboards, the bed design resembles a sleigh. Created in the early 19th century, it is typically made of wood or upholstered in any colour finish.
31. Brass Bed Frame
It is one of the styles of metal bed frames that uses brass. Flaunting an antique look, its colour varies from golden to silvery yellow. Unfortunately, the prices also fluctuate from golden to silvery yellow.
32. Wrought Bed Frame
This metal frame bed uses wrought iron and can have a simple or elaborately designed headboard and footboard. These beds are sturdy, durable, do not bend and can withstand significant weight.
It can complement almost all types of décors.
33. Spindle Bed Frame
The bed is unique in having a row of spindles in its headboards and sometimes in footboards as well. It can be crafted from several materials and oozes a timeless look to complement any room décor and design.
34. Wingback Bed Frame
The hallmark feature of this bed design is its headboard with curved lines and protruding sides, created from various materials like velvet and other upholstery materials.
With their plethora of designs and colours, they can fit into both traditional and contemporary bedroom designs.
35. Ornate Bed Frame
Again, it is a metal bed frame but with intricate designs on both the headboard and the footboard. It can be crafted from any metal or wrought iron and add a complex and fun design to any decor.
Different Bed Styles
Every bedroom has a unique aesthetic that can only be enhanced using a specific furniture style. The bed frames are no different. The bed style flaunts the bed's theme and overall look and influences the bedroom's overall tone, texture and feel.
Hence, choosing the right bed style becomes imperative. Let's walk through a few of the popular bed styles.
1. Modern Bed
The beauty of these beds lies in their sleek and simple design. They have nothing excessive or flashy, are up to date with the trend and can fit in any style and any room for comfort and beauty.
2. Mid-Century Bed
With a sleek and vintage look, these beds are typically made of wood and flaunt features and styles of the 1900s.
3. French Bed
With an extravagant upholstered headboard, these beds are basic but classically beautiful. They may sometimes have a footboard as well. They add a touch of romance to large rooms or master suites.
4. Rustic Bed
Such beds are often found in cabins or vintage-style homes and rooms. They ooze a rough, aged, natural look that is very charming and captivating.
5. Scandinavian Bed
Known for their simple, clean look, these Nordic-inspired beds have clean headboards and are generally crafted of solid wood.
6. Industrial Bed
A factory-inspired bed, these flaunt a wrought-iron framework and a rustic ooze. If you are choosing a new bed for your contemporary home but want a rustic feel, choose an industrial bed with a wood framework.
It is the bed to make a statement in any contemporary home.
7. Woven Bed
They are also called wicker or rattan beds and ooze a casual chic vibe. However, it is hardly modern, so it appeals to people looking for an old-fashioned ooze.
Its unique feature is its bed frame crafted of woven wooden material. These beds effortlessly add texture to any beach style, country, or farmhouse.
8. Mission Style Bed
This style has its roots in the former Spanish colonies in North America, like the modern state of California. Crafted from natural wood, this bed style emphasises simple vertical and horizontal lines in flat panels accentuating the wood grains.
Its beauty lies in its simple and elegant look.
9. Cottage Bed
It is an old style of bed that lends a light and feminine look to any bedroom. It is characterised by lavish headboards that have carvings and other decorative elements. Often, these are painted as well. It is ideal for country, farmhouse or beach-style homes.
10. Traditional Bed
It has several bed designs and styles from past eras. They are typically made of dark wood for that timeless traditional charm. Some of its examples include poster beds, canopy beds, etc.
11. Country Bed
It is similar to a rustic bed and has the same outdoorsy and vintage charm. The bed is crafted chiefly of wood and feature panels in the headboard and footboard of the bed frame.
12. Retro Bed
The standout feature of this bed is that you can make it look modern or old-fashioned according to your preference. Flaunting vintage and antique designs, it is a perfect choice for mid-century modern homes.
13. Distressed Bed
Oozing a vintage charm, these are crafted of distressed wood and intentionally designed to show imperfections using sandpaper, paint stripper, etc.
Types of Beds For Kids
Gone are the days when kids' beds were just miniature versions of adult beds with featured cartoon characters and pink and blue, plain colours for girls and boys, respectively. Today, you have endless options of kid's beds that flaunt creativity and innovation to blend fun and functionality in the best possible way.
Here's an overview of some of the best beds for kids that you cannot resist!
1. Loft Bed
It is like a bunk bed but with a bed only in the upper bunk and a ladder to reach it. The space below is free to use as a play area, storage space, or even install a desk for the kid to study.
2. Trundle Bed
It is an excellent choice if you want to accommodate two children in the floor space of one. It has an additional bed attached to wheels and stored under the main bed. So they can be easily pulled out at night. It is also ideal for sleepovers.
3. Bunk Bed
It is an all-time favourite bed for kids and parents alike. It is like a loft bed but with a bed in the lower space as well. This multi-storey unit is both fun and space-saving.
4. Triple Bunk Bed
It is again a multi-storey unit with one bed stacked over the other and connected with a staircase or ladder. The three-bed frame is often constructed of wood or metal and is available in full, queen, and twin sizes to accommodate children of all ages.
5. Car Bed
This bed is designed in the shape of flashy cars like a sports car, racer car, fire truck, etc. You can choose any style that your child fantasises about.
They are safe for the children as it has a low height, and the child has no fear of falling off.
6. Single Bed
Because of their timeless design and functionality, single beds never go out of fashion. In addition, it offers a bigger bang for money since your child can use it for several years.
The bed can be crafted simple or made exciting using attractive designs, themes, motifs and striking colours.
7. Futon Bunk Bed
The bed is like a bunk bed, but its ground bed is transformed into a futon while the upper bed remains the same. Being very versatile, it not only works in a kid's room but is also ideal for small bedrooms and studios.
8. Bed with Slide
Having some extra fun features apart from sleeping units is always delightful for kids. Beds with slides are an innovative variation of the loft and bunk varieties.
These bed styles have an additional slide attached to them apart from the usual ladder or staircase. A few of these beds also have shelves or drawers below the slide for extra storage space.
9. Treehouse Bed
The bed is another unique way to add fun and quirkiness to your child's room. The entire bed is shaped like a treehouse and perched at an elevation with a staircase or ladder to access it.
The bed might also have additional design elements like windows, slides, etc. If desired, it can also be turned into a bunk bed.
10. Cabin Bed
Like the treehouse, this bed is shaped like a cabin and may include a roof and windows to make your children feel that they are sleeping in the woods.
The bed is slightly elevated but not so high that a ladder or staircase is needed to access it. Often these beds have drawers, desks, or even a tiny cupboard underneath for enhanced storage space.
The bed might also have an optional headboard, footboard and even a built-in bookshelf.
11. Built-in Bunk Bed
It is nothing but a bunk bed that is built into the room. It does not have a free-standing bed frame but is attached to the walls as a cohesive part of the room.
Usually, they are larger and sturdier than the standard bunk beds and have a high-end custom look.
12. L-shaped Bed
It has two beds combined to make an L-shape and easily fit into a corner. It saves space and allows siblings to sleep near each other.
It can have numerous designs and styles to suit your kids and room décor.
13. Novelty Bed
These are unusual beds and are often designed like boats or pirate ships. They can have several other shapes like a princess castle to even a spaceship to make things fun and exciting for young children.
Their innovative designs make these beds come with an expensive price tag but can genuinely ignite the imagination and create a fun element for kids.
How to Choose the Right Bed Frame
The bed frame not only plays a crucial role in the aesthetics and style of the room, but it is also crucial for the proper support, stability and foundation for your mattress.
You should always consider the following tips while selecting the best bed frame for your room:
You must measure your mattress and then shop for the size of the bed frame that coincides with it.
Decide on your budget with some extra in your hands.
You should also consider your room size.
Choose the right support system. Box springs, platform beds, or slatted base are the most popular choices. Without it, your mattress will sag or wear prematurely.
Decide on the material of the bed frame based on your budget, style, use, etc.
You can compare integrated and separate frames and choose one.
Decide on the height of the bed frame to make things comfortable.
Evaluate the legs and their sturdiness. It should offer a balance, make the bed stable, and must not creak.
Consider the style and design that matches your room décor and theme.
Finally, check the construction and overall quality and craftsmanship.
Conclusion
We hope to have given you enough insight and information to help you nail the right bed when you are in the market for a new bed. While you might not need all the information, it is bound to assist you in seeing things from a new angle and understanding your purchase better.
FAQs
What is the most popular type of bed?
The most popular type of bed is the queen-sized bed in various styles, designs, and colours. It can work well in almost all room sizes.
What type of bed is the most sturdy?
If you are looking for a real sturdy, long-lasting and durable bed, then you should go for bed frames made of solid wood or metals. Beds made of wood composites, plastics and other materials are far less sturdy or durable.
What type of bed is good for back pain?
An ergonomically slatted bed base, usually crafted of wood, is best for back pain as it can support your lower back well. It can be genuinely beneficial if combined with the right mattress, specially designed to ease back pains.
What type of bed is best for kids?
The best beds for kids are those that have a robust frame to easily withstand the jumping and regular weathering imparted by the child. It should include all safety features, depending on the child's age. It should also have some fun and quirky elements to appeal to their creativity, imagination, and their adventurous and fun spirit.
---
Bachelor's in English Literature and Health Sciences Previously wrote blog articles for various Doctors for their websites Familiarity with various content management systems and SEO best practices
---
Read More About Bedding Information