Microfiber vs Cotton Sheets: Which Is Better?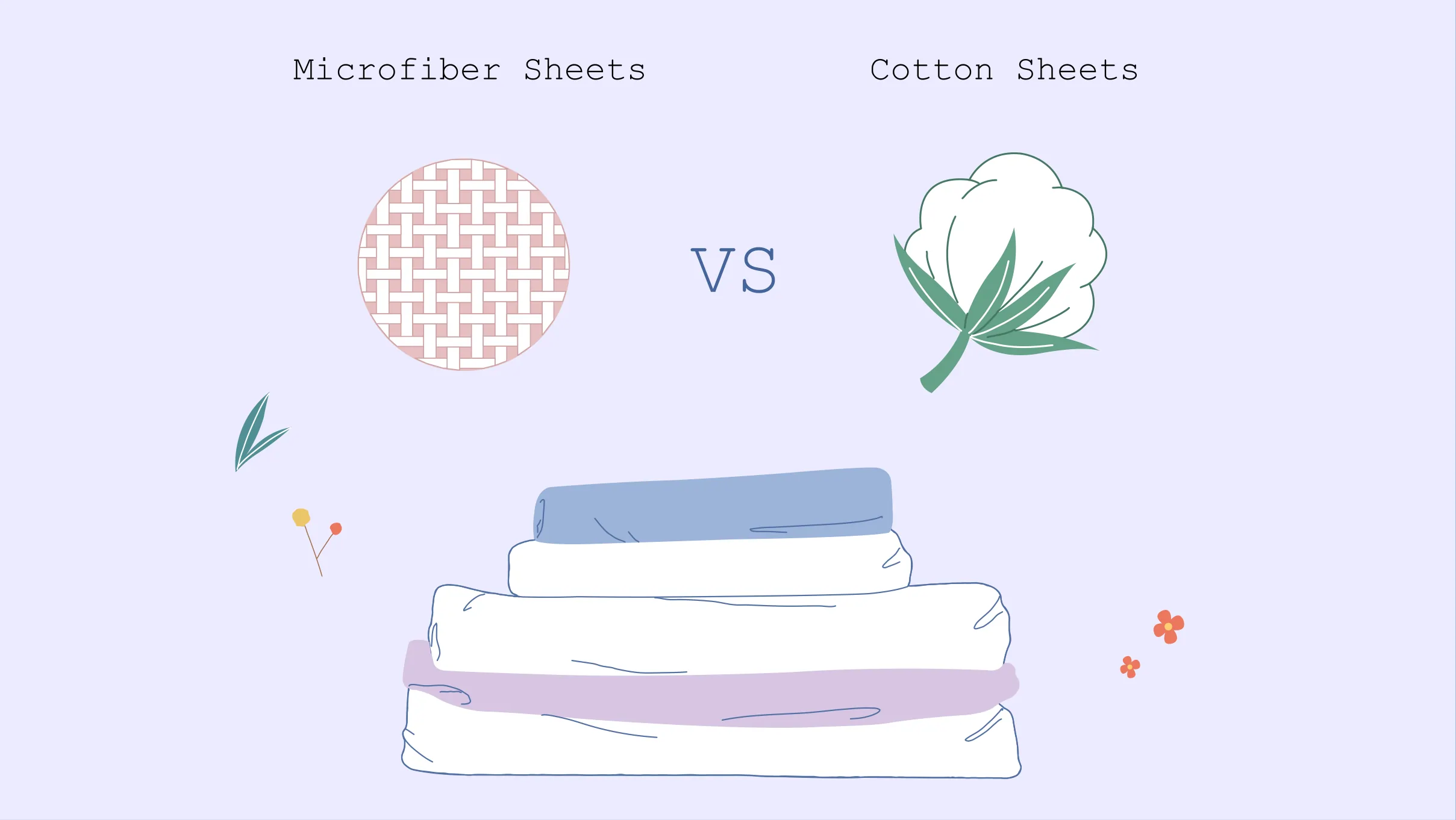 A bed is the second best place to slumber peacefully after a mother's lap. Everyone wants to make their bedroom as cosy as possible to enjoy a sound sleep. They get the best lighting, furniture, mattress, and decor for their bedrooms. But one thing they should not neglect is the bed sheets.
If you are interested in buying new good quality sheets, you must be aware of the two types of bed sheets: cotton and microfibre. They are both distinct from one another since cotton is a natural fibre, whereas microfiber is made of synthetic materials. Whether you choose cotton or microfiber sheets is entirely up to you. However, further information concerning microfiber vs cotton sheets is necessary for a more accurate idea.
Difference between Microfiber and Cotton Sheets?
Although cotton and microfiber sheets have the same function, they are nonetheless distinct from one another. You can learn more about their differences below, including how they differ in terms of cooling, breathability, cost, durability, and maintenance. If you are confused about how to choose between cotton and microfiber, this can help you. Here it is:
Basis
Microfiber sheets
Cotton sheets
Feel and comfort
Silkier and softer than cotton sheets.
Smoother and softer feel.
Durability
The higher the thread count, the more durable the sheet.

Microfiber sheets are generally more durable than cotton sheets unless you can find long-staple cotton sheets.
Cotton sheets with high thread counts normally outlast cotton sheets with lower thread counts.

Both cotton and microfibre sheets are long-lasting and can be used for many years.

But cotton sheets are generally less durable.
Maintenance & Care
Microfiber sheets require comparatively less maintenance and care.
Cotton sheets require more upkeep and care to remain in excellent condition.
Cost
Microfibers are man-made fibers, which accounts for their low cost.

Hence they are generally less expensive than good cotton sheets.

You can buy good microfiber sheets for INR 750-1500.
The best cotton sheets are more expensive than microfiber sheets.

The process of producing cotton is what makes it pricey.

You can buy good cotton sheets for INR 1000-2000.
Coolness and Breathability
Microfibers have a close weave and may hold heat.

If you perspire at night, it's not for you.

Microfibers are great in the winter since they keep you warm.
Cotton sheets have loose knitting.

Spaces between cotton fibers permits optimum ventilation.

This makes bedding breathable.
What Are Cotton Sheets?
Cotton is one of the finest and most versatile gifts given by mother nature to us. Its qualities differentiate it from other materials and make it a pleasant choice among others.
Do you know what hollow fibres are? These fibres are not tightly woven and have some space between them. This feature makes the material breathable. And cotton is an example of a naturally hollow fabric.
This natural fibre is renowned for its plush, supple, and cosy quality. Your skin will feel cool after coming into contact with these sheets because of the fibre's ability to breathe. It also ensures you have a dry night's sleep because of its sweat-wicking properties. Selecting cotton sheets will also help you if you have itchy skin.
Cotton Sheets: Pros and Cons
Cotton Sheets come from a natural source and have many advantages. But they have some cons too. Read the pros and cons below:
Pros
Cotton sheets are made from 100% natural fibre because it is plant-based
They have a better airflow, which makes these sheets breathable
It can wick away sweat and make your night peaceful
They are hypoallergenic because they come from 100% natural fibres
They are helpful if you have itchy skin
Cons
As compared to other sheets, cotton sheets can be expensive
Cotton sheets are made of natural fibre, which is why they don't have inherent resilience like a synthetic material
What to Check While Buying Cotton Sheets?
You may find a wide variety of cotton sheets available on the market today. However, you must consider a few factors while deciding which sheets to buy. These factors are discussed below:
Thread Count: A thread count between 200 and 600 ensures that the sheets are of the highest quality and softness. Long fibres or long staple fibres provide strong yarns, and cotton sheets created from these yarns are of the best quality. Therefore, before purchasing bed sheets, you should also consider a higher thread count. Conversely, lower thread count might mean low quality of cotton.
Cotton Types: Egyptian and Pima cotton sheets are considered superior to others because they are made of extra-long-staple cotton. This makes these sheets softer and more durable.
Weave Types: Cotton can be woven in various patterns to alter its durability and feel. Percale, sateen, and flannel are the most popular cotton weave for bed sheets.
What are Microfiber Sheets?
Microfibre is synthetic fibre manufactured from wood pulp, nylon, polyester, acrylic, and viscose. Microfibre has a smaller diameter than silk and cotton and is even finer than a human hair. These tiny, fine strands are weightless because of this.
The fabric made from microfibre is thin, supple, wrinkle and abrasion-resistant. You feel soft when it touches your skin due to its ultrafine quality.
Microfibre sheets are more affordable because they cost less than natural fabric cotton. These sheets are a great choice if you want to spend less money and still have soft, silky, and comfy bedding.
Microfiber Sheets: Pros and Cons
You can get finer microfibres by chemical techniques. Although this fibre has many benefits, it also has drawbacks, like others. Here are the pros and cons:
Pros
Microfibre sheets are not readily deformed because of the wrinkle-resistant property
People can easily afford them because they are not very pricey
They have very fine fibres, which make them lightweight
They are machine washable and simple to maintain
Cons
They are synthetic, not natural
Their tightly woven structure makes them less breathable
They may retain heat and make you feel warm
They may cause harm to the environment because of petroleum waste fumes
Microfibre easily attracts and is a good conductor of static electricity
What to check while buying microfiber sheets?
You cannot ignore that spending money on inferior goods is useless or worthless. Therefore, before making up your mind about microfiber sheets, you must check some factors. These are as follows.

GSM: Gram per square metre, or GSM, is a unit of measurement used to determine the weight and quality of any fabric. Look for microfibre sheets in the 90-120 GSM range. Anything less than 90 GSM is considered low-quality.
Weave type: Consider the weaving kind when choosing a high-quality microfibre sheet. The strength and durability of your sheet rely on its weave type. This is your best choice if you select a percale or sateen weave.
Brushing: If comfort is your top priority, ensure that your sheet has been double brushed. It means the fabric has been brushed on both sides. This brushing gives a soft, velvety look to bed sheets.
You Should Buy microfiber Sheets If:
You want moisture-wicking and absorbent properties to keep yourself dry and cool.
You want something silky and smooth
You experience night sweats
You want stain resistance and wrinkle resistance
You Should Buy Cotton Sheets If:
You want your sheets to be naturally sourced
You are looking for a sheet that is light and airy, that circulates air well to prevent heat-trapping
You have sensitive or itchy skin
Conclusion
Now that you have read this comprehensive microfiber sheets vs cotton guide and have a better understanding of the different characteristics of these two fabrics, you are better prepared in choosing between cotton or microfiber sheets.
FAQs
What is the best material for sheets?
The best material for sheets is Supima, Pima, and Egyptian cotton because of their comfort, softness, and ability to wick away sweat.
What is the best thread count for cotton sheets?
Thread count is the number of threads per square inch of cloth. Thread counts between 200 and 600 are ideal for creating sheets that are soft, pleasant, and long-lasting.
Do hotels use cotton or microfiber sheets?
Hotels offer a wide selection of bed sheets, and client comfort is their priority. They consistently use cotton and linen bed sheets to provide their consumers with a sense of luxury.
How often should you replace your sheets?
The bed sheets often last for two to three years. If you notice any thinning, yellowing, or color loss, you should change your bed linens.
How often should you wash your sheets?
Some people perspire a lot at night, which necessitates washing their bedding twice a week to get rid of dirt, pollutants, and bacteria. On the other hand, you could wash it once every week.
What is the coolest type of sheet?
Cotton sheets with a percale weave are the coolest types of sheets because of their lightweight.
Is microfiber the same as polyester?
No, microfiber and polyester are not the same. Polyester and microfiber are examples of synthetic fibers. Microfiber is two times thinner than polyester and has finer fibers.
---
Bachelor's in English Literature and Health Sciences Previously wrote blog articles for various Doctors for their websites Familiarity with various content management systems and SEO best practices
---
Read More About Bedding Information