Platform Bed vs Box Spring – Know the Differences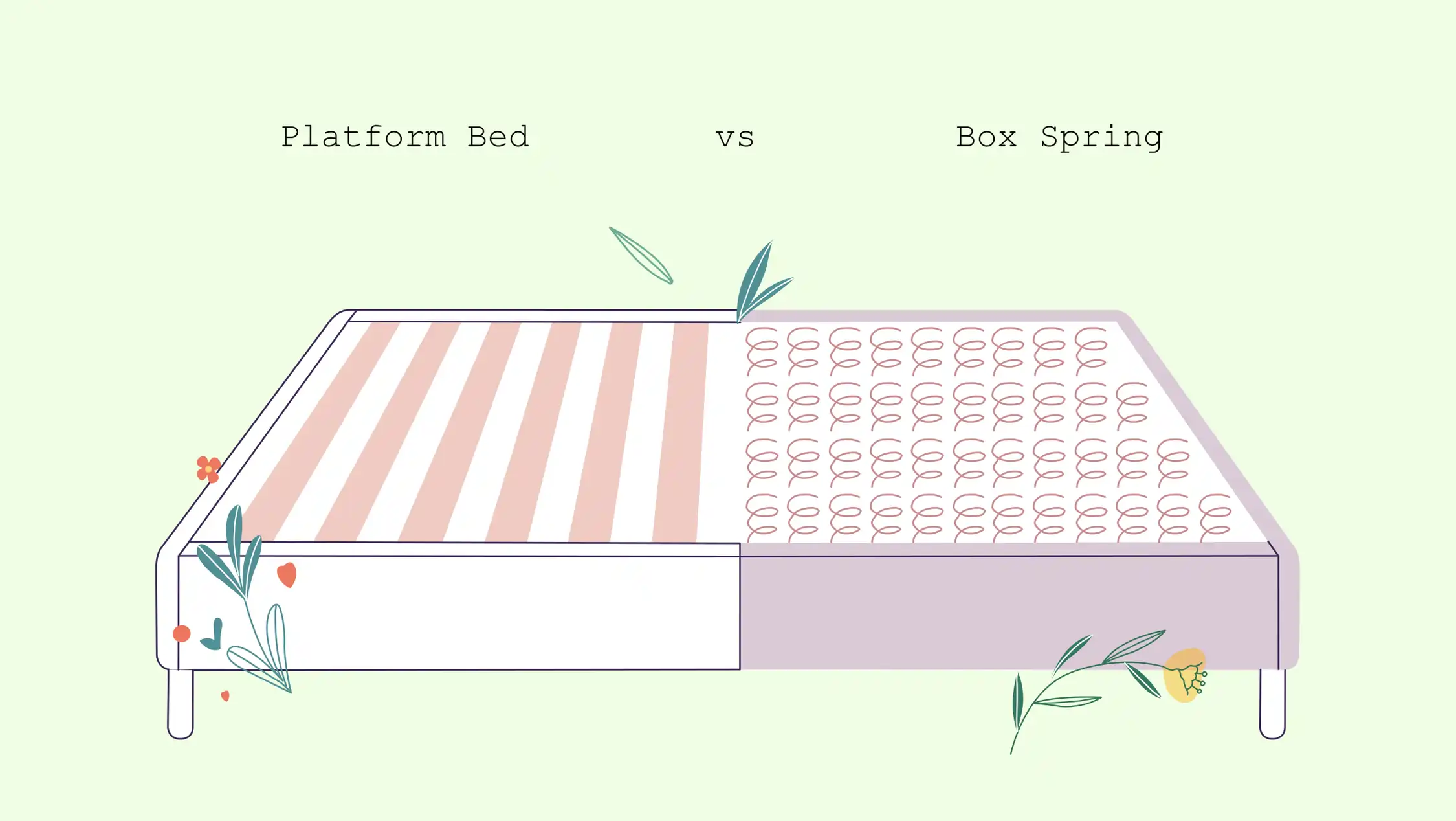 We devour much emphasis and time on purchasing a new mattress. But do you know what else requires our attention? Purchasing a bed base is of utmost importance. It is the disarray between choosing a platform bed vs box spring. Both platform bed vs box spring are bed bases offering comfort, though the latter has become quite obsolete in the market. While box springs are bouncier, platform beds have a robust base. Let us learn more about – what is a platform bed and what is a box spring.
Platform Bed vs Box Spring Comparison Chart
To ease down the selection process between a platform bed vs box spring, we have noted some major differences between the two.
Parameters
Platform Bed
Box Spring
Average Height
16 inches to 18 inches
20 inches to 25 inches
Support
Offers a robust base,
Suitable for heavy mattresses like foam & memory foam
Offers less rigid support,
Increased bending and bounce
Weight
Quite heavy,
Hard to move
Lightweight than a platform bed
Comfort
Offers firm support
Offers responsiveness,
Shock Absorbent
Mattress Compatibility
All mattress types
Only innerspring mattress
Durability
– Don't have springs inside to rust or lose tension
– Lasts longer
– Coils lose tension
– Less durable than platform bed
Storage Space
Storage options available
No storage available
Price
Around Rs. 7,000 to Rs. 25,000 and above
– Rs. 10,000 to Rs. 20, 000 and above
– Additional cost for bed frame
What is a Platform Bed?
While platform beds might be a common term in the bedding industry, the definition is unknown to many. A platform bed is a low-profile bed frame primarily made of a solid or slatted surface for supporting the mattress. The general height of a platform bed ranges between 5 to 12 inches.
There are different variations of platform beds like headboards and footboards, storage drawers, and upholstered. It supports all mattress types.
Platform beds are budget-friendly because they act as bed frames with built-in foundations. Advantages of having a platform bed include proper air flow and breathability offered by holes and channels on the solid wood surface. The lesser space between the slats, the better the cushioning. In general, the slats are placed with a spacing of 2 to 2.75 inches.
Pros
When it comes to platform bed vs box spring, the former offers myriad edges, and some of them are:
It can be paired with diverse mattress types
It is quite affordable
Offers a modern and chic look
It can be found in a broad range of styles
Mostly comprises storage features
Cons
There are some drawbacks of a platform bed as well, let us study the same.
The lower profile makes it difficult to climb or get down from the bed
The firm surface might yield pressure points
When to Consider a Platform Bed?
Choosing between a platform bed vs box spring can be a muddy decision. Therefore, we have narrowed down the integral factors to consider before buying a platform bed. The first factor that defines your platform bed purchase is the mattress type. People owning a foam, memory foam, or latex mattress can opt for a platform bed. But, for traditional innerspring mattresses, this is not the right fit.
The second factor in evaluating when choosing a platform bed is the cost. People having money constraints can opt for platform beds as they are affordable in nature. And the last factor to consider is height. Since the platform bed is a low-profile bed, somebody who doesn't like the extra height of a mattress can purchase this.
What is a Box Spring?
A box spring has become quite a thing of the past and is often considered obsolete. But, if you own the traditional innerspring mattress, a box spring would be beneficial as a bed base. So, what is a box spring? It is a wooden box comprising layers of springs and covered with a breathable fabric on top and a dust-proof fabric at the bottom.
Certain box springs have a steel frame for additional support. To prevent skidding, a box spring can also be placed on a bed frame or it can also be placed directly on the floor. Box springs promote airflow since they have layers of coils. The coils are also helpful in absorbing shock and motion isolation.
Pros
There are certain advantages of box springs as explained below.
The coils offer airflow and cooling
Suitable for innerspring mattresses
Offers motion isolation
Absorbs shock
Cons
Like all other products box springs also have some disadvantages, let us study the same.
Noisy
Not much durable
Incompatible with maximum mattress types
When to Consider a Box Spring?
Endless dilemmas roam around the question – do you need a box spring? Understanding if you should really consider buying a box spring requires certain assurance. First thing, if you are someone who prefers a height in their mattress in order to get in and out of bed easily, then buying box springs can be beneficial.
Secondly, a box spring is suitable for people owning an innerspring mattress. Thirdly, a box spring might not be a suitable option if you are looking for additional storage space as well. Fourthly, it might be a costly affair to buy a box spring since an additional cost needs to be incurred for buying a bed frame.
It is to be noted that certain mattress brands advise on the complete exclusion of box springs as it may ruin the mattress quality.
Other Bed Bases Options Available
It might be confusing for you to choose your bed base with just two options. The good news is, apart from platform bed vs box spring, there are additional options to choose from. Let us get going.
Bed Frame with Headboard
Right when you thought that your head is going to hit the wall, it was guarded by something. That decorative part of the bed frame at the edge is the headboard. You will often find headboards made of wood, rattan, upholstery, metal, and more. Certain noteworthy features about headboards are, that they can fit diverse bed sizes, they can be purchased separately and accessorized accordingly, and lastly, it provides insulation and acts as a statement piece that your room might have been missing out on.
Foldable Bed Frames
How often have you faced the crunch of an extra bed when sudden guests have appeared? The foldable bed frames can be a great solution for this issue and more. These beds can be opened during the time of need, and be folded back into the storage when the purpose has been served.
Adjustable Bed Frame
Are you sleeping with a restless partner? Or do you have multiple sleeping position preferences? Then picking an adjustable bed frame that can be matched with different bed frames can be the resolution. You can adjust your spine, legs, neck, and shoulder and make it in the optimal position. If you are tired of surrounding yourself with pillows for getting support, an adjustable bed frame is worth all your money.
Storage Bed
Finding it hard to keep the excess clothes and accessories? Why not get a storage bed? Storage beds are technically platform beds that come with ample storage space. You can now sleep peacefully on a relaxing platform bed after biding goodbye to the storage issue. 
Foundation
When you notice a platform bed devoid of storage, headboard, and footboard, you are seeing a mattress foundation. These are wooden boxes made of slats and wrapped in breathable fabric. Mattress foundations are compatible with all kinds of mattress types, and therefore, quite a feasible option.
Conclusion
There are quite a few major differences drawing a line between the selection of platform bed vs box spring. To sum it up, anyone wanting an elevated, bouncy, and shock-absorbing feel to their innerspring mattress need to opt for a box spring. On the other hand, anyone good-to-go with a low-profiled bed, firm support, and also affordable in nature, needs to opt for a platform bed. So, which one are you buying?
FAQs
Is it OK to put a box spring on a platform bed?
Though you can choose to place a box spring on a platform bed for a bouncier feel, it isn't necessary since the latter is a complete product in itself.
How to make a platform bed?
A platform bed can be made with the help of a wooden base. The slats can be designed with either wood or metal.
What is the best type of mattress for a platform bed?
A platform bed is compatible with diverse mattress types like foam, memory foam, or latex.
What's the bed frame that doesn't need a box spring?
A platform bed doesn't require a box spring.
How much weight can a platform bed hold?
A platform bed can hold up to as much as 1500 pounds if the weight is properly dispersed.
How thick should a mattress be for a platform bed?
The best mattress thickness required for a platform bed can be 12 inches, but 14 inches will be better.
---
Bachelor's in English Literature and Health Sciences Previously wrote blog articles for various Doctors for their websites Familiarity with various content management systems and SEO best practices
---
Read More About Bedding Information