King vs Queen Bed: What Is the Difference?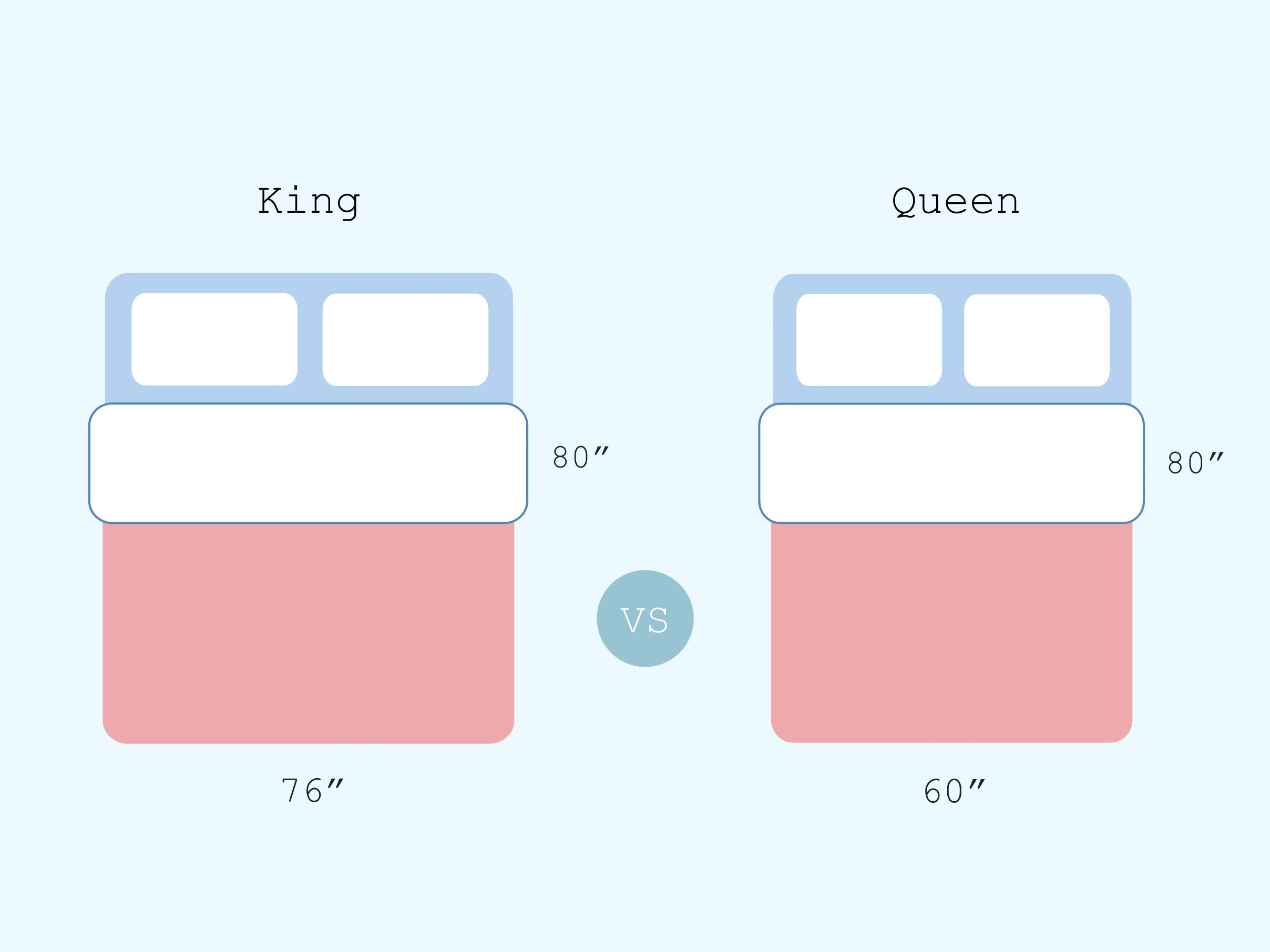 The standard bed sizes are based on standard mattress sizes, which vary from country to country and brand to brand. And when debating between a king vs queen bed, one size doesn't necessarily fit all.
Though queen-size mattresses seem the most popular, which can fit into tighter spaces, a king-size mattress provides extra room. Nevertheless, both live up to their benefits.
However, to make an informed decision, from the height to the budget, several other factors must be considered. So, keep reading to learn the critical differences between a king vs queen bed.
King vs Queen Bed: The Difference
The king size mattress measures 16 inches wider than the queen mattress but both offer the same length. A standard queen mattress is 60 inches wide and 80 inches long with a surface area of 4,800 square inches. At the same time, a standard king mattress is 76 inches wide and 80 inches long with a surface area of 6,080 square inches.
Although both beds have the same length, a host of other factors need to be considered when deciding between a queen vs king mattress. Factors like how wide a person would like their mattress to be or how big the bedroom is. So, for assistance, refer to the king vs queen comparison chart.
King vs Queen Mattress Comparison Chart
The standard size difference between a queen and king bed is represented in the following chart along with other factors.
Parameter
King Bed
Queen Bed
Length
85 inches
78 inches
Width
72 inches
60 inches
Surface Area
6,080 sq. in
4,800 sq. in
Price Range
INR 6,000 – 1,00,000
INR 5,000 – 40,000
Occupancy
43 sq. ft (approximately)
34 sq. ft (approximately)
Ideal for
Couples,
People who enjoy space while sleeping,
Parents sleeping with a child
Couples ,
Individuals who like space,
Individuals who sleep close to the edges
Minimum Room Size
10 ft x 12 ft
10 ft x 10 ft
What Is King Size Mattress
A king size mattress is a luxurious size mattress with dimensions measuring 72 inches wide and 85 inches long. The king beds have enough room to accommodate individuals with partners, whether pets or significant others, and individuals who like extra space to sprawl.
Furthermore, king mattress sizes vary from brand to brand and country to country. However, they are the broadest available standard sizes, which makes them a good choice for families— if parents want to co-sleep with their children.
King Size Bed: Pros and Cons
Although they are luxurious to own, they aren't free from the benefits and drawbacks.
Pros
Provides extra comfort and space for legroom and elbow spaces for individuals who like to sprawl out, even with a partner beside them.
Good for parents who sleep with their children.
A luxurious choice for couples.
They are considered long-term investments.
Cons
Does not fit in small spaces.
Because of their huge build, they tend to be heavy and are hard to move around.
They are costlier than other standard-size mattresses.
What Is a Queen Size Mattress
Due to the size of queen beds which measure 60 inches wide and 78 inches long, they are easy to fit in small spaces without much movement restriction. The queen mattress is the most popular size on the market. It is perfect for average-size couples or an individual who likes some extra space when sleeping or with a pet.
Queen Size Bed: Pros and Cons
The similar yet different pros and cons of a queen vs king mattress.
Pros
They can conveniently fit in almost any room without much movement restriction.
It can comfortably accommodate and is the best bed size for couples.
Individuals who like to sleep in spacious areas or with their pets.
It'sIt's easy to find bed frames, sheets, blankets, and mattress protectors that fit queen-size beds.
Cons
Although some couples may not find this a problem, due to its narrower size than a king bed, couples are required to sleep close. And for some people, it could disrupt their sleep.
Also, close sleeping may not offer much space to sprawl out with a partner beside.
Less costly than king size, but still pricier.
Factors to Consider When Deciding Between King or Queen Bed
A high-quality mattress is an investment in health; however, many factors may influence the choice of mattress size. And considering the fact, king vs queen bed: both sized beds are great options for couples and families, therefore decide after analysing all the following determinant factors.
Comfort
Comfort is one of the keys linked to mattress size. And the mattress choice depends on whether the sleeper likes to sprawl out (even with a partner beside) for whom a king mattress is more suitable, or for a sleeper who likes to snuggle in may find queen beds more appealing.
Price
The price of a mattress depends on the size, including the type like latex, memory foam, innerspring, hybrid, etc. however, the price difference between king size and a queen size mattress is usually a couple of thousand rupees, king size being the costlier one.
Besides the size, quality is also an essential factor in price. For example, a quality queen-size mattress may be more expensive than a poorly-made king-size bed. Furthermore, other factors that should be considered must include mattress deals, free shipping and returns, and warranty periods.
Size of the Room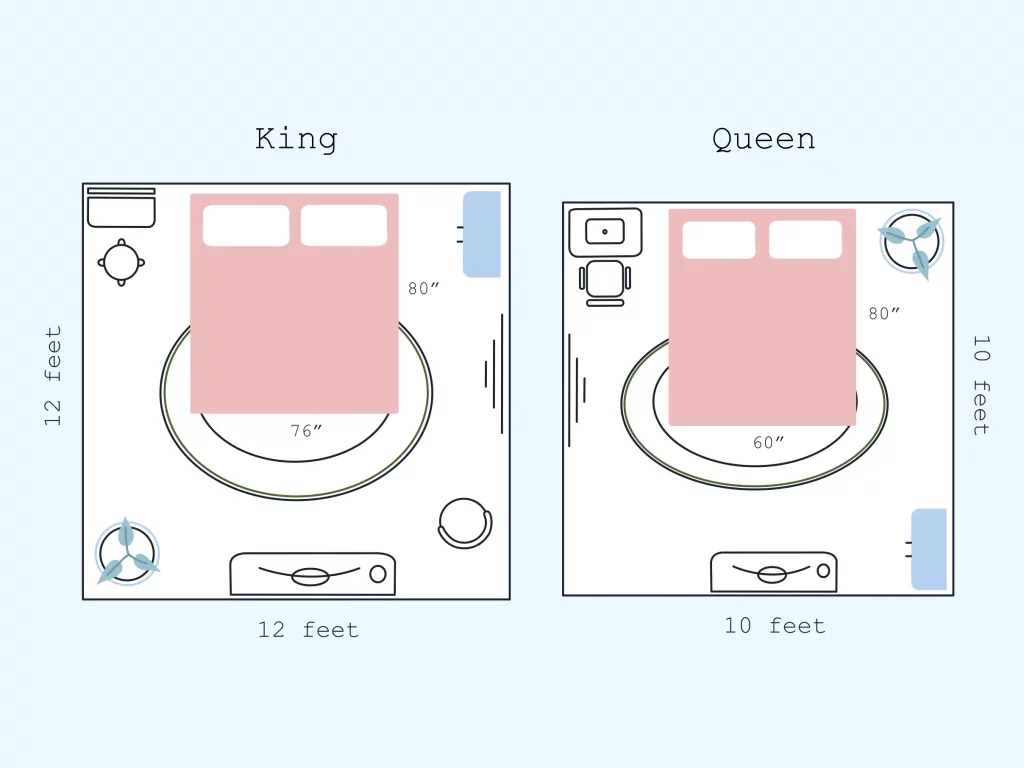 The size of the bedroom more or less determines the size of the bed. And since the bedroom does not comprise just the bed, leave space for movement and other comfortable furniture.
Queen-size beds are suitable for bedrooms of at least 10 x 10 feet, which are small rooms. In contrast, king-size beds fit most comfortably in bedrooms that are at least 10 x 12 feet, which are generally primary rooms.
Sleeping Partner
The number of sleepers on the bed is also a deciding factor in the mattress size. For example, a queen-size bed is popular among couples, and most couples will be comfortable sharing it. And parents that sleep with their child, including pets, or simply prefer more space to sprawl out while sleeping may find the king-size bed more appealing.
Sleeping Positions
Certain sleeping positions require a lot of space; thus, preference in sleeping position will also influence the choice of king vs queen bed. For example, back or stomach sleepers usually sprawl out their limbs, especially the legs. And a side sleep will require less room compared with the other since it is usually a curled-up position.
Your Height
The physical size of the sleeper is vital in decision-making. And with both standard king and queen size beds being 80 inches long, one might think height is not a factor.
On the contrary, and as aforementioned, king beds are available in more than one size: non-standard mattresses. Among these, the California king bed, with its dimension of 72 inches wide by 84 inches long, is quite popular due to having more legroom than a standard queen or king size.
Movability
And lastly, consider how easy it'll be to move the mattress since the mattress may fit the staircases and the door frames but get stuck on the entryways. Therefore, it's essential to take note of the dimensions of the route the mattress will be moved in.
Besides that, if a person is required to move often due to work or simply travel, choosing a lighter queen mattress might be a better call. Since the added surface area of a king mattress makes it heavier to transport.
Final Thoughts
The bedroom is a relaxing space to rest and rejuvenate. An overcrowded space may cause stress and make sleep more difficult. Therefore big beds make the smaller rooms feel a bit cramped and vice-a-versa, which could affect sleep negatively.
With that being said, both king and queen sizes are great options. But the comfort level during sleep and space is crucial, not just in the space of the bed but also in the aesthetics of space in the bedroom. Therefore refer to the above factors, and consider the balance between your needs, room size, and budget to get the most out of the mattress.
FAQs
How much bigger is a king bed than a queen?
The queen mattress measures 60 inches in width by 80 inches in length (6 feet, 8 inches). The king mattress is 76 inches wide by 80 inches long (6 feet, 4 inches wide by 6 feet, 8 inches long). Both sizes are the same in length, i.e. 80 inches.
Which is better in a king vs queen bed for couples?
The only difference between king and queen size mattresses is the width, as both offer you the same length. The king, often known as an "eastern king size," is preferred by couples who prefer more area because it is wider than the queen by 16 inches.
What is the most popular bed size?
Queen mattresses are the most popular mattress size available on the market, and they are 60 inches wide by 80 inches long.
Can I put a king mattress on a queen frame?
A king size mattress cannot fit on a queen frame due to the difference in width unless the frame is adjustable in size. Hence, you'll have to dispose of the frame and get a new one.
---
6+ years of experience as a content writer. Previously worked as a freelance writer for one of the top mattress brands in India. Well-versed in writing product reviews, product descriptions and content for e-comm sites.
---
Read More About Mattress Sizes