Double vs King: Size Comparison Guide
Gone are the days when couple bed and mattress dimensions were limited, and you had little to choose from. But today, you have several variations that make it pretty challenging to nail the perfect bed size. And the two bed dimensions that are most confusing to many are the double size and king size bed.
Here, we compare double vs king to highlight the difference between the two and help you choose the right bed frame and mattress for your bedroom. Read on!
Double vs King Mattress Difference
In India, the king-size mattress is 3 inches or 7 cm longer and 18 inches or 46 cm wider than the double-sized bed and mattress. The dimensions of the king-size mattress bed and mattress are 198 cm x 183 cm (78 inches long and 72 inches wide), while that of the double-sized mattress and bed are 191 cm x 137 cm (75 inches long and 54 inches wide).
Double vs King Mattress Comparison Chart
| Parameter | Double Sized Mattress | King Sized Mattress |
| --- | --- | --- |
| Length | 75 inches or 191 cm | 78 inches or 198 cm |
| Width | 54 inches or 137 cm | 72 inches or 183 cm |
| Surface Area | 4050 square inches | 5616 square inches |
| Minimum Room Size | 9 feet by 9.6 feet | 11 feet by 11 feet |
| Price Range | Rs. 6,000 to Rs. 15,000 | Rs. 6,000 to 1 lakh |
| Occupancy | Single adult or two kids, or one adult and a kid. | 2-3 people. |
| Ideal For | Single adult who likes to sprawl and or an adult and a child. | Couples, around 6 feet in height, with a child or pet. |
Double vs King: Pros & Cons
Now, let's compare the double vs king size and understand their differences in detail.
What is a Double Mattress?
Larger than a twin bed, it is a superb choice for singles who love to spread out in the bed. It is great for teenagers or two kids sharing a bed. It can even be a choice for a mother and a child as it is one and a half times larger than a single bed.
The mattress is an ideal choice for guest rooms, kid's rooms, and any other room.
Pros:
It easily fits in small room sizes.
Readily available due to its common and in-demand size.
Much more affordable than a king-size mattress.
Easy to move around.
Cons:
Two adults cannot sleep comfortably in it.
It might not accommodate people taller than 6 feet.
Not ideal for co-sleeping with a partner or pet.
Costlier than a single bed.
It occupies more space than a single bed.
What is a King Mattress?
This mattress or bed flaunts the largest width among all standard sizes. Meant for large rooms or master bedrooms, it is a spacious bed meant for couples who love space or need to accommodate a child or a pet with them without feeling cramped. Its length can easily accommodate even an exceptionally tall person.
Pros:
Ideal for large rooms of a minimum size of 11 feet by 11 feet.
Ideal for a couple who loves to spread out in bed.
Ideal for a small family of three (a child or a pet) to snuggle together with comfort.
Accessories are accessible more comfortably.
Cons:
Occupies more space and cannot fit in standard or small-sized rooms.
It is much heavier than other mattresses and hence, difficult to move.
It has a higher price tag compared to other mattresses.
Its adjustable base might be challenging to move, especially if the two partners have different sleeping styles.
How to Choose the Right Mattress Size
Now that we understand the difference between a double bed vs king, let us walk through a few parameters that would guide you in choosing the right mattress size for your bedroom.
Size of Bedroom
It is perhaps one of the most important considerations. For instance, you cannot consider a king-size bed for a room less than 11 feet by 11 feet since it would not fit.
This parameter would not bother you too much when considering the double bed as it has dimensions that can easily fit in medium and small-sized rooms.
Size of the Bed Frame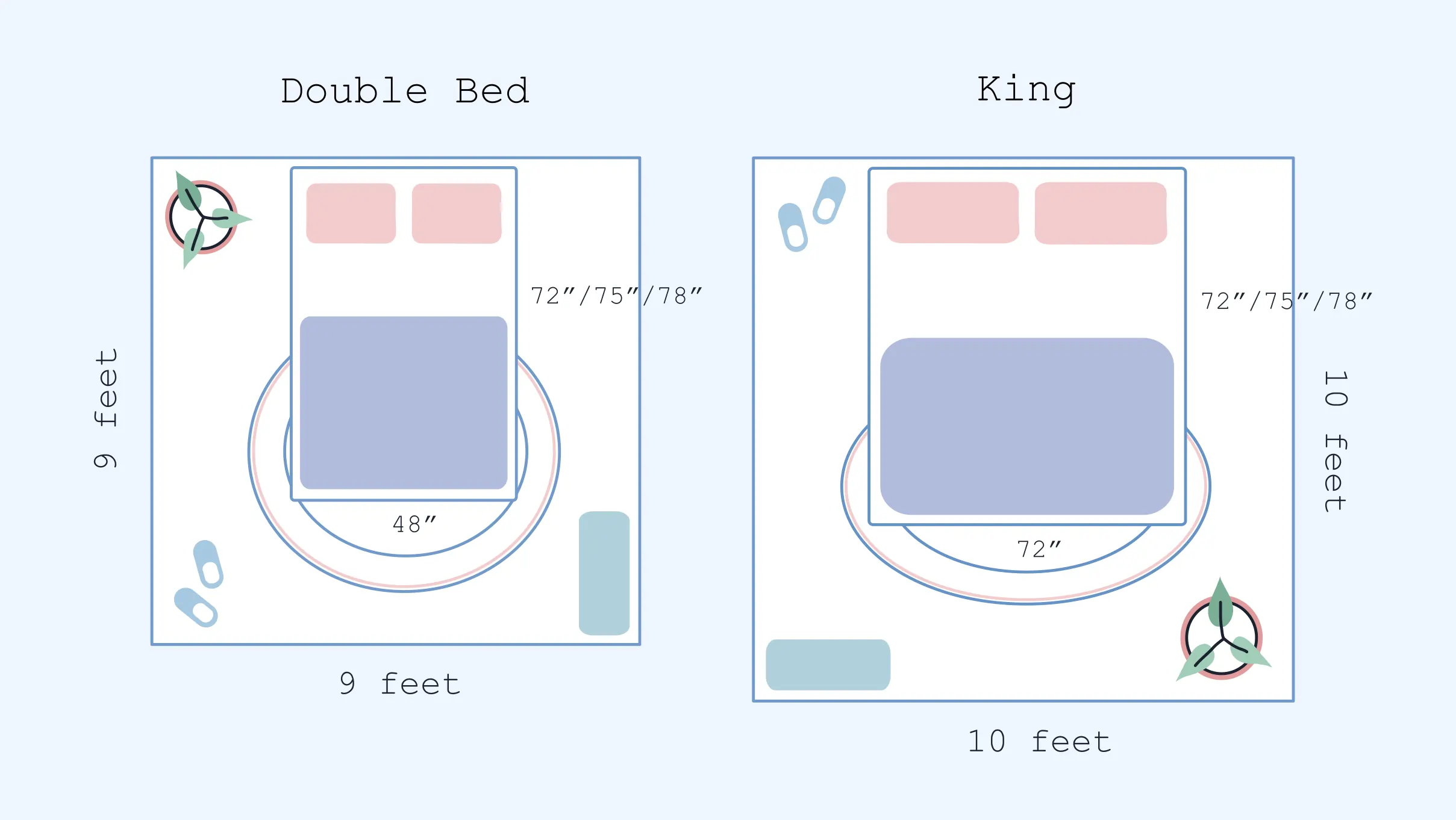 It is an essential consideration if you already have a bedframe in your room. You would need to measure it and then buy a mattress that would fit into it to the tee. Neither a larger nor a smaller size would do.
Hence, the thought should go when purchasing the bed frame. But you can consider everything if you are purchasing the bed frame and the mattress simultaneously.
Budget
The budget is always a primary consideration. The latter is more expensive and heavier than the former in a double vs king bed. The king-size bed is much bigger and has more materials and hence, is more expensive.
Many opt for a queen or other size variations, even in master bedrooms, to make the mattress fit into their budget comfortably.
The Family Size/ Sleeping Partner
The family size is another important consideration. For instance, a double bed would be useless for you if there are three members of your family sleeping in the same bed. A king-sized bed would be a better choice for you.
Likewise, a double bed would be best for you if you are a single person. But it would be wiser to upgrade a double bed to a queen's bed if you plan to sleep with a partner in the near future.
Your Size & Weight
Your height, weight and size are no less essential considerations when selecting the right mattress.
The double bed is ideal for a single adult. A heavy-weight and short-height person would sleep more comfortably in a double bed than a single bed. Similarly, lightweight and short-height sleepers would also sleep more comfortably in a double bed.
However, if two or three people need to sleep in the same bed, nothing beats a king-sized bed. The mattress is also an ideal choice for tall people or obese sleepers to help them sleep more comfortably.
Sleeping Position
If you are a person who likes to stretch your hands and legs, change your sleeping position constantly, or just like more space, then a double bed would be a better choice than a single bed. Similarly, couples looking for more space would find a king-size bed and mattress more comfortable than a queen-sized bed.
Conclusion
Today, mattresses are available in all sizes and thicknesses. However, the different mattress sizing can be confusing, especially if you are unfamiliar with the sizing terms.
We hope to have cleared the confusion, especially between king vs double and helped you nail the perfect mattress for your room under consideration.
FAQs
Is a double bed the same as king size bed?
No, the double bed is 3 inches or 7 cm shorter and 18 inches or 46 cm narrower than a king-size bed.
Is a king size better than a double?
It depends. King-size beds are more spacious than double beds, so if you are looking for more space, then king size is better for you.
---
people like this articles