Double Bed vs Twin Bed Mattress: What's the Difference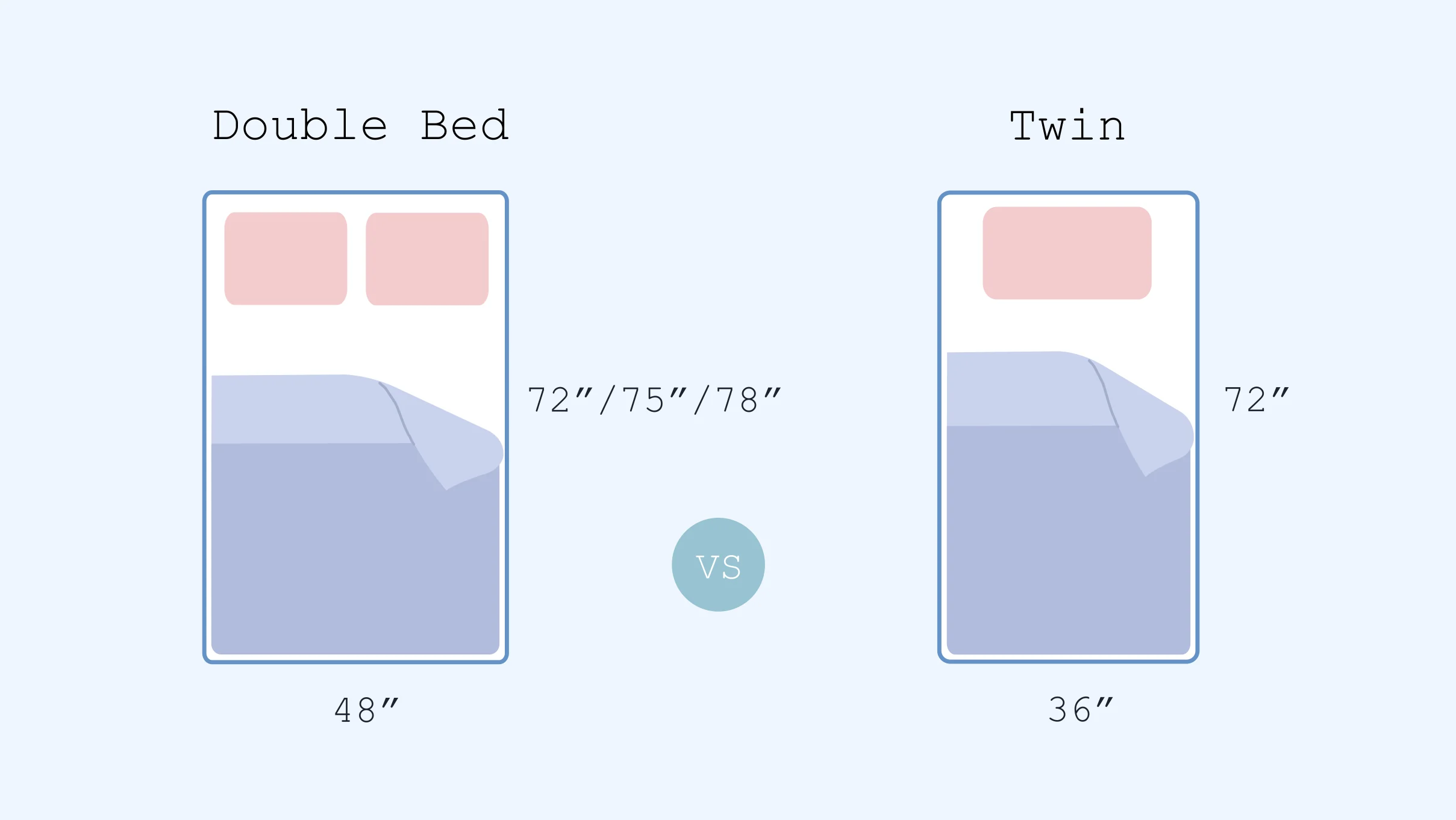 Mattress shopping is hard enough, especially without understanding the terminology and lingo that comes with buying any new piece of furniture. Double bed vs twin bed mattress is another choice that needs to be considered.
But what's the difference between a twin and double mattress? The double bed size mattress is 10 to 12 inches inches wider than the twin bed size mattress, their lengths being the same, i.e. 75 inches.
Read the comparisons to know the differences further.
Double Bed vs Twin Bed Mattress
Double beds are 12 inches wider than twin beds but length-wise both are same. The double-size mattresses are 75 inches long and 48 inches wide. While the twin-size mattresses are 75 inches long and 36 or 38 inches wide.
Besides their dimensions, other differences are compared in the following double bed vs twin bed chart below. 
Double Bed vs Twin Bed Mattress Comparison Chart
Parameter
Twin Bed Mattress
Double Bed Mattress
Length
75 inches
75 inches
Width
36 inches/ 38 inches
48 inches
Surface Area
2,700 inches
4,050 inches
Price Range (in INR)
4000 INR – 10,000 INR
5000 INR – 60,000 INR
Occupancy
Single sleeper
2 sleepers
Ideal For
Younger children
Pre-teens
Teenagers
Teenagers
Single adult
People with a partner, pet or small child
Minimum Room Size
7ft x 10ft
9ft x 9ft
Other Names
Single bed mattress
Full size mattress
What Is Twin Bed Mattress
A twin-size mattress is 75 inches long and 36 or 38 inches wide, which makes it the smallest and narrowest mattress size on the standard size chart. Twin sizes are also known as Single bed mattresses.
They are a great addition to smaller bedrooms like a child's room and guest rooms. Moreover, twin mattresses are primarily designed for solo sleepers like younger children, pre-teens, teenagers, and average size adults.
Pros
They are more affordable than any other mattress size.
Versatile option for children, pre-teens, teenagers, and an average size adult.
Can fit in smaller rooms.
Ideal size for bunk beds.
Accessories for twin mattress sizes are easily available.
Cons
Not an ideal bed size for couples.
Too small for tall adults, and sometimes for average adults too.
Some people may feel uncomfortable and might prefer more width.
What Is a Double Bed Mattress
A double bed mattress is 75 inches in length and 48 inches in width. And though they are of the same length, the double size is more on the broader side than the twin mattress.
They are also known as Full-size mattresses. And because of the additional width, the double bed mattresses are great for average size couples, teenagers, single adults or people who sleep alone or with a pet or small child.
Pros
Ideal for single active sleepers who like to sprawl out.
A good option for couples with small bedrooms.
It is the best bed size for couples.
Good choice for guest rooms.
Excellent for growing children and teens.
Accessories for double bed mattresses are easily available.
Cons
Expensive than a twin-size mattress.
Might be too small for most couples.
Taller individuals may find the double bed size uncomfortable and short.
Might not be an ideal solution for adults living in small spaces.
How to Choose the Right Mattress Size
Before making any purchase, some factors must be considered. Similarly, for choosing the right mattress size, certain things must be taken into consideration. Following are the five most common factors; tick out all of them to make an informed decision.
Size of Bedroom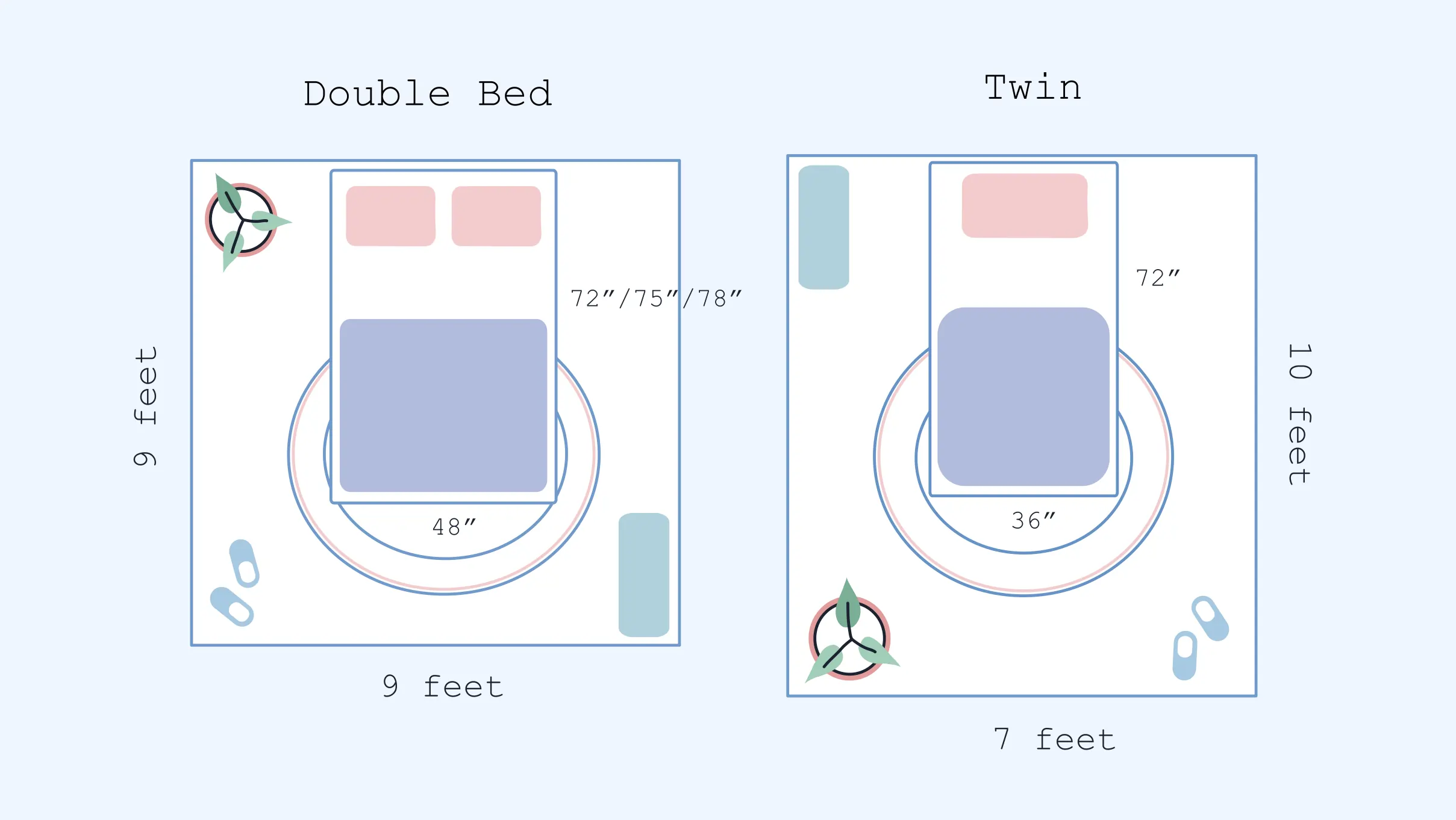 Before picking the bed size, the first and foremost factor is considering the available space. Because the size of your room plays a crucial role when choosing the bed size.
Pick a bed size that fits inside the bedroom while leaving some walking space for easy movement and positioning of other furniture. With a bed, there should be at least two feet of space along the sides and five feet of distance at the base of the bed. This will make the room look well-positioned, neat, and less cluttered.
Budget
The second factor is knowing your budget since the budget plays a significant role in purchasing. So if the budget is limited, choosing a bed with a moderate price tag is recommended. However, you can choose whatever size if there are no expenditure or space concerns. But, in consideration of other factors.
Moreover, the quality of the mattress also plays an important role in the price. For example, coir, hybrid, and latex mattresses are more expensive than memory foam mattresses. Thus, consider these parameters since they also play an essential role.
Sleeping Partner
Another criterion is the number of sleepers on the mattress. If the sleeper is comfortable with a cosy fit with their partner or likes to sprawl out, they should go for a double-size mattress or the double XL. However, if the sleeper is a petite adult with a small bedroom or is a child, then they should go with a twin or twin XL mattress.
Your Size & Weight
Each body size and type is beautiful. And choosing a bed that complements the sleeper's body size is equally important. Suppose the sleeper is a teenager, or a petite adult, then the twin bed space might be enough. However, if the sleeper is taller and healthier, a double XL bed size would be the better choice.
Moreover, analysing the sleepers' weight must also be considered since a five-inch or six-inch thick mattress is intended for people in the petite or normal weight range. At the same time, an eight-inch bed is recommended for people with much healthier body types.
Sleeping Position
A sleeper's preferred position may tell how much of a sleep surface is required. If the sleeper tosses and turns or is an active sleeper who likes to sprawl out, they might need more room than someone who uses a small portion of the bed.
Similarly, for people requiring more legroom and restless sleepers, they should go for a larger mattress, like the double XL or any other larger options. Comparatively, couples who like to snuggle or don't take much space can sleep comfortably on a smaller bed.
Besides the above factors, remember personal space preferences should not be neglected, especially when choosing the mattress firmness level. Also, consider your partner's preference if the mattress space is to be shared.
Conclusion
In the argument between double bed vs twin bed mattresses, their ideality changes concerning their size besides the dimensions. Such as, a twin-size mattress is a versatile option for children, pre-teens, teenagers, and average size adults. Meanwhile, the double-size mattresses are ideal for couples, teenagers, single adults or people who live alone or with a pet or small child.
And though a double bed mattress is more expensive than a twin mattress, both are affordable and often go on sale. Furthermore, no matter how much room a sleeper needs, there is a mattress large and small enough for everyone.
FAQs
Why is it called a double bed?
Mattresses are referred to as "full" or "double" because they can accommodate two persons rather than just one.
The mattress size of a "double" bed is halfway between a twin and a queen. It's a reasonably sized bed, creating a spacious feeling for a single sleeper
What is the difference between a double and twin bed?
Despite being 10 inches wider than twin beds at 38 inches wide and 75 inches long, a double or full bed only offers each person personal space, which is much less than a twin. Until the 1960s, double beds (also known as big beds) were the most typical for two people to sleep in.
---
6+ years of experience as a content writer. Previously worked as a freelance writer for one of the top mattress brands in India. Well-versed in writing product reviews, product descriptions and content for e-comm sites.
---
Read More About Mattress Sizes