Double bed vs Queen Bed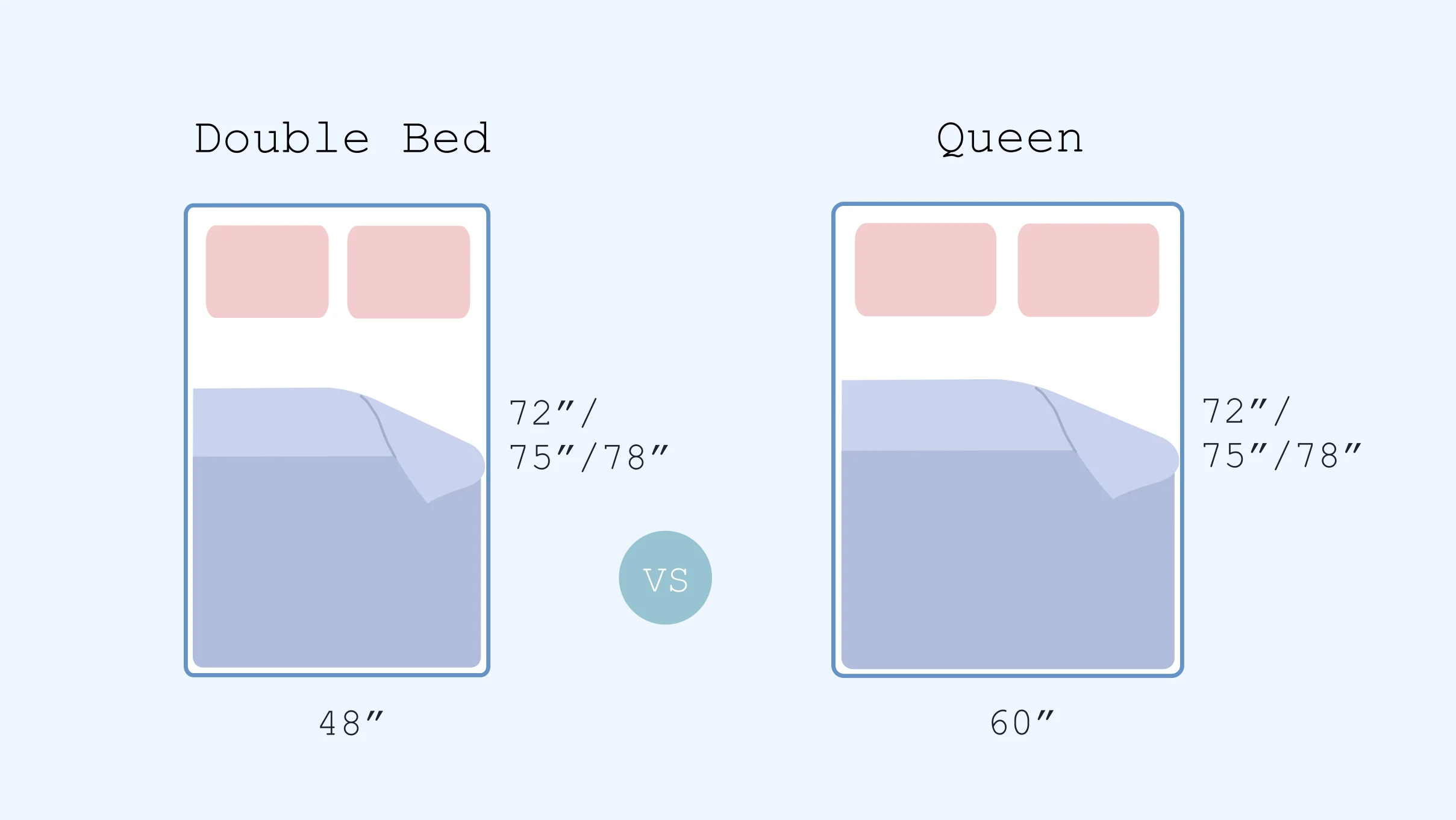 The main difference between a double bed and a queen bed is the size. In India, a double or a full mattress measures 48 inches wide, whereas a queen bed measures 60 inches wide. Both mattresses are available in 72, 75, and 78 inches in length.
If you are looking for a new mattress that ensures dreamy comfort, the first step is getting the size correct. And since a bed is a vital investment, it is always best to get it right. After all, we spend almost one-third of our lives snuggled up in bed. In this article, we are here to tell you all about double and queen beds so you can take a right one home.
Double bed vs Queen bed size comparison chart
| Parameter | Doube Bed | Queen Bed |
| --- | --- | --- |
| Length | 72, 75, and 78 inches | 72, 75, and 78 inches |
| Width | 48 inches | 60 inches |
| Surface Area | Approximately 3600 sq meters | Approximately 4500 sq meters |
| Price Range | 10,000 INR to 80,000 INR | 11,000 INR to 130,000 INR |
| Occupancy | 2 people | and a pet or a child |
| Ideal for | Teenagers, single adults and petite couples | Single adults and couples who co-sleep with their pets |
| Minimum Room Size | 9 X 9 feet | 10 X 10 feet |
| Other names | Full bed | – |
What is a Double Bed?
Also known as a full bed, a double bed measures 48 inches wide and 72, 75 or 78 inches long. Since it's bigger than the twin, people tend to think it is suitable for couples, but it is a compact bed. So, a double bed can be ideal if you are a couple who loves sleeping cuddled together. Otherwise, you may need a queen size bed.
Pros
A double bed is neither too large nor too small. Hence, you can accommodate a double bed even in a smaller space.
It is affordable compared to a queen and king bed.
Since it is a common variant, it is effortlessly available.
It is ideal for teenagers and single adults.
Cons
It is not an ideal choice for couples or couples with pets
If you are very tall, you may need a larger bed
If you are someone who co-sleeps, it can't fit the whole family
What is Queen Bed?
A queen bed is one of the most popular sizes for couples. The reason is the queen bed offers more room. You can easily fit in a queen bed in almost any medium-sized room, and it is perfect for single adults with pets or couples. A queen bed measures 60 inches wide and 72, 75 or 78 inches long.
Pros
Ideal for couples
Enough space for single adults who sleep with large or multiple pets
Perfect for a single adult who tosses and turns
Accessories are easily available
Less expensive than a king bed
It can usually fit most bedrooms
Cons
Can be slightly smaller and narrow for heavyweight couples
Not big enough for couples with kids or pets
Can be narrow for couples who toss and turn too much
How To Choose The Right Mattress Size
You are now familiar with all the traits of double and queen beds. Let's move on to tips on choosing the right mattress size so it sits seamlessly in your room.
Size of bedroom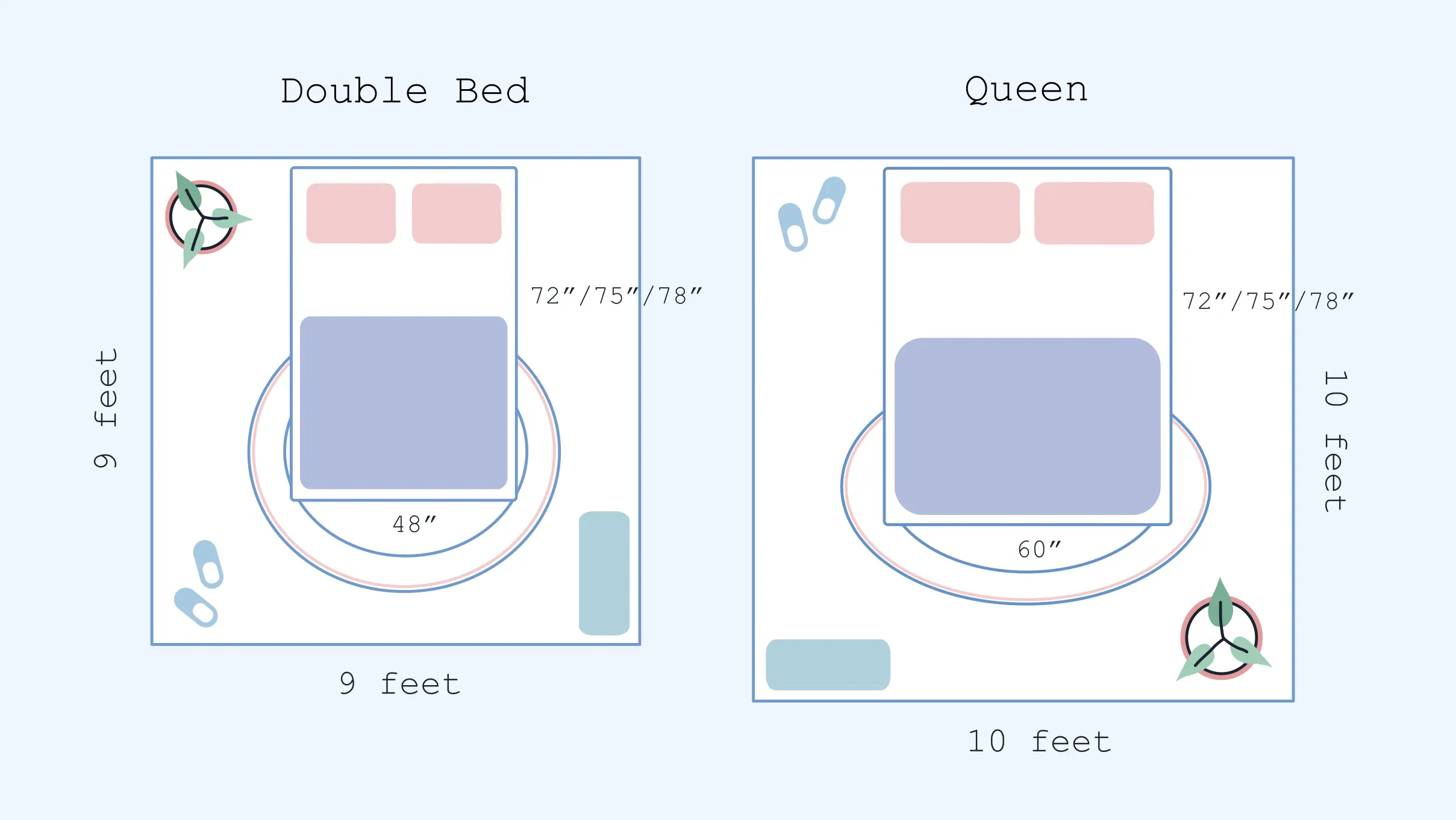 The first step in choosing the right size is to ensure it fits in your bedroom without cramping up the space. You must maintain the thumb rule to leave at least 3 inches of space on all three sides of the bed so you can move around easily.
Budget
Next comes the budget. A double bed is cheaper than a queen. So, if you are considering a queen, it is priced between 11,000 INR to 130,000 INR, and a double bed is 10,000 INR to 80,000 INR.
Sleeping partner
If you share the bed with your partner, a double bed can be slightly smaller for your needs, whereas a queen bed can be ideal.
Your size & weight
While purchasing a mattress, make sure it is perfect for your size and weight. Comfort is always the key. For instance, a full XL bed may be ideal if you are taller.
Sleeping position
Finally, always consider your sleeping position. Let's say you toss and turn a lot, taking up a lot of space, which leaves your partner feeling congested. Here, a queen bed can be ideal.
Conclusion
When choosing between a double and a queen bed, it all narrows down to your requirements. While a single bed is perfect for teenagers and single adults, a queen can be the right choice for couples.
FAQs
Is a full or a double bed the same?
Yes, full and double beds are the same. It is ideal for teens and adults, and also perfect for guest rooms.
Can a double bed accommodate two people?
Yes, a double bed can accommodate two people but they might not be very comfortable due to space constraints.
---
6+ years of experience as a content writer. Previously worked as a freelance writer for one of the top mattress brands in India. Well-versed in writing product reviews, product descriptions and content for e-comm sites.
---
Read More About Mattress Sizes