Twin vs Queen: Size Comparison Guide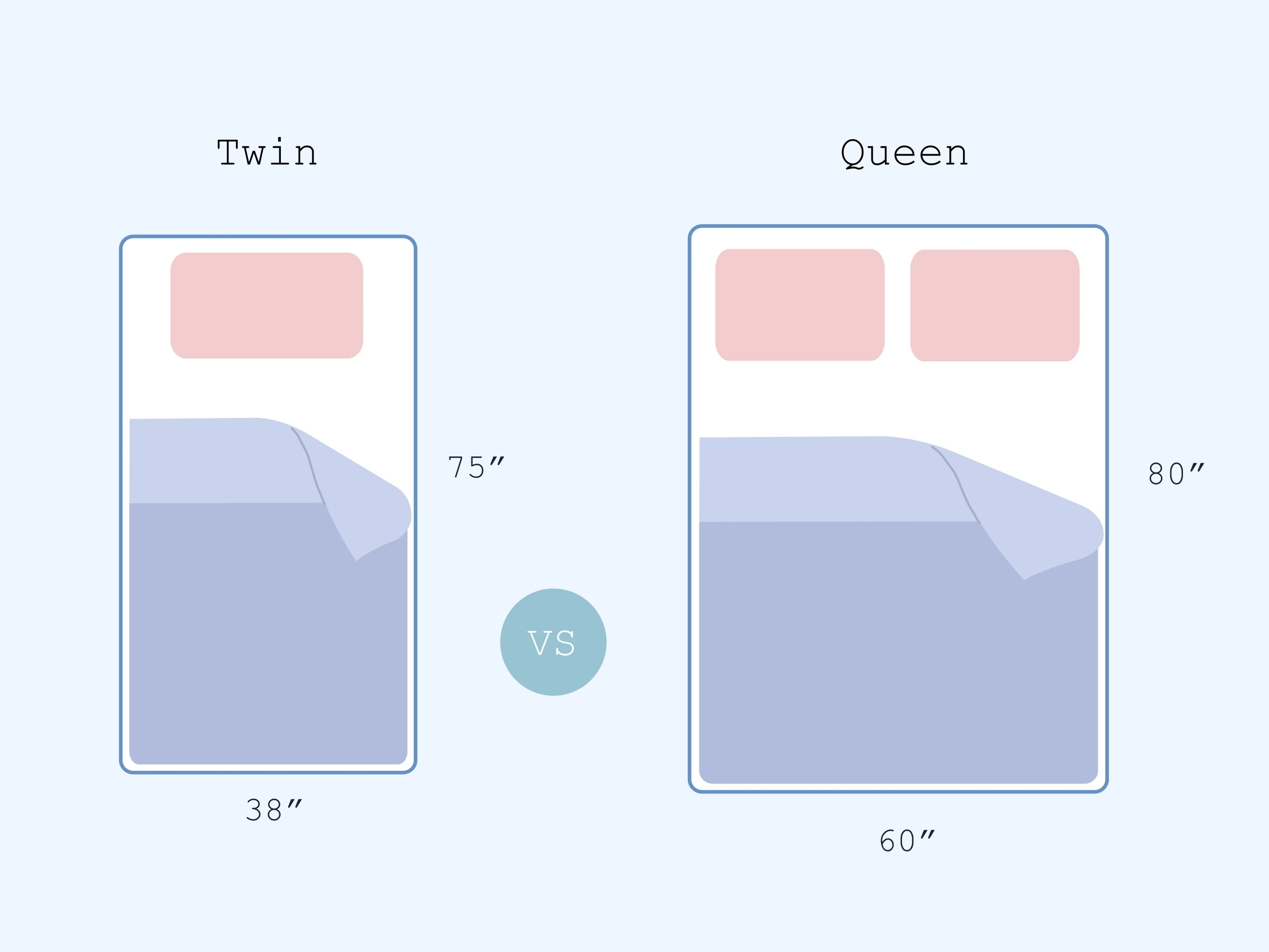 When choosing the right mattress for healthy and fulfilling sleep, size is perhaps the most important factor to consider. Among the various options available to buyers today, twin and queen-sized mattresses are perhaps the most popular options in terms of size. In this context, comparing the different aspects of twin vs queen mattress is necessary to make choosing the best between the two relatively easier.
This article aims to offer detailed information about both these types of mattresses, the differences in their sizes and their advantages and disadvantages to help buyers make the right choice.  
Twin Vs Queen: The Difference
While the queen bed is 60 inches wide and 80 inches long, the twin bed is 38 inches wide and 75 inches long. Along with this visible difference in size, the two mattresses differ in terms of usage, handling, cost, etc. Buyers should factor in all these aspects while choosing the mattress that best matches their needs. Buyers also need to consider the space available to them and their unique sleeping habits to invest in the right mattress to enjoy a healthy and relaxing sleep.
Twin Vs Queen Mattress Comparison Chart
| Parameter | Twin Mattress | Queen Mattress |
| --- | --- | --- |
| Length | 75 inches | 78-80 inches |
| Width | 36-38 inches | 60 inches |
| Surface Area | 2850 sq. inches | 4800 sq. inches |
| Price Range | INR 23,800-1,19,100 | INR 63,500-1,98,600 |
| Occupancy | 1 adult, teenager, or a child | 2 adults |
| Ideal for | Small rooms, kids' rooms, dorms, guest rooms | Small bedrooms, kids' room, guest rooms |
| Minimum Room Size | 7 ft X 10 ft | 10 ft X 10 ft |
What is a Twin Size Mattress?
A twin size mattress is the smallest and most compact mattress for adults and young children available on the market today. These mattresses are the right choice for children who have outgrown their cribs. Due to their compact size, these mattresses are also a much-preferred option for smaller rooms or spaces where space might be an issue.
Twin Size Bed: Pros and Cons
Pros
Size: The compact size of twin mattresses makes them a good choice for single sleepers or to be used in dorm rooms or even bunk beds for children.
Handling: These mattresses are easier to move around and handle as they are almost half the size of queen mattresses.
Space: The mattresses are suitable for users with smaller rooms as they are not as wide or as long as a regular mattress.
Cons
Length: The smaller length of the twin mattresses provides lesser sleeping space for taller people, which can hamper their sleep comfort.
Usage: The twin mattresses do not offer enough space for couples to sleep comfortably and also tend to create a sense of imbalance in bigger rooms.
What is a Queen Size Mattress?
A queen mattress is large enough to accommodate both individual sleepers and couples without compromising their comfort level. The versatility of use makes queen mattresses the most popular mattress sizes for people seeking a relaxing and comfortable sleep. The mattresses are known for providing balance and safety for people, irrespective of how they choose to use the bed.
Queen Size Bed: Pros and Cons
Pros
Flexibility: The queen size beds provide enough space for individual sleepers who prefer a sprawled position or those living with pets.
Versatility: The double bed mattresses are a good option for couples as they provide enough space for individual partners.
Comfort: The bigger size of queen vs twin mattresses ensure greater comfort and stability for the users, whether they are used for sleeping, playing, or chilling out.
Cons
Space: The bigger size of queen-size mattresses makes them unsuitable for smaller bedrooms.
Handling: These mattresses can be quite heavy to move around, and handling them single-handedly can also be quite difficult.
Factors to Consider When Deciding Between Twin or Queen Bed
Choosing between twin beds vs queen beds cannot be done just based on the difference in sizes. Buyers also need to consider the following important factors to ensure that they choose the right mattress that matches their needs.
Comfort
The level of comfort sought by the users plays an important role in the choice of mattress. Queen mattresses are a more comfortable option for couples and single sleepers with bulky bodies, while twin mattresses are a better choice for growing children and tall individuals.
Price
The cost difference of twin bed vs queen is quite high and hence influences the choice of the buyers significantly. In cases where budget is not a consideration, investing in a queen mattress is a better option for adults, irrespective of whether they sleep alone or with a partner.
Size of the Room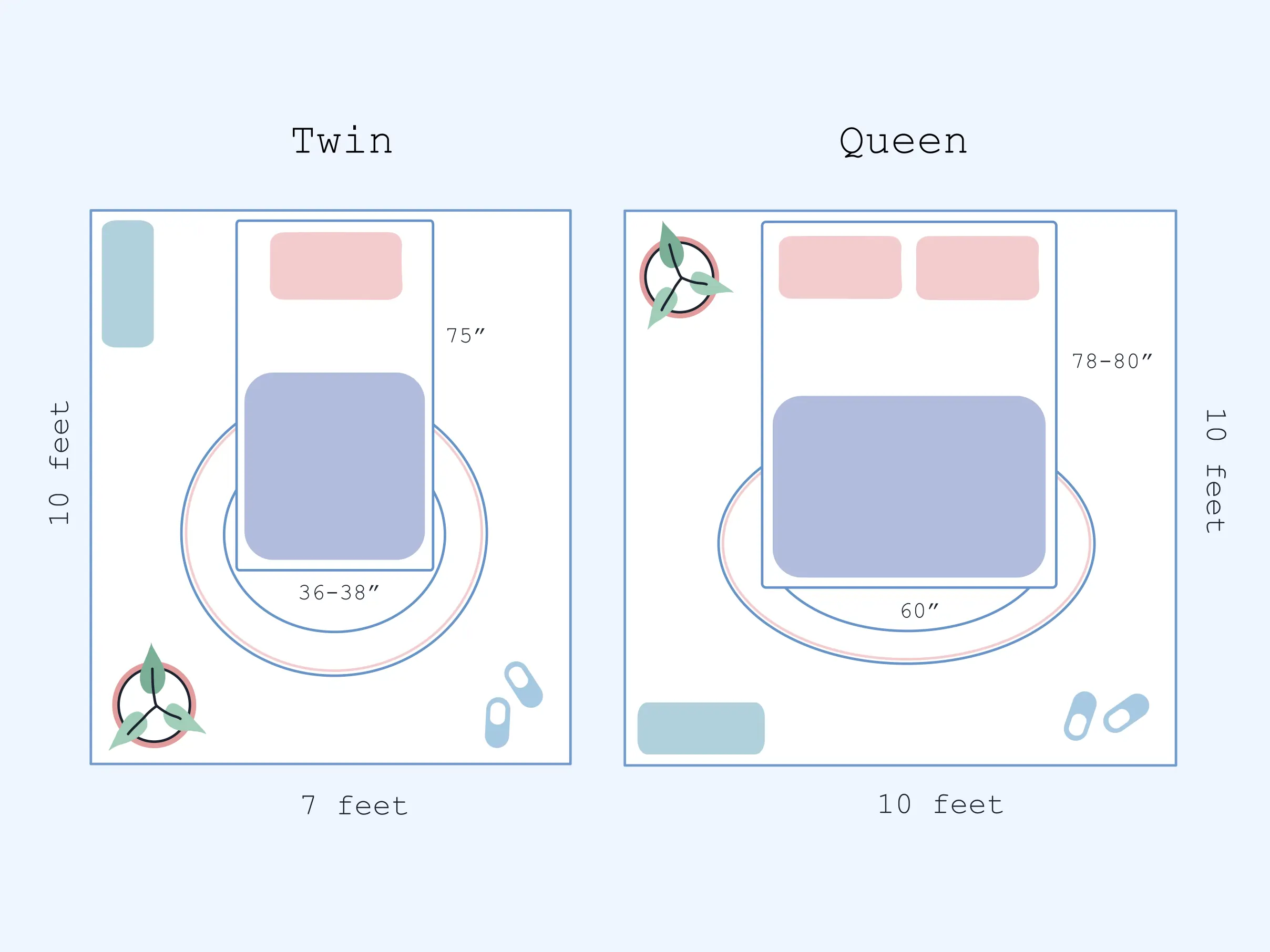 A queen mattress is more suitable for small size master bedrooms or guest rooms, which is at least 10 square feet in size. Twin mattresses are the right choice for rooms that are too narrow to accommodate queen beds without making them look cramped.
Sleeping Partner
Since twin beds are considerably narrower than queen mattresses, they are better suited for individual sleepers. On the other hand, the wider surface of queen mattresses makes them suitable for people who sleep with a partner or a pet, or a child.
Sleeping Positions
The sleeping position of the users also impacts the choice between a twin bed vs queen bed for buyers. People who like to sleep cuddled up with their partners or sleep in a single position the whole night are likely to find twin mattresses comfortable enough. However, people who need extra sleeping space or tend to sprawl on the bed while sleeping should opt for queen mattresses.
Your Height
Taller people are more likely to find the queen mattresses or twin XL mattresses more comfortable, given their longer length. Regular twin mattresses are better suited for people with relatively smaller heights as they offer enough space to allow them to sleep comfortably through the night.
Movability
Another important factor to be considered while choosing between a twin vs queen bed is the movability of the mattress. The significantly bigger size of the queen mattresses makes it difficult to move them around. Twin mattresses have a more compact size and narrower width, which makes handling and moving them around relatively easier.
Conclusion
Despite the obvious differences between twin vs queen mattresses, choosing the best one amongst the two can be quite confusing. So, buyers need to consider factors other than size to select the mattress that best suits their needs. Their budget, space availability, sleeping habits, and desired level of comfort play an equally important role in choosing the right mattress as its size. To summarize, a twin mattress is suitable for smaller rooms and for kids, and a queen mattress is considered best for couples.
FAQ
When you combine two twin beds, the resulting size will be 5 inches shorter than a king size. However, the width of the bed will be the same as that of a king bed.
Is the queen bed enough for two?
A queen size bed is an ideal choice for a couple as it offers enough space for both partners. It is also preferred by some individual sleepers. Couples who sleep with a kid or pet prefer a king size bed, though.
Is a twin bed good for adults?
Twin size can perfectly fit an adult who is under 6 feet in height. It is highly suitable for adults who live in small rooms or apartments and are tight on budget.
Do two twins make a full bed?
No, two twins together make a size that has the same length as a king size bed. However, it is 5 inches shorter than a full bed in length.
---
6+ years of experience as a content writer. Previously worked as a freelance writer for one of the top mattress brands in India. Well-versed in writing product reviews, product descriptions and content for e-comm sites.
---
Read More About Mattress Sizes