Double vs Queen vs King Bed: A Detailed Comparison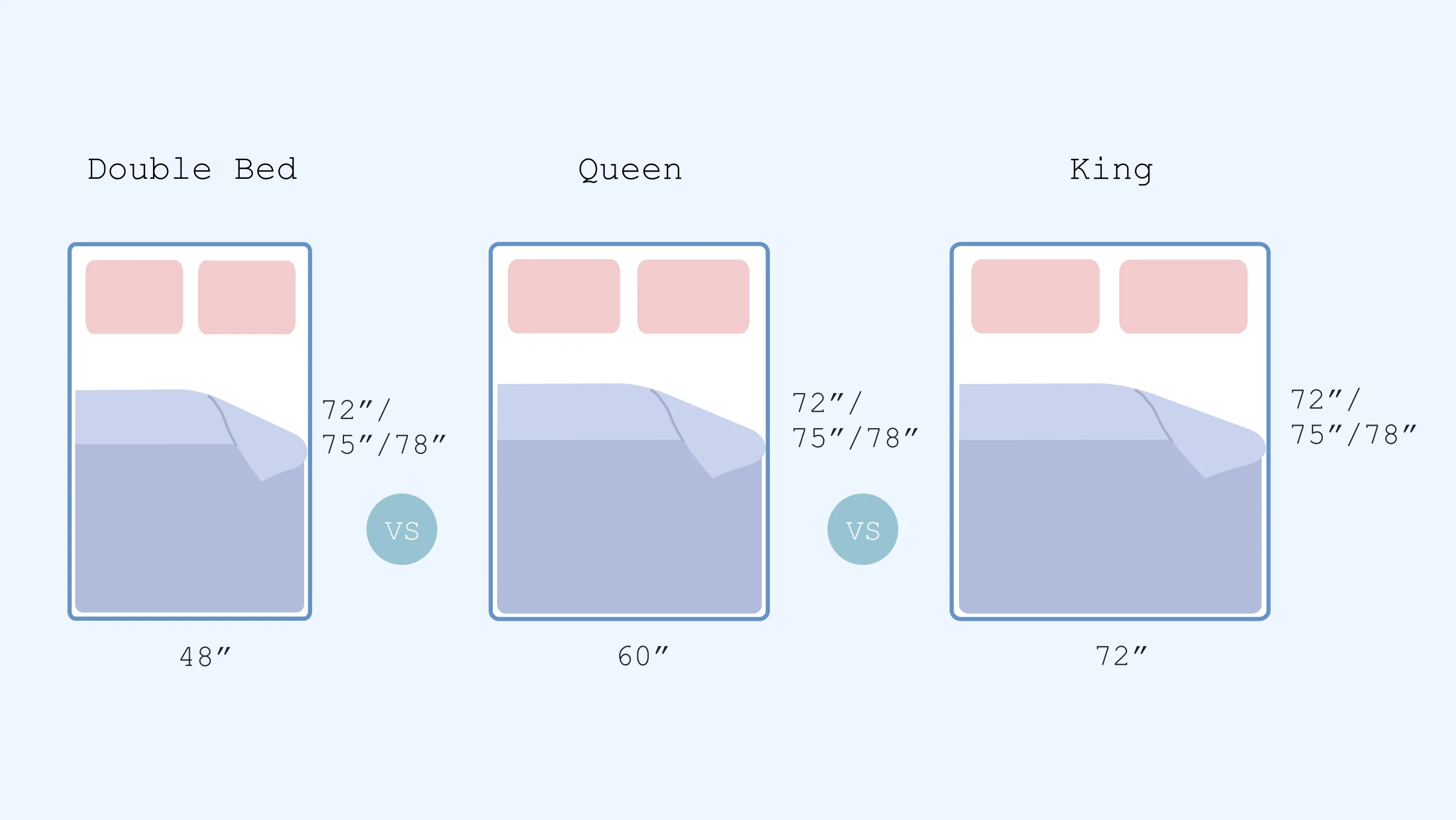 Sleeping on a perfect size and quality mattress is essential for good sleep. However, choosing the ideal mattress can be overwhelming due to the many styles and varieties in double bed vs queen vs king bed mattresses. Since one size does not fit all, it is essential to know your preferences apart from the bedroom size and budget.
This article will teach you the various bed sizes and types and how to choose the right mattress. Let's first look into the double bed vs queen bed vs king bed mattress comparison details which is the first basic information you need. 
Double Bed Vs Queen Bed Vs King Bed Comparison
A queen-size bed is 5 inches longer and 6 inches wider than a double bed. A double bed is 48 inches wide, while the queen-size mattress is 60 inches wide. However, both are available in 72/ 75/ 78 inches in length. A king-size mattress is 72 inches wide. The length of both is available in 72/ 75/ 78 inches, which is the standard size in India.
Double Bed Vs Queen Bed Vs King Bed Mattress Comparison Chart
| Parameter | Double Bed | Queen Bed | King Bed |
| --- | --- | --- | --- |
| Length | 72/ 75/ 78 inches | 72/ 75/ 78 inches | 72/ 75/ 78 inches |
| Width | 48 inches | 60 inches | 72 inches |
| Price Range (in INR) | Rs. 10,000 onwards | Rs. 13,000 onwards | Rs. 15,000 onwards |
| Occupancy | Adult or 2 teenagers | Couple with a kid | Couple with kids and pets |
| Ideal for | Guestroom | Medium-sized master bedroom | Master bedroom, Guestroom |
| Minimum Room Size | 10 X 10 feet | 10 x 12 feet | 10 X 14 feet or more |
| Other names | Full bed | – | – |
Double Bed Vs Queen Bed Vs King Bed: Pros and Cons
Knowing a mattress in detail will help to make the right choice. Let's learn about the pros and cons of double vs queen vs king bed mattresses.
What Is Double Bed Mattress
A double bed mattress is also known as a full-size mattress. For single sleepers or teenagers, it is standard bed size. More extensive than a twin bed mattress and smaller than a queen size, it is thus suitable for a small or medium-size bedroom. If you are of a regular size and height and want to sleep alone to enjoy a spacious sleep area, a double bed is an ideal bed mattress for you.
Pros
Suitable for children's bedroom
Perfect for average-sized couples
Perfect for a person who likes to stretch a lot
Less expensive than queen and king size
Cons
Can't accommodate two tall or plus-size individuals
Limited space to toss and turn or stretch legs
Unsuitable for couples or those looking to extend their family
What Is Queen Bed Mattress
A queen bed mattress is more extensive than a double bed size mattress and smaller than a king bed size mattress. If you have a regular body size, the queen size suits you and couples with an infant. However, if you are a plus-size couple and need enough space to toss and turn, you can sleep comfortably on the queen bed, but there won't be any space left for an infant. Moreover, if you are tall, you will have ample room to stretch your legs compared to the double bed. A medium-size bedroom can easily accommodate a queen size bed.
Pros
Comfortably accommodates taller couples with ample leg room
Two average size adults and one infant can sleep easily
Suitable for medium-sized bedrooms
Costly than a double bed mattress and less expensive than king size
Cons
Not suitable for small-sized rooms
Plus-size couples can't sleep comfortably with an infant
Limited storage space in a box bed
What Is King Bed Mattress
A king-size bed mattress is large than a queen-size bed. Whether you are tall or plus-size, there is no need to compromise on your spacious sleeping space. You can easily toss and turn around without disturbing your partner's sleep. A king-size bed can easily accommodate couples, kids and pets. A large master bedroom is ideal for a king-size bed. If you have the budget and ample space in your room, go ahead with king-size for lavish living. King size bed mattress is comparatively more expensive than a double bed and queen bed size mattress. However, it is worth a penny for a good night's sleep.
Pros
Enough space for the tall and plus-size couple
It can accommodate kids and pets too
Suitable for large master bedrooms leaving ample room to move around
Cons
Not suitable for compact rooms
Few options for fitted sheets, blankets, quilts
Expensive
How To Choose The Right Mattress Size
To choose the right mattress size, you need to know the accurate measurement of your bed sizes and various other factors, as given below.
Size Of Bedroom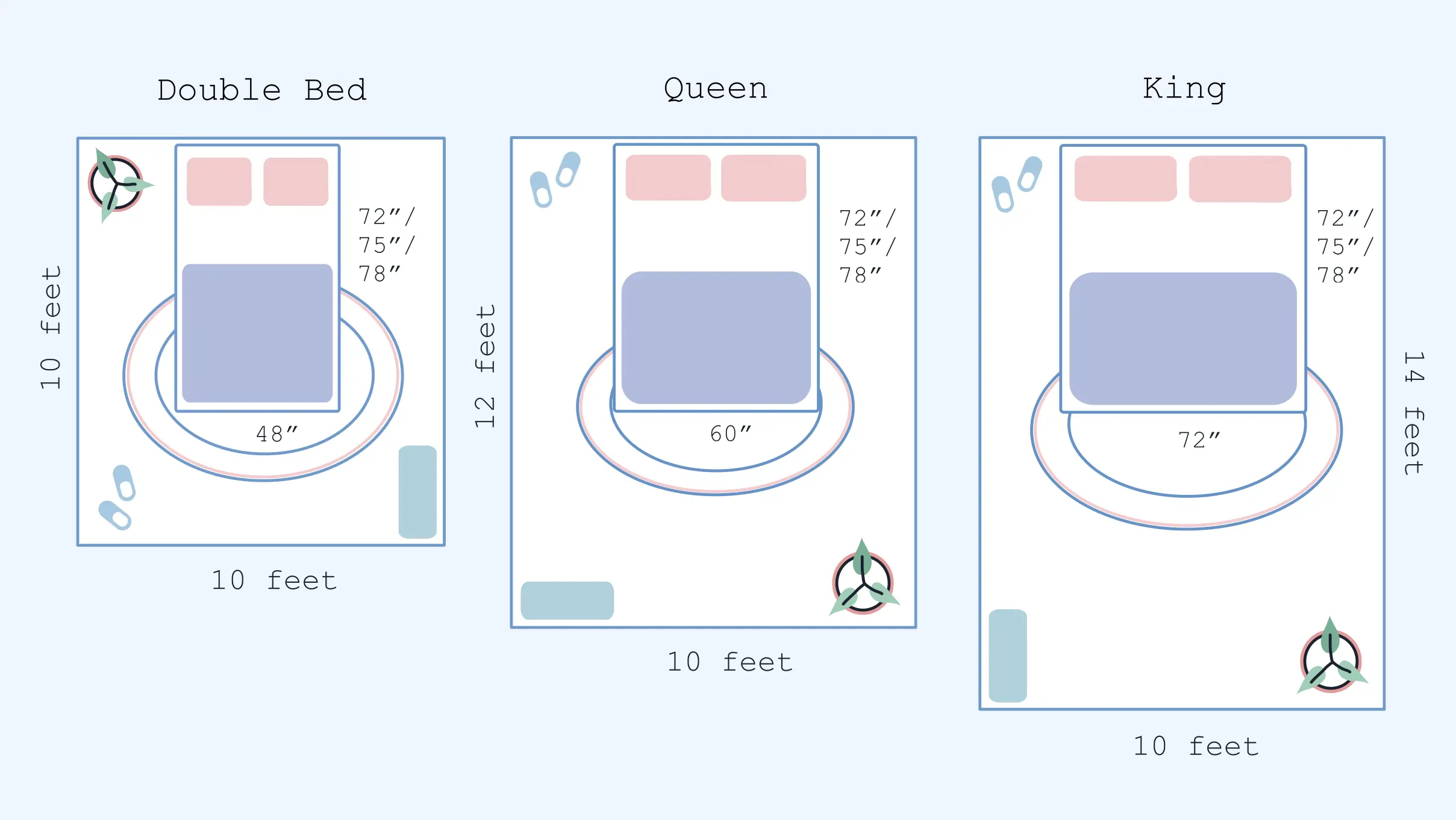 You love enough space while sleeping and covet a king-size bed. However, it's not quite possible if you have a compact room. Thus, you need to consider your bedroom size by considering other furniture too in your room. If your bedroom has 10 x 10 feet space, go for a double bed. The queen size is ideal for 10 X 12 ft, and for 10 X 14 ft, the king size is suitable for you if your budget allows it.
Budget
The mattress price depends on various factors. The mattress type, size, brand, and accessories must also be considered when deciding on the perfect mattress. The price given above in the comparison chart is the average price. However, economical mattresses are available for under 10,000 Rs. The mid-range price for mattresses is Rs. 10,000- Rs. 20,000; the premium price range is Rs. 20,000 and above. Keep an eye out for discounts and sales that most branded companies offer throughout the year.
Sleeping Partner
Are you a light sleeper who loves to toss and turn? Or does your partner love to sprawl on the bed while sleeping? Are you a hot sleeper? All these factors need to be considered before choosing a mattress. If you like to sleep alone and are of regular size and height, a double bed is an ideal solution for you. However, you must consider the sleeping pattern if you have a sleeping partner. If you are tall, your partner is of regular size, or you love more space to roll around than your partner, go for a queen-size bed mattress. If you want your bed to accommodate your kids and pets, go for a king-size bed mattress.
Your Size & Weight
Your size and heavy weight pressure may cause the mattress to sink. Thus, you must also consider your size and weight besides measuring mattress size. The mattress's thickness is essential for its durability. If you are of regular size, you can opt for a 6 inches thick mattress. If you are on the heavy side, opt for an 8 inches thick mattress for proper body support to prevent aches and pains in the morning. A double bed or queen-size bed is suitable if your height is average. However, opt for a king-size mattress if you are too tall, above 6 feet, and need to toss and turn a lot.
Sleeping Position
Some people are back, side, or stomach sleepers. For example, back and stomach sleepers would need a medium firm to firm mattress for a stable and even surface. For side sleepers, go for a soft bed. If sleeping position is the main issue in your case, choose the mattress by firmness category while shopping.
Conclusion
The above guidelines about double vs queen vs king to choose a perfect mattress will surely help you make a good decision. Thus, you can choose a double bed if your bedroom is of a small size. A queen size will be suitable for medium size bedrooms, and couples can enjoy a comfortable sleep. A king size can accommodate couples, kids, and pets too. The king size is always a good choice if you have ample room space and a budget.
We would only suggest you take sufficient time to purchase a mattress that will give you peace right from buying to getting a good night's sleep.
FAQs
Is a double bed the same as a queen?
A queen-size bed is 5 inches longer and 6 inches wider than a double bed. Before the invention of the queen-size mattress, a double (or full) bed was considered the ideal sleeping arrangement for couples.
What is the difference between a double and a queen and a king?
Nearly two twin-sized mattresses can be placed side by side on a king-size mattress. The difference in width between double and queen size beds is only 6″, yet it makes a significant difference.
Which is big, king, queen or double?
The length of a king-size mattress is the same as that of a queen-size mattress, but the king is 16 inches wider. You can select the ideal size based on considerations such as room size, the number of sleepers, and pricing.
Can 2 adults sleep on a double bed?
A full mattress, often known as a double bed, has traditionally been thought of as the ideal bed size for couples because it can accommodate two people. However, some couples might discover that a larger queen or king-size mattress is the ideal choice for them.
---
6+ years of experience as a content writer. Previously worked as a freelance writer for one of the top mattress brands in India. Well-versed in writing product reviews, product descriptions and content for e-comm sites.
---
Read More About Mattress Sizes