Crib Mattress Size vs Twin Mattress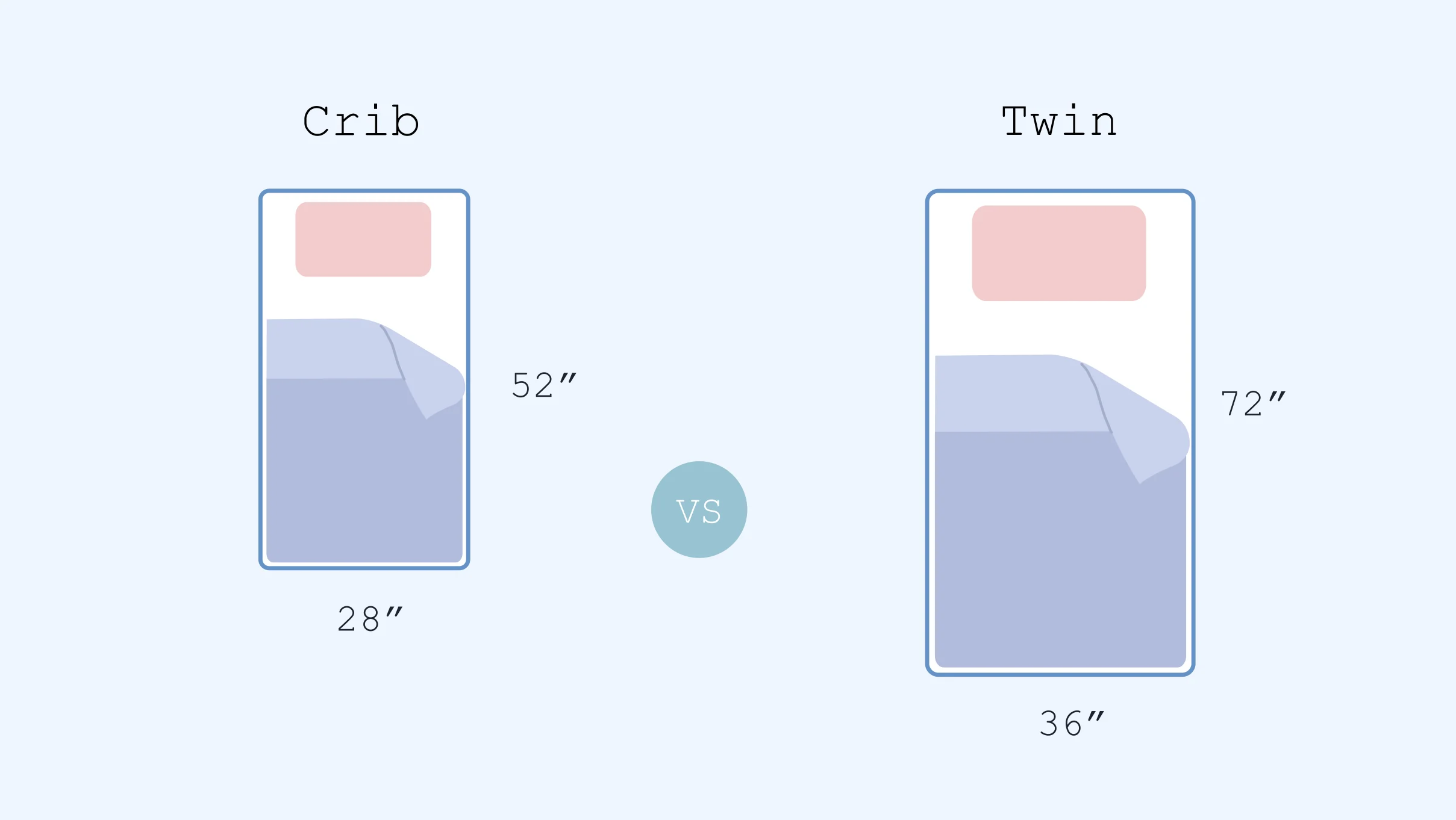 When choosing a mattress for your child, the two most popular types include crib mattresses and twins. A standard crib mattress measures 28 inches wide and 52 inches long. And the best part is that you will easily come across crib beds that can be later converted into toddler beds for convenience.
Coming to a twin bed, it is perfect for children who have outgrown their cribs and measures 38 inches wide and 75 inches long. So, if you are looking for the best mattress for your child, we bring you an in-depth guide between crib mattresses vs twins, so you can bring home the right one.
Crib Mattress vs Twin size comparison chart
| Parameter | Crib Mattress | Twin Mattress |
| --- | --- | --- |
| Length | 52 inches | 72 inches |
| Width | 28 inches | 36 inches |
| Surface Area | Approximately 1456 sq meters | Approximately 2592 sq meters |
| Price Range | 2,500 INR to 10,000 INR | 5,500 INR to 20,000 INR |
| Occupancy | One child | One child or single adult |
| Ideal for | Infant | Child, teenager or a petite single adult |
| Minimum Room Size | 7 X 10 feet | 7 X 10 feet |
| Other names | – | Single bed |
Crib Mattress vs Twin: Pros and Cons
Now that you are well aware of all the nitty gritty details about crib and twin mattresses, let's understand more about them.
What is a Crib Mattress?
A standard crib mattress is what most parents prefer for their infant. It measures 28 inches wide and 52 inches long. It can be used for a long time as some brands offer crib beds, which can be later converted into toddler beds. So, once your little one becomes well-versed in using the crib, you can switch to the toddler bed. Now, let's examine the pros and cons of a crib mattress.
Pros
Crib mattresses can be perfect for infants
They are easy to clean
It's firm and supportive
It meets strict safety standards and is non-toxic
Cheaper than twin mattresses
Cons
It is not for long-term use as your child will outgrow them quickly
Fewer mattress options
What is Twin Mattress?
Also known as a single bed, twin mattresses are the right choice for children who have outgrown their cribs. They are also perfect for smaller rooms and guest bedrooms. A twin bed measures 36 inches wide and 72 inches long and seamlessly fits a room measuring 7 feet by 10 feet.
Pros
It is used for long-term use
It is affordable compared to a full-size mattress
You can easily find the accessories
Fits in smaller rooms
Fits in bunk beds
Cons
It is too small for couples
It is not ideal for tall teenagers
If you toss and turn through the night, it might not be narrower
How To Choose The Right Mattress Size
If you are still confused and are looking for a few tips to help you choose the right mattress, here we are.
Size of bedroom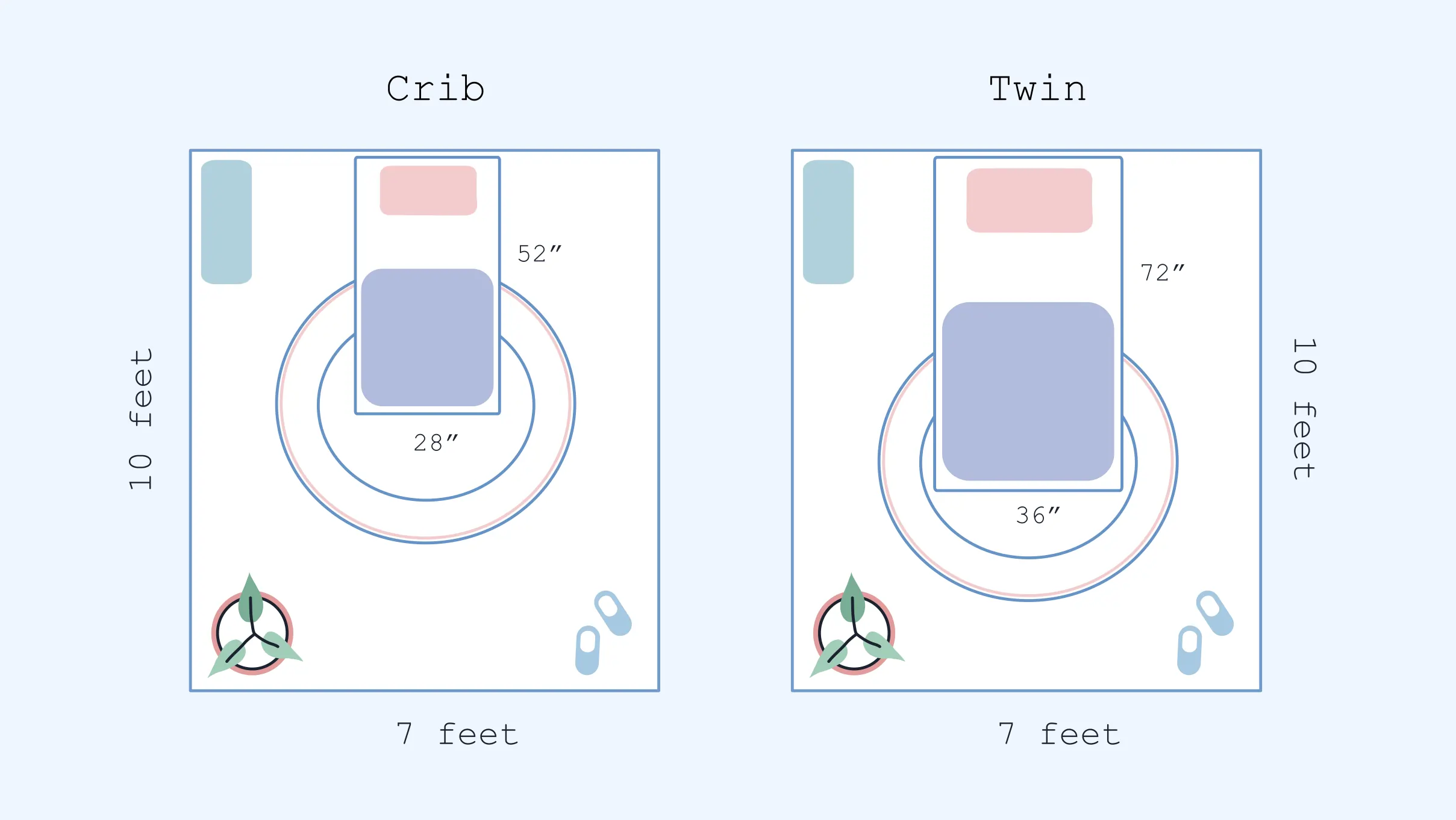 If you want to decide between a crib and a twin mattress, first look at the size of the room and see which sits well. You need enough space to walk around, and the room shouldn't feel claustrophobic.
Budget
Keep a budget in mind before you explore the types of beds. And remember, just because a mattress is expensive, it does not mean that particular mattress is the best.
Sleeping partner
If you have two children sharing the bed, then you can always opt for a twin mattress. So, always consider the number of people sharing the bed.
Your size and weight
Always consider the weight and height of the sleeper to ensure optimal comfort. For instance, two young small children can easily share a twin bed.
Sleeping position
Finally, it is essential to consider the sleeping position. For instance, if your child tosses and turns too much in their sleep, a single bed will be suitable for only one sleeper. 
Conclusion
Now you know everything about the crib mattress and twin mattress size. Both come with their own set of benefits and drawbacks. So, choose the one that fulfils your necessities!
FAQs
What type of mattress is good for a crib?
You can always go for a memory foam mattress as they are softer and tend to be more comfortable.
How do I know if the crib mattress firmness is safe?
When you press on the mattress, it should snap back immediately and must not adjust to the shape of your hand.
How often should I change the mattress?
Usually, a mattress must be replaced between 6 to 8 years. Every brand has its expiry date. Therefore, you must see the life of your mattress as per the brand.
---
6+ years of experience as a content writer. Previously worked as a freelance writer for one of the top mattress brands in India. Well-versed in writing product reviews, product descriptions and content for e-comm sites.
---
Read More About Mattress Sizes