Single vs Double Bed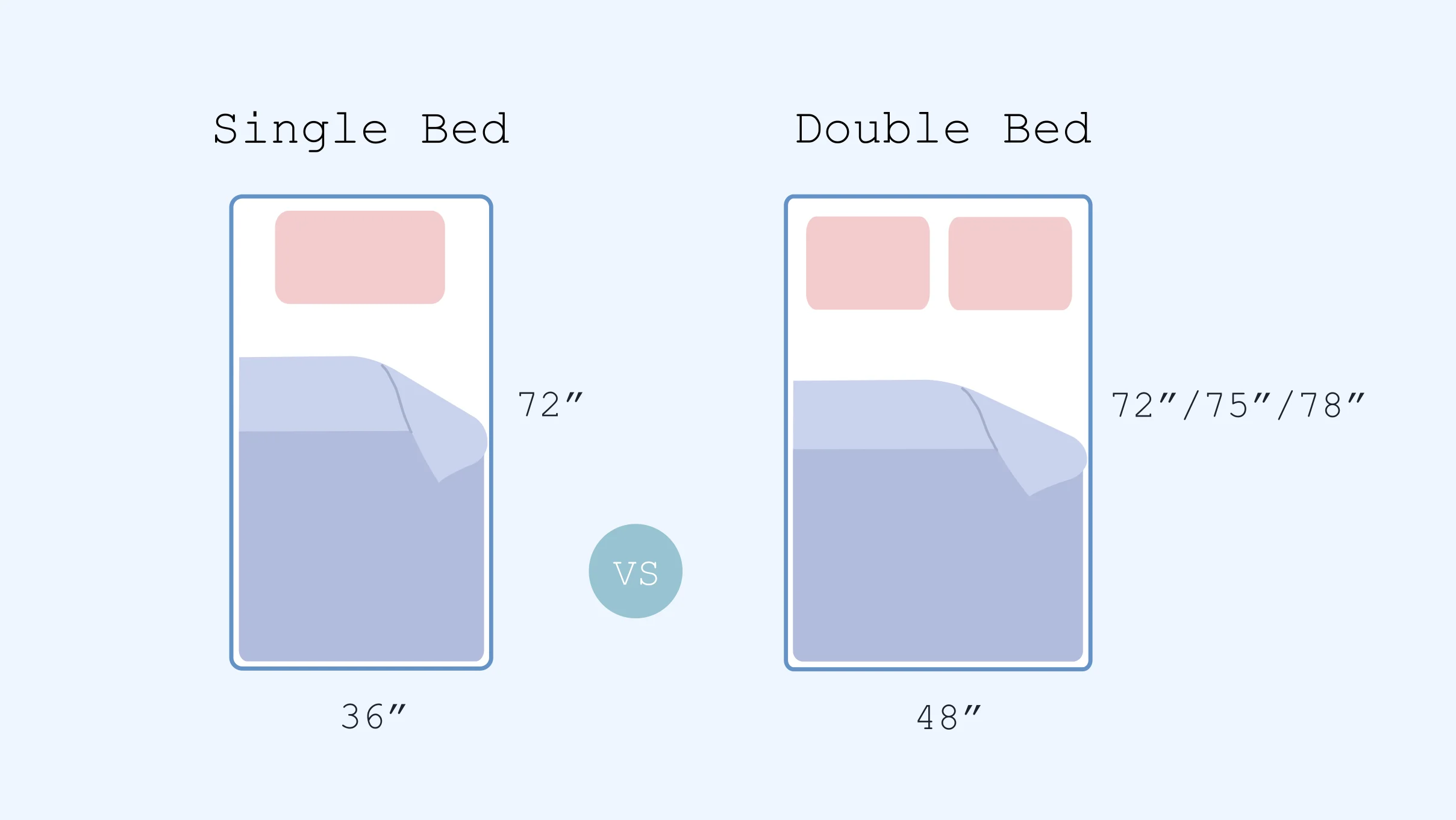 A lot goes behind the decision-making of a mattress purchase. Especially for a freshman who has recently shifted to a different city, or a graduate moving across the country for work purposes. Salespeople at mattress showrooms can dial up your confusion level by offering numerous variations. But if you are a single person, or with a partner or maybe a pet, stick to buying a single or double bed.
A single bed measures 36 inches wide by 75 inches long, whereas a double bed measures 54 inches wide by 75 inches long. This article will cover in-depth knowledge about single vs double bed and which one should you choose.
Single vs Double Bed Comparison Chart
Parameter

Single Bed
Double Bed
Length
75 inches
75 inches
Width
36 inches
54 inches
Surface Area
2812 to 2925 square inches
4050 square inches
Price Range
Around Rs. 7000 to Rs. 15, 000 and above
Around Rs. 10, 000 to Rs, 25, 000 and above
Occupancy
A single adult
A single adult with a pet,
Two adults with no space in between
Ideal for
Small rooms
Affordable buy
Single adults
Medium-sized rooms
Slightly expensive purchase
Single adult with pet
Two adults
Minimum Room Size
7 ft x 10 ft
9 ft x 9 ft
Other names (only if they exist)
Twin bed
Full bed
Single vs Double Bed: Pros and Cons
Choosing between single vs double bed can be tricky especially if you are a newbie. The wide variety in the mattress showroom might not only confuse you but also make you end up buying the wrong product. Knowing the mattress dimensions alone will not be beneficial if you aren't familiarised with its advantages and disadvantages.
What is a Single Bed?
If you are not familiar with the term 'single bed', then chances are high that you know it by the name 'twin bed'. Single and twin beds are similar in terms of dimensions and uses. This is often regarded as the smallest bed in the industry accommodating a growing child or a single adult. A single bed can be a valuable option if you are shifting your growing child to a bigger bed. The beds that you generally find in hotels or dormitories accommodating an extra sleeper is mostly single bed. Single beds have another variant namely Twin XL that is slightly longer in dimension appropriate for tall sleepers.
Let us study some of the pros and cons of a single bed.
Pros:
Perfect for single sleepers: A single bed easily adjusts a single sleeper that can be a growing child or a person under 6 feet.
Great Space Saver: A single bed will just take up a corner of the room and offer enough space for other furniture to stand.
Adaptable: Single beds are adaptable in the sense that they can be moved from one place to another putting minimal effort.
Apt Guest-Room Material: A single bed might act as a saviour when you have an unexpected guest sleeping over. It will offer them a peaceful sleep.
Budget-Friendly: A single bed will not cost a huge amount and at the same time offer a peaceful sleep.
Cons –
Problematic for Taller Adults or Teens: Taller adults or teens might find the limited length of single beds problematic. It might let their feet hang from the edge of the bed.
Not for Couples: Couples cannot be accommodated in a single bed, and that might lead them to spend money on a full or queen bed.
Not Suitable for Combination or Restless Sleepers: Since the dimension of a single bed is quite compact, a restless or combination sleeper might fall while tossing and turning.
What is a Double Bed?
A double bed, also known as a full bed, offers a greater width than a single bed. A double bed is used by diverse people – from single sleepers who like more space around them to build a pillow castle to two adults somehow accommodating themselves and getting a crib-like feeling. You might consider sleeping with your fur baby on a double bed if you are a single adult. In fact, this can also be a good option for a restless sleeper to toss and turn without fearing a fall. As for guest rooms, a double bed will undoubtedly add to the comfort level and can easily adjust a heavy sleeper.
Pros –
Space-Saving: A double bed isn't huge like a queen or king-size bed. Therefore, it offers quite some space to place furniture and people to move around.
Affordable: A double bed offers more space than a single bed but doesn't cost much compared to a king or queen bed.
Availability: Double beds are quite in the market, so you don't have to worry about waiting.
Accessorized: Since double beds have a slightly bigger space, they can be accessorised with different items like pillows, duvets, and more.
Cons –
Might Offer Space Issue for Some Couples: For couples who like their personal space, a double bed might not be able to provide the same.
Takes Up More Room Space: Though a double bed is not as big as a queen or king bed, it ought to take up more space than a single bed. For room sizes smaller than 9 ft x 9 ft, a double bed might offer space crunch.
Expensive Than a Single Bed: Though a double bed is affordable, but not as much as a single bed. So, if your budget is quite limited and you're a single adult, you might have to stick to a single bed.
Single vs Double Bed – Size Variations
Guess what, both a single and double bed have variations – Twin XL and Full XL. if you have a growing kid, or if you are a taller or restless person, the added inches of these two variations might be a game-changer for you.
Twin XL
The variation offered by a single bed is Twin XL. the dimensions of a twin XL is 38 inches wide by 80 inches long. It is because of its extra length that this bed can be appropriate for tall sleepers and growing kids. If you have a growing child who is nearing adulthood, a single bed might not be sufficient to accommodate them. Investing in a twin XL bed from the beginning will leave you the stress of buying another bed during their growing phase.
Full XL
A full XL bed measures 54 inches wide by 80 inches long, offering 5 extra inches of length than a double or full bed. If you are someone unable to adjust your legs in a double bed, then you might be needing a full XL. People having a height of more than 6 feet might find a full XL quite beneficial.
How to choose the right mattress size?
Choosing between a single vs double bed involves consideration of bedroom size, price, sleeping partner, size and weight, and sleeping position.
Size of bedroom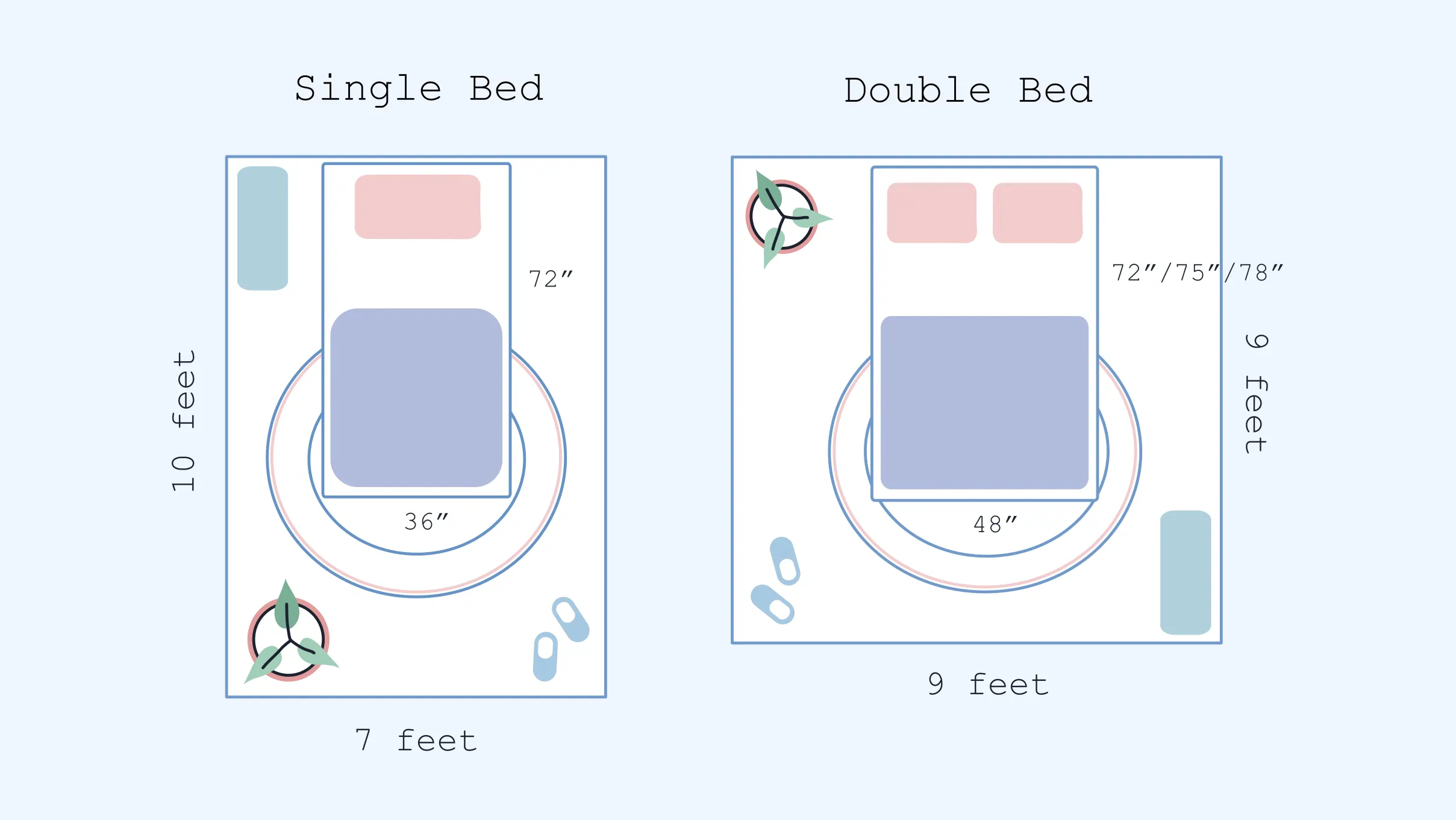 One of the foremost factors to consider while choosing between a single vs double bed is the bedroom size you own. You need to check if there is ample space to keep furniture and walk, after placing the bed. On average, the minimum room size to place a single bed is 7 ft x 10 ft, and that of the double bed is 9 ft x 9 ft.
Budget
Budget can make a huge difference in your choice. If you have a really tight budget, a single bed would be preferable. Otherwise, if you have the chance to splurge a little bit, then absolutely go for a double bed.
Sleeping Partner
Single beds can only accommodate a single sleeper, and that can be a growing child or an adult. But, if you are sleeping with a partner, a double bed is a basic necessity. Though you might encounter a space crunch in a double bed if sleeping with a partner.
Your Size & Weight
If you are a heavy sleeper, opting for the double bed would be a favourable option. It will offer you more space to toss and turn. On the other hand, a medium-sized single adult can pretty well adjust to a single bed.
Sleeping Position
People who tend to stick to the same position throughout the night can benefit from a single bed. On the other hand, restless or combination sleepers will find solace in double beds due to their extra width. 
Conclusion
The confusion between choosing a single vs double bed can stress you out. Buying a mattress is a crucial decision since it determines the quality of sleep you will get every night. Compromising on the size, type, thickness, and firmness level can be detrimental to your sleep in the long run. Therefore, get rid of your confusion by referring to the above descriptions and factors stated before buying a bed.
---
6+ years of experience as a content writer. Previously worked as a freelance writer for one of the top mattress brands in India. Well-versed in writing product reviews, product descriptions and content for e-comm sites.
---
Read More About Mattress Sizes