Full Vs Queen: What Is The Difference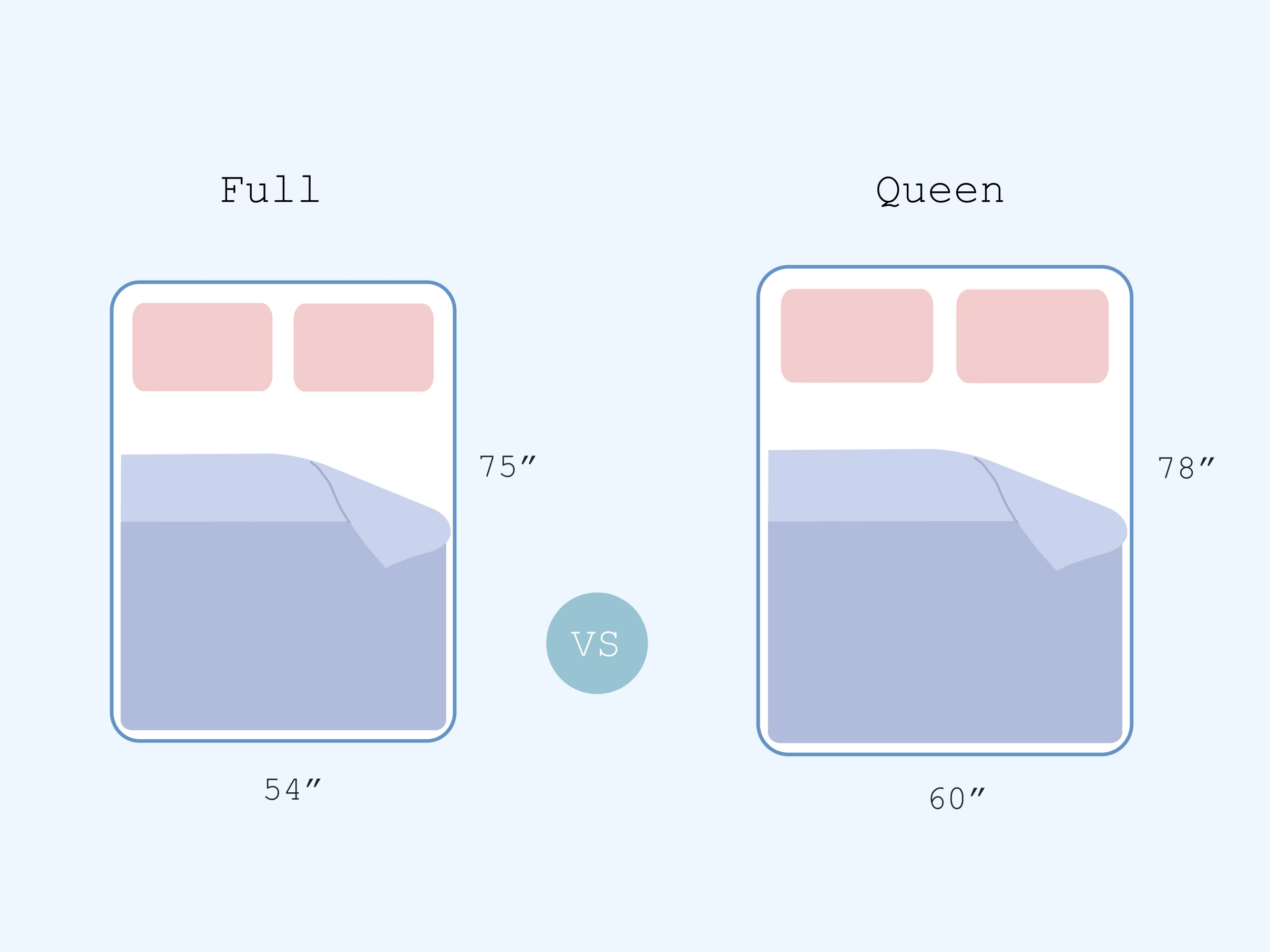 Do you feel confused due to the various types of beds and mattresses? Listening to other people's suggestions may have left you at sixes and sevens. However, there is no need to scratch your head anymore. If you have more than enough space for a twin-size bed and now want a larger one, you should consider full vs queen bed options. In this article, we will look into the same for details.
Full vs Queen: The Difference
Before hitting the 'buy' button while making an online purchase, it is important to know the bed size to choose between a full vs queen bed size. Full-size beds, also known as double beds, are 54 inches wide and 75 inches long, whereas queen-size beds are 60 inches wide and 72 to 78 inches long. The surface area of a full-size bed is 3,975 square inches, and that of a queen size is 4,800 square inches. The height of the full-size bed is 11 inches high, and the queen size is 18 to 36 inches high.
Full-size beds are suitable for single persons or teenagers and can fit comfortably in children's rooms. Queen size bed is most popular among couples as it provides ample space to sleep and move around. It is more convenient for master bedrooms. Now that you know the difference between full and queen, let's have a quick glimpse at the comparison chart of the two.
Full vs Queen Mattress Comparison Chart
| | | |
| --- | --- | --- |
| Parameter | Full Mattress | Queen Mattress |
| Length | 75 inches | 72 – 78 inches |
| Width | 53 inches | 60 inches |
| Surface Area | 3,975 square inches | 4320 – 4680 square inches |
| Price Range | Rs. 15,000 – Rs. 25000 | Rs. 15,000 – Rs. 45,000 |
| Occupancy | 1 Adult | 2 Adults, pets, kids |
| Ideal for | Singles, teenagers | Couples and tall-heightened individuals |
| Minimum Room Size | 10 feet x 12 feet | 10 feet x 14 feet |
| Other names | Double size bed | — |
What Is a Full Size Mattress
The full-size mattress is 75 inches in length and 53 inches in width. It is slightly wider than a twin size mattress and smaller than a queen size mattress. A full-size mattress is suitable for single adults and teenagers and can comfortably accommodate a guest room. If you have a small bedroom space and move frequently, a full-size mattress is an ideal solution. Compared to the queen size, a full mattress is lightweight and thus easy to transport.
Full-Size bed: Pros and Cons
Let's see the pros and cons of a full-size bed mattress to understand whether it meets your needs.
Pros
Suitable for small rooms and guest rooms
Sufficient sleeping space for single adults and teenagers
Best for couples who cuddle while sleeping
Cost-effective
Easy to move
Cons
Not suitable for tall-leg people
Not suitable for couples who have different sleeping patterns
What Is a Queen Size Mattress
Is a queen mattress bigger than full size? The answer is yes. Queen size mattress can be 72 – 78 inches in length and 60 inches in width. It is the most popular mattress choice among couples as both get a comfy sleeping place without any sleep annoyances. The taller adults with long legs and those who sleep in a straight position can easily fit in the queen mattresses due to their length of 80 inches.
Moreover, if you prefer co-sleeping with your kids and pets, a queen-size mattress is readily available to accommodate them too. If you are alone and want extra space on the bed to keep your things beside you, a queen-size mattress provides enough space for your laptop, books, or any other item you need. The narrow width of a full bed fails to provide this benefit.
Queen Size bed: Pros and Cons
Now, let's see the pros and cons of a queen-size bed as it may assist you in making an accurate decision.
Pros
An excellent choice for couples
Enough space for kids and pets
Ideal for single adults and large-leg people
Suitable for master bedrooms
Versatile
Accessories are readily available
Cons
Difficult while transporting or moving
Expensive
Heavy
Factors to Consider When Deciding Between Full or Queen Bed
Besides the size difference between a full and queen bed, you might now wonder how to choose between a full vs queen mattress. Let's make your decision effortless by considering the following factors.
1. Comfort
Comfort is fundamental while sleeping. For singles, a full-size bed is not a concern. However, queen size is recommended for couples or those who prefer sleeping with pets and kids. You get 30-inch space per person in queen size and 26.5 inches in full size. Thus, if you like to toss and turn a lot or spread your legs while sleeping, queen size allows you that comfort.
2. Price
Considering the price of a queen vs full bed, a full-size bed is less expensive than a queen-size bed. It depends on the bed size, accessories, brand, and mattress type. The foam and innerspring mattresses may enhance the price whether you choose a full bed or a queen-size bed. Knowing the mattress size and types will be beneficial for you to know earlier before evaluating the price.
3. Size of the Room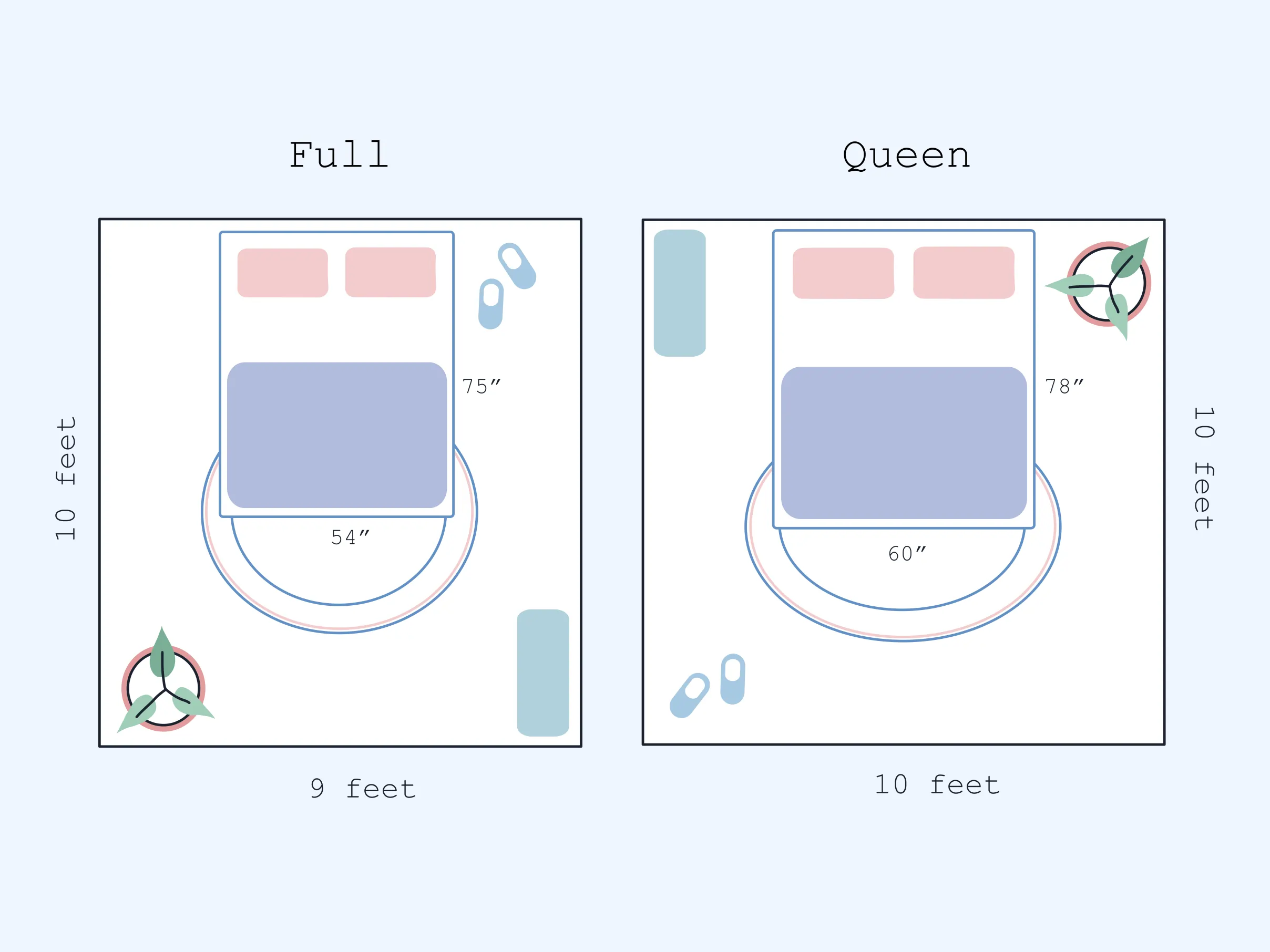 Full-size beds are convenient for guest rooms and bedrooms; thus, 10 x 12 feet is the ideal room size. The Queen size needs a spacious room; thus, 12 x 12 feet will be enough. Or more than 10 x 10 feet is suitable for a queen-size bed. Measure the room and mattress sizes with a measuring tape for precise dimensions. You will get accommodations that best suit your room.
4. Sleeping Partner
Before deciding between full vs queen mattresses, you must contemplate your sleeping partner's sleeping habits and body stature. Are one of you obese and the other on a skinnier side? Are you or your sleeping partner a light sleeper who must change sleeping positions often?
If both of you are slender and can easily adapt to a narrow bed, then a full bed size is the best. You will have immense space for other furniture too. Nevertheless, if you have distinct sleeping patterns and both are larger in size and weight, then a queen bed size is adequate.
5. Sleeping Positions
It would help if you considered the sleeping position while purchasing the mattress, as you or your partner may nap on your back, side, or stomach. A queen bed is comfortable for stomach and back sleepers as they need to stretch themselves while sleeping. For side sleepers, though, the full-size bed shouldn't be a problem.
6. Your Height
To get a restful sleep, you must have enough bed space. If you are of short stature, a full-size bed will be more than enough for you. However, if you are more than 6 feet inches, a queen-sized bed offers an extra 3 inches to avoid the cramped feeling you get in a small bed.
Conclusion
Investing in a perfect bed and mattress will provide you with sound sleep, thus stimulating your overall health. Hence, it would help if you take sufficient time before choosing between a full vs queen mattress that compliments your room. Choose the full size if you are single and have a small space in your room. And if you are looking for a bed for couples or one that suits your height of 6 feet inches, a queen-sized bed is ideal for you.
To make up your mind, many mattress service providers offer a free trial and warranty. The trial period will give you the perfect mattress beyond all questions, and your search for the bed will end.
FAQs
Will full sheets fit a queen?
On a queen-size mattress, full and double-size sheets will never fit. If you use queen size sheets on the smaller bed, the sheets will be loose and won't stay put while you toss and turn.
What size bed does most couples sleep on?
Most couples prefer to sleep on a queen bed as it offers them a blend of intimacy and space. Couples who prefer more space or sleep with kids or pets prefer to go for a king size bed.
Is a full size bed enough for two?
Yes, a full size bed is often enough for two people. However, most couples prefer to go for either a queen or a king bed.
---
6+ years of experience as a content writer. Previously worked as a freelance writer for one of the top mattress brands in India. Well-versed in writing product reviews, product descriptions and content for e-comm sites.
---
Read More About Mattress Sizes