Twin vs Full: What Is the Difference?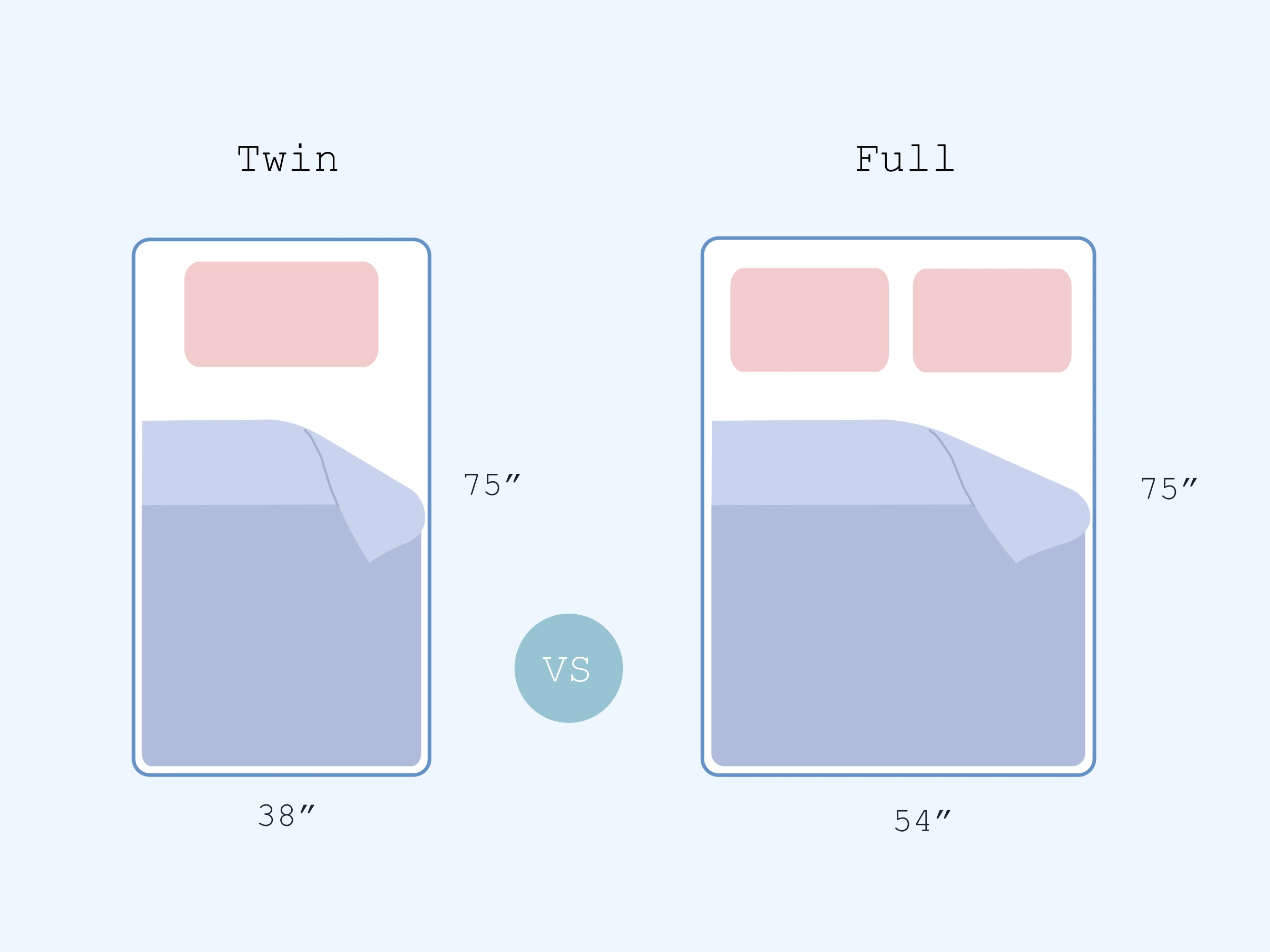 The bedding industry has changed significantly over the years and is focusing increasingly on fulfilling the unique needs of individual users. This is evident from the fact that mattress size has become a key criterion for manufacturers to categorise this essential piece of bedding. Twin and full mattresses are the two standard options of size offered by most mattress manufacturers.
The article offers detailed information about the various aspects of the difference between twin vs full mattresses to help the buyers make the right choice.
Twin Vs Full: The Difference
Being aware of the differences between the two makes choosing between twin and full mattresses a lot simpler. The twin and full mattresses are 36 inches and 54 inches wide, respectively, and they both have the same length of 75 inches. This 15-inch difference in the width of these two types of mattresses can impact the choice of the buyers quite significantly. Moreover, the two mattresses also differ in terms of where they are used, who uses them, as well as the individual preferences and habits of the users. Considering all these factors is essential for buyers to make sure that the mattress they choose will match their needs the best.
Twin Vs Full Mattress Comparison Chart
| Parameter | Twin Mattress | Full Mattress |
| --- | --- | --- |
| Length | 75 inches | 75 inches |
| Width | 36 inches | 54 inches |
| Surface Area | 2850 sq. inches | 3975 sq. inches |
| Price Range | INR 23,800-1,19,100 | INR 39,900-1,59,800 |
| Occupancy | 1 adult, teenager, or child | 2 adults |
| Ideal for | Small rooms, kids' rooms, dorms, guest rooms | Big bedrooms, kids' room, guest rooms, couples, couples with kids |
| Minimum Room Size | 7 ft X 10 ft | 10 ft X 12 ft |
What is a Twin Size Mattress?
A twin mattress is 36 inches wide and 75 inches long and is one of the most compact bedding options available today. The mattresses are best suited for single sleepers and growing children and teenagers. The mattresses are mostly preferred for use in dorm rooms, bunk beds, or guest rooms for single individuals.
Twin Size Bed: Pros and Cons
Being aware of the following pros and cons of a standard twin mattress is the key to helping buyers understand their suitability as per their needs.
Pros
Cost: Twin mattresses prove to be a more inexpensive option compared to the full bed mattress.
Size: The small size of single bed mattresses makes them suitable for use in compact spaces that are too small to hold regular mattresses.
Handling: The smaller size of twin mattresses makes it easier for users to handle them single-handedly.
Cons
Too Narrow: The narrow width of twin size mattress make them unsuitable for use by plus-sized individuals or people who need more space.
Couples: The dimensions of a twin mattress are too small to accommodate a couple comfortably.
What is a Full Size Mattress?
Full-size mattresses or double beds are 54 inches wide and 75 inches long which makes them a suitable option for big bedrooms. The dimensions of a full mattress make it better suited for single sleepers who tend to sprawl out as well as petite couples with below-average heights. The mattress is also preferred by parents with 2-3 small kids who sleep together.
Full Size Bed: Pros and Cons
A full mattress is known to offer more incredible support and comfort for users in addition to having the following pros and cons.
Pros
Size: A standard full size mattress is suitable for people seeking a larger surface to sleep, relax, or have fun.
Couples: A double bed mattress is large enough to accommodate an average-sized couple quite comfortably.
Easy Handling: A full size bed is relatively easy to handle as compared to regular queen or king beds, given its smaller size
Cons
Space: Despite having one of the smallest mattress size, a full mattress is not the right choice for use in tight spaces and or rooms that are smaller than 10 feet wide.
Cost: A full mattress is significantly costlier than a twin bed which makes it beyond the financial reach of a large number of people.
Twin vs Full Bed Size Variations
When comparing twin vs full bed, buyers should factor in the different variants of both these mattress types to make an informed decision. The two most common variants of twin and full mattresses that prospective buyers should familiarise themselves with include the following.
Full XL Mattress
The bed size of a full XL mattress is 5 inches longer than a standard full mattress and has dimensions of 54 inches by 80 inches, which makes it a suitable choice for taller people. The extra leg room offered by the full XL mattress provides enough sleeping surface to accommodate a petite couple and a small child or a single sleeper and a pet. Despite its relatively greater length, the full XL mattress is compact enough to be used in small bedrooms. However, the extra length ensures greater comfort for people with above-average heights by providing that their feet are not left hanging in the air while sleeping.
Twin XL Mattress
The twin XL mattresses are an excellent option for single sleepers with more than average height. These mattresses are 39 inches wide and 80 inches long and offer an additional sleeping area of 190 sq feet. The mattresses are primarily used in dorm rooms and studio apartments designed for individual users. They are also preferred for use in the rooms of growing children to easily accommodate their constantly changing space needs cost-effectively. Twin XL mattresses are generally thinner and lighter in weight which makes moving them around and handling them quite easy and relatively effortless.
Factors to Consider When Deciding Between Twin or Full
Mattress
Despite being aware of the difference between twin vs full mattresses, buyers often feel confused about making the right choice. This is because they fail to consider the below-discussed factors that play an equally important role in choosing the perfect mattress that matches their needs.
Comfort
The level of comfort sought by the users plays a vital role in the choice of mattress. Full mattresses are a more comfortable option for couples and single sleepers with bulky bodies, while twin mattresses are a better choice for growing children and tall individuals.
Price
Twin mattresses are less expensive than full mattresses and hence are often preferred by people seeking more cost-effective bedding options. However, some twin mattresses may cost almost as much or even more significant than the standard full mattresses. Buyers should consider this important fact before choosing the right mattress.
Size of the Room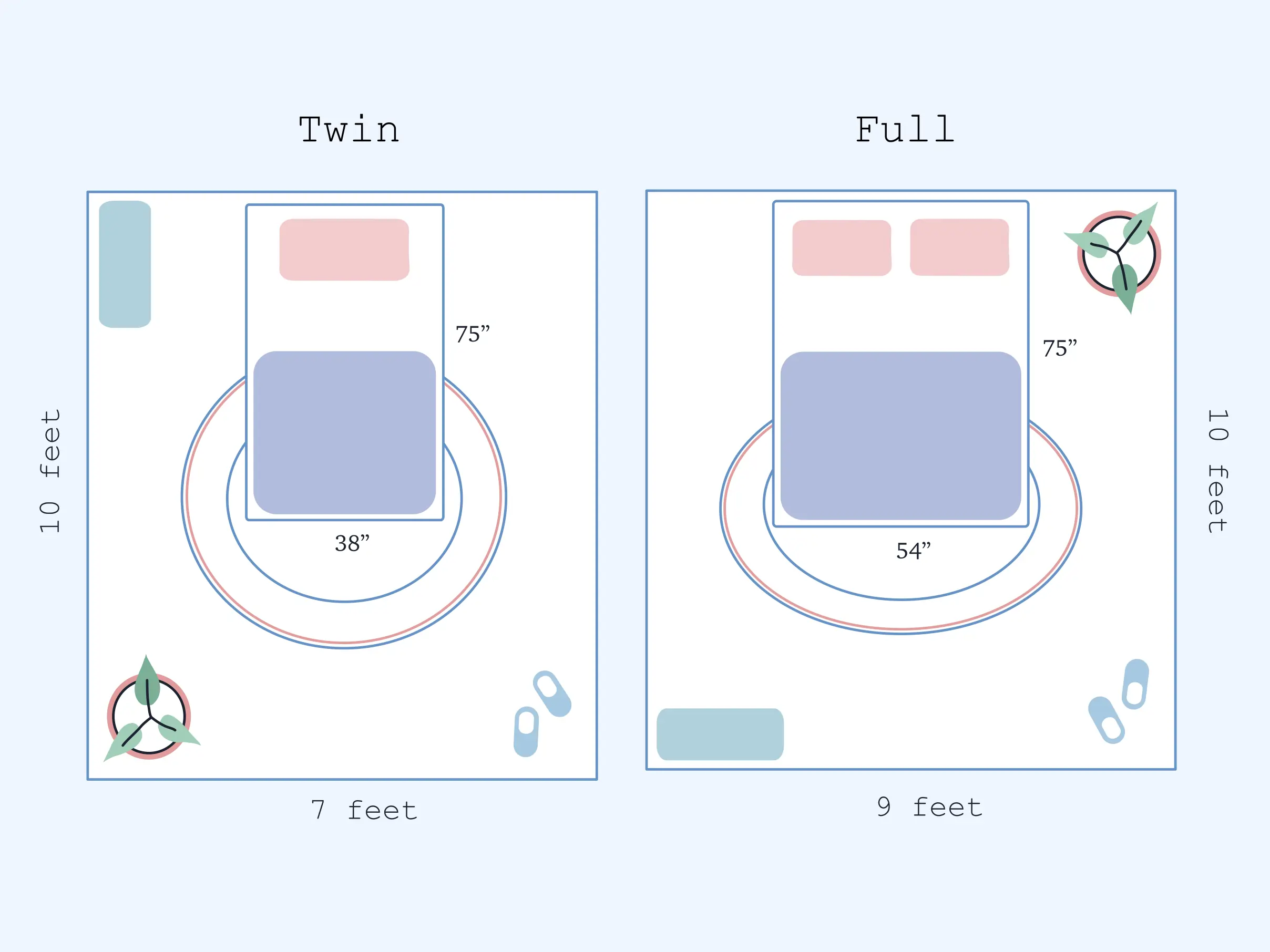 When selecting between a twin vs full mattress, buyers need to factor in the dimensions of the room where they will be placed. Twin mattresses are suitable for longer rooms with narrower widths, while full mattresses are a better option for rooms with more proportionate dimensions.
Sleeping Partner
The presence or absence of a sleeping partner is another key aspect that influences the choice of mattress. The smaller mattress size of a twin bed makes it suitable only for single sleepers or growing children. However, a full mattress is big enough to accommodate an average-sized couple or 2-3 children or even a single sleeper and a pet quite comfortably.
Sleeping Positions
The position in which the users generally sleep also needs to be considered while choosing the right mattress. Twin beds offer a large enough sleeping surface for single sleepers to spread their limbs and twist and turn as they please. Comparatively, full beds may not be as accommodating for couples, especially if both partners tend to change their positions constantly and move a lot in their sleep.
Your Height
When it comes to comparing full vs twin beds, the height of the users is an essential factor to consider. Regular full and twin mattresses are not long enough to accommodate taller people comfortably. However, full and twin XL mattresses offer extra leg room that ensures complete comfort for people with above-average heights.
Movability
Both full and twin mattresses are smaller in size than regular queen and king-size mattresses, which makes moving them around relatively more straightforward. The narrower width of twin mattresses further enhances their manoeuvrability compared to full mattresses, especially in tighter spaces.
Conclusion
For buyers grappling with the question of should I get a twin or full bed, learning about the differences in their size is the first step in the direction of making the right choice. They also need to factor in aspects such as availability of space, budget limitations, sleeping preferences, and maneuverability issues to make an informed choice. All these aspects make it easier for prospective buyers to find a mattress that best suits their needs. The Twin suits smaller rooms whereas the full suits comparatively bigger rooms.
FAQs
Is a twin bed big enough for two sleepers?
A twin bed is inadequate for the needs of many couples. Instead, in order to sleep comfortably, they need a bigger size like a queen or king bed.
What is the difference between full and queen?
A full-size mattress, which is 54 inches wide and 75 inches long, is smaller than a queen mattress. The width of a queen-size mattress is extra by 6 inches, and the length is more by 3 inches, making it 60 inches broad and 78 inches long.
Do two twin beds equal to a king?
Yes, two twin beds together result in a king size bed. However, there'll be a gap. To overcome that, you can use a bed bridge.
---
6+ years of experience as a content writer. Previously worked as a freelance writer for one of the top mattress brands in India. Well-versed in writing product reviews, product descriptions and content for e-comm sites.
---
Read More About Mattress Sizes